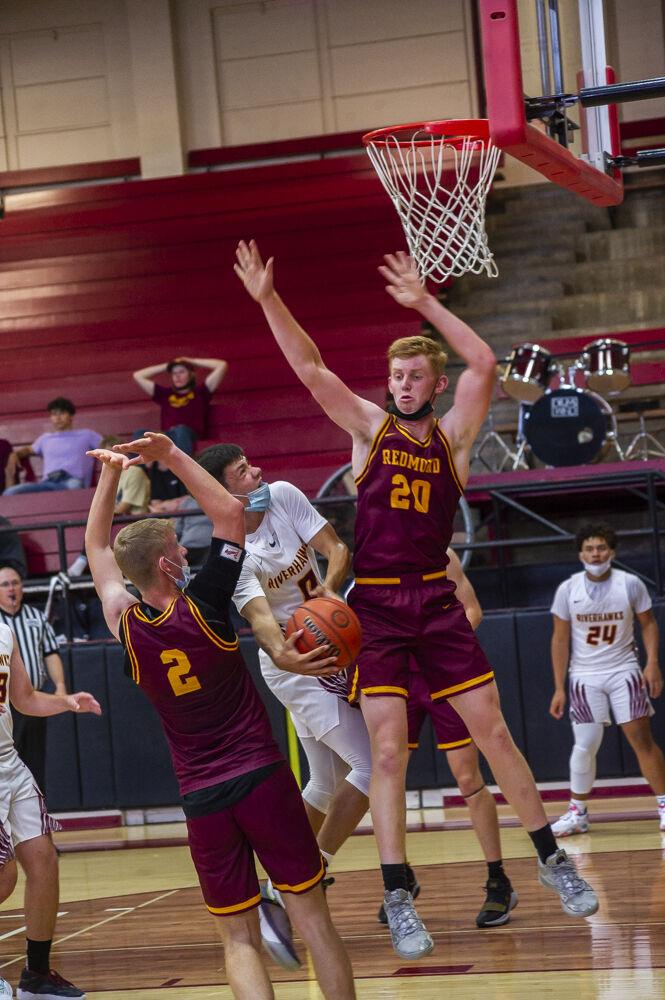 The Dalles High Riverhawk boys basketball team could very well conclude the regular season with some momentum, which is something they could greatly benefit from as they prepare for the upcoming Intermountain Conference district playoffs June 21-26.
Having a positive outlook, while possibly winning their final two games of the season, would certainly be something for second-year Coach Greg Cummings and his Riverhawks to get excited about. Unfortunately, the Hawks haven't enjoyed many positive outcomes during the short 11-game Class 5A spring schedule as they've posted a record of 1-7 in league and are 1-8 overall.
"We had quite a few kids that were playing baseball and track and field, so those kids missed two weeks of practice prior to the season," said Cummings. "Having three games a week in a compressed schedule like this also makes it difficult for us to have many days to practice too and the kids can't be in the gym six days a week."
Playing a grueling schedule of three games in four days, the Hawks started last week with a close 56-52 loss at home June 8 to the Redmond High Panthers (5-2 IMC, 8-2 overall).
"We're completely revamping our offensive philosophy and defensive philosophy, as well, because we knew this would be a tough season based on the other teams in our league," said Cummings. "Those teams have lots of strong upperclassmen, so we thought this would be a good year to revamp some things, especially since we're not competing for a state playoff berth. It's kind of one of those years that we hope to have a great season for the seniors, but we're also preparing everyone else for our future, as well."
The Hawks headed out onto the road for back-to-back contests against Gorge rival Hood River Valley (5-2 IMC, 7-2) Thursday, followed by Friday's matchup against the Crook County High Cowboys (8-0 IMC, 12-0) in Prineville. The Hawks equaled their highest point total this season, before losing 74-56 to the Eagles and then one day later, lost 61-44 to the undefeated and league leading Cowboys.
"The reality of Friday's contest was that the outcome didn't really matter too much," said Cummings. "We wanted to go in and try some different things defensively and try some different things offensively that will hopefully prepare us for the last two regular season games and also the district playoffs. We hope to get fourth place so that we can have a home game in the playoffs Monday and then hopefully, we'll get to play in the semifinals on Wednesday. That would be cool, because there hasn't been a home playoff game here in a very long time."
The Dalles fell behind 21-12 after one quarter and trailed 36-20 at halftime. The two teams then traded baskets throughout the second half and the Hawks played more competitively while getting outscored by one point, 25-24.
A young The Dalles squad was led in scoring by junior Tristan Bass with 14 points. Spencer Taylor (10 points), one of just two Hawk seniors along with Kenape Stewart, led the Hawks in rebounds with eight. Junior Shane Floyd had seven points and a team-high four assists. Sophomore Styles DeLeon had 11 points and four steals. Junior Jaxon Pullen had two points, three assists and two steals.
"I have a soft spot in my heart for the seniors because I've coached both of them since they were in elementary school," said Cummings. "I feel grateful to have had a very good relationship with both of them and their families. I really consider both of those guys just like family members for me."
The Hawks were hoping to get their second win in Tuesday's Senior Night home game against the Pendleton High Buckaroos (results came after the printed edition deadline). The final regular season game is Thursday at 6:30 p.m. versus the Ridgeview Ravens (3-4 IMC, 4-6) at The Dalles High School. The Hawks could possibly tie the Ravens in the standings with a win.
"Pendleton has always been tough, but they graduated nine seniors last year, so that's why they're struggling, but they're a well-coached team," said Cummings. "We lost a close game to Ridgeview earlier this season, so I think we have a good chance to hopefully win the last two games. Because of COVID, it's been a weird and very bizarre season and hopefully things will be back to normal for basketball next year."
The Dalles recorded its only victory 56-45 over Pendleton (0-7 IMC) on June 1 and they came close to getting a win against Ridgeview, before losing an overtime thriller 56-52 June 4 at Ridgeview High in Redmond.
If the Hawks tie Ridgeview for fourth place with a 3-7 mark, The Dalles might earn the No. 4 seed in a tiebreaker and have a district playoff home game versus Ridgeview June 21. Ridgeview's last two games are against IMC frontrunners Crook County and Redmond, which both recorded earlier blowout wins over the Ravens by 30 and 28 points.