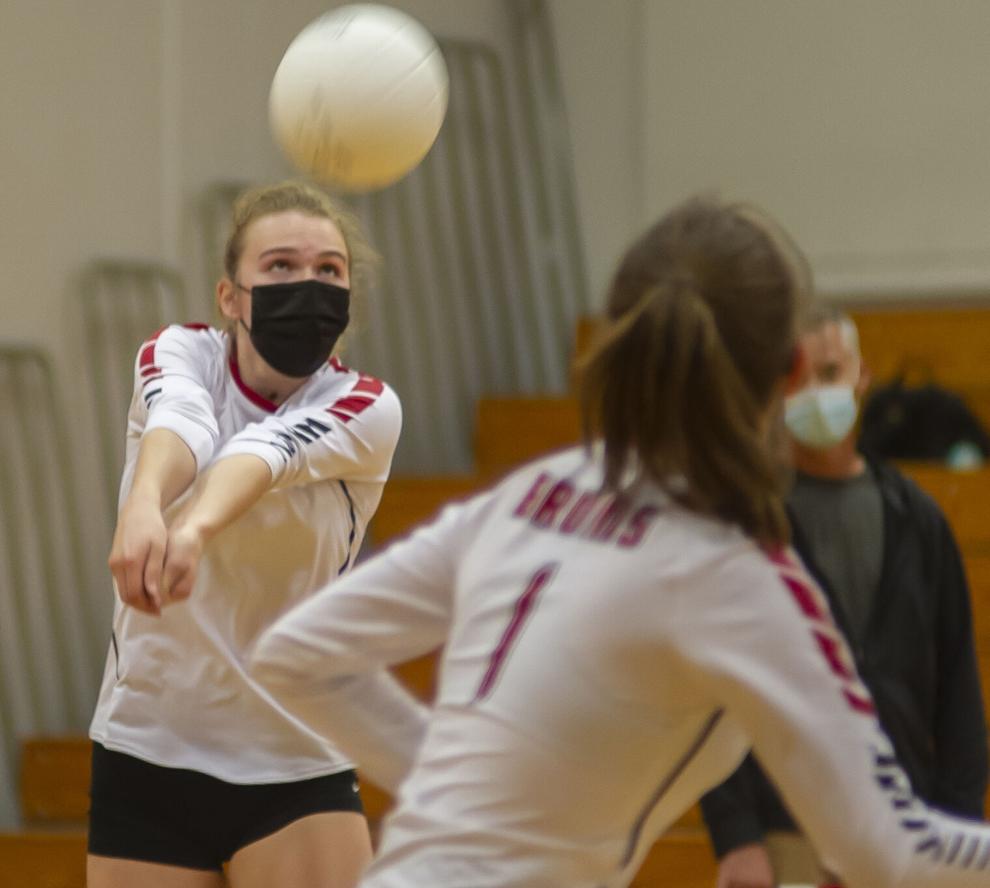 Columbia High moved above .500 in Trico League volleyball play Thursday with a three-set, playoff-clinching road win at Seton Catholic.
Equally important, the Bruins finished the week by improving their overall record to 8-4 after also winning a district cross-over match Oct. 12 against Elma and placing second at a tournament Saturday in Corbett.
Columbia was scheduled to host King's Way at 7 p.m. Tuesday (Oct. 19) and is at La Center on Thursday. The Bruins have another district cross-over match Oct. 26 at Montesano before their final league match Oct. 28 at Castle Rock.
Columbia Coach Heidi Shultz said the Bruins have clinched a district playoff berth and are playing at a high, enthusiastic level. That was evidenced by the Bruins' runner-up finish at the Corbett tourney.
She used the tournament to do some postseason motivational planning with her players. "We had a tournament all day Saturday and we sat down beforehand, and we talked about what our goals were this season — to get to district and go to state and do something that the school has never done before," she said. "I wanted to motivate the girls to use the (Corbett) tournament as a prep (for the district playoffs)."
Columbia did just that, making it to the championship game, before it ran out of energy. "Overall, it was just a good day," Shultz said. "An opportunity for me as a coach to get a lot of people in and playing — to build their own confidence and my confidence in them."
Columbia finished second out of pool play early in the day and then beat host Corbett to advance to the championship bracket. The Corbett match started as a nightmare for the Bruins, who fell behind 11-0. Columbia eventually earned a side out and kept chipping away at the lead. The Bruins completed the comeback, winning 29-27, but lost the second set which forced a 15-point tiebreaker.
"You could see the girls that they wanted to win it, and then we lost the next close game and won the third game, 15-11," Shultz said. "I thought, that as a coach, let me see that we have some heart and determination and then, as we go forward, we will have some confidence that we can compete at a high level."
A rested Willamina High ended Columbia's tourney run in the title match. "The girls played back-to-back. They were disappointed, but overall, I was happy with the day," Shultz said.
Highlights of the matches earlier in the week included: Chloe Clifford's nine service aces on 100 percent serve percentage, and Ella Wilson's seven kills against Elma; and Hannah Polkinghorn's season-high 17 kills against Seton. Shultz said another key to Columbia's week was moving sophomore Juliet Perez to libero, where the Bruins can use her more in the back row to take advantage of her ball-control skills.
"We're still getting contributions from everybody," Shultz said.