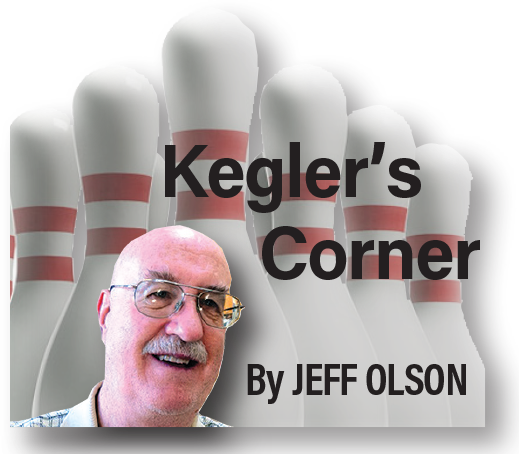 Are You Splitting Me won the Tuesday Nite Mixed league at Orchard Lanes last week. Congratulations to this cleverly named crew, Liz Debates, Austin Reed, Holly Reed, and Robert Reed. The Splitters prevailed in a total pins three game roll off between the four teams that finished first and second in both halves of the league. The Splitters racked up 2,793 pins, Team Nishi toppled 2,698 pins, Split Faced got 2,611 pins and Double A Orchards tallied 2,589 pins.
The Splitters won by 95 sticks, which was certainly not a wipe-out, but it was a nail biter into the last game. At that point, the Splitters were leading the match by only 29 pins over Team Nishi. They say the way to win pressure packed matches like this is to shake off the nerves and finish big. That's exactly what the Splitters anchor man Robert Reed did. He pounded the 1-3 pocket in his last game, finishing with a big-time strike filled 258. That clutch performance boosted him to a superb 677 series which was 119 pins over his average. And that's not all, Robert's son, Austin Reed, also kicked his game up another notch rolling two key 200 games that helped him finish 97 pins over his average for the match. Folks, that's how you win when the chips are on the table. Regardless of their catchy team's name, it's doubtful they saw many splits bowling big numbers like those. This is what exciting league bowling is all about.
Here are the individual highlights for the 2021-22 Tuesday Nite Mixed league: High average for men, Patrick Olson, 219, women, Nancy Asai, 196; high three game series for men, Patrick Olson, 762, women, Nancy Asai, 727, high game for men, Chad Mason 279, women, Nancy Asai 268; and most improved average, Liz Debates plus-11 pins. This proves what we thought all along, Liz is the reason why the Are You Splitting Me team won the league! Great bowling everybody!
The Tuesday Nite Mixed league is so much fun. It was full with 12 teams which makes for the best bowling experience because you get to bowl against 11 different teams. That's the way to meet people and make new friends. We want to take this opportunity to thank everybody in the league for bowling with us at Orchard Lanes especially during the trying days of the pandemic. We know, it wasn't easy. We're glad you had the courage to get out of the house to have some fun. It's a kick to take out your frustrations by knocking those 10, 3 pound, 6 ounce stationary targets into oblivion. We all need the action, to blow off steam, and socialize with other folks. It's good for the mind and the body. Hopefully, we will be back to normal soon and next season will be wide open like usual.
We miss you already. Please stop by in the ensuing months to say hi and roll a few games to stay sharp for next season which will begin again in late September. Maybe give those new string pins a try.
League action was reduced last week to conduct the annual Hood River City bowling championships at Orchard Lanes. This is the premier event of the year for all local league bowlers. It's been going on now for 70 years. The team event started the tournament. For the first time, to provide space for social distancing due to the pandemic, teams were comprised of three members.
Here are the early tentative unofficial results for the team event:
First place: Team Sheirbon, 2,066 pins
Jeff Hasegawa, Stuart Kawachi, Joey Sheirbon
Second place: Team Nishi, 2,055 pins
Kristen Kawachi, Janet Kawachi, Stuart Kawachi
Third place: Hood River Supply, 2,038 pins
Woody Eskildsen, Shannon Troxel, Aaron Troxel
Fourth place: Wild Giant Studio, 2,019 pins
Matt Hodges, Kyle Van Cleave, Dustin Ticknor
Fifth place: Collins Aerospace, 2,014 pins
Paul Dethman, Ken Thornton, Jeff Miller
There were some outstanding individual scores in the team event. Aaron Troxel's thumbless powerhouse slants led his team with a mighty good 699 series. Aaron has sure been hot lately.
Now, better sit down for this, the inimitable Jeff Miller went a century mark better! That's right, his big bending power curve was on auto pilot to the pocket all night long as he posted a huge but frustrating three game 799 series, just one little itty-bitty pin away from a glitzy 800, a mind-boggling number in bowling that most of us mere mortals cannot comprehend. How are you at math? Its so huge you must average over 266 per game to do it. That entails at least eight strikes a game, 24 in a three-game series out of 33 chances, which means you get a strike 72% of the time. It's hard enough for most of us to get two strikes in a row. So, 800 is an incredible number in bowling. But don't feel sorry for Jeff, he's an elite pin buster, one of the best in the business and he's had many 800s in his long career on the lanes.
Patrick Olson also shot a nice 702. These guys are in great shape to win all events, which is a combination of scores in team, doubles, and singles. Doubles and singles events were conducted last weekend before this column went to press.
We'll have the official tournament results next week. Go bowling everybody!
Hight league games and series:
Jeremy Bloom: 249, 242, 696
Wednesday afternoon senior Colts and Fillies:
Lynn Spellman: 225, 223, 636