On the afternoon of July 6, NORCOR Corrections Deputy Alicia Talley was fishing with her daughter near the Columbia River when she heard someone's cries for help. Talley immediately located a man calling for help for his girlfriend and her young son, both of which had been swept away by the strong currents out into the Columbia River.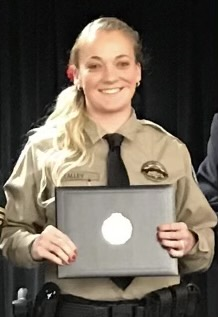 Talley took action, immediately calling 911, said a NORCOR press release.
"With no regard for her own personal safety (herself recovering from a recent major surgery), she dove into the river," said the press release. Fighting the strong currents and exhaustion for what seemed like an eternity, she was finally able to reach the young boy and bring him safely back to shore. Inter-tribal Police arrived onsite and brought the boy's mother to safety. Deputy Talley was taken to the hospital and later released without injury."
Talley said that although the boy nearly drowned, he was sad about losing one of his favorite green tennis shoes. The NORCOR Employee Guild has donated a gift card to the family to replace his favorite shoes.
NORCOR Lieutenant Joyce Orendorff said, "Deputy Talley has set an example for us all. Her willingness to put the lives of the public before her own personal safety is the hallmark of law enforcement. A spirit of selflessness which we should all aspire to. Deputy Talley represents the best of us, and we are proud to work beside her."