Following more than 200 hours of volunteer work and thousands of dollars in monetary and in-kind support, the White Salmon Bike Park will soon be open to the public.
The bike park, located across from the Jewett Sports Complex, will have a soft opening April 1, said organizer Scott Hulbert. People will be welcome to come down and see how things have improved, he said.
The opening marks significant progress on the improvements project, which has been in the works for a couple years. The project saw the addition of an updated pump track, five jump lines covered with pressure-treated wood, step-ups, step-downs and various skinny lines which help riders practice balance control.
Much of the work to complete the planned improvements occurred over three separate work parties, which saw dozens of volunteers spend their days cutting wood and shaping the ramps last fall.
Despite delays and the cancellation of a planned fundraiser due to COVID-19, Hulbert said the project is "ahead of schedule and ahead of budget," thanks to various cash and in-kind donations, including Gary Paasch, who donated the use of his excavator, and Izak Riley, Blair Simpson, and Fred Herlity, who donated and paid for $10,000 worth of dirt and $10,000 worth of pressure-treated wood.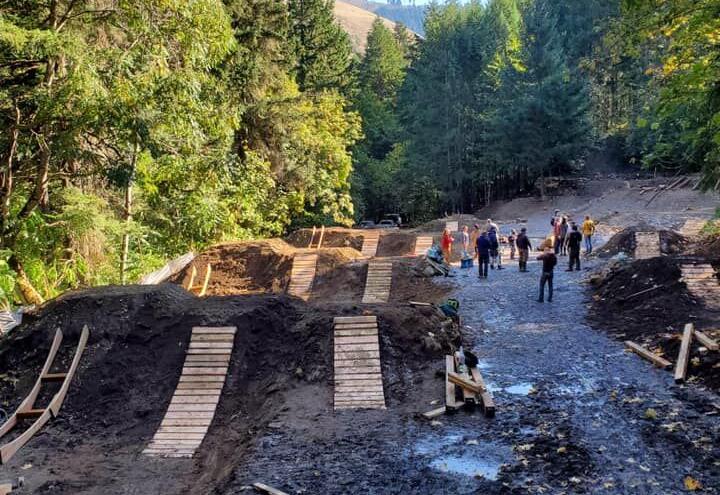 The money raised will continue to be used for improvements and maintenance of the park. Hulbert said there's about 20 percent of the work left to do, such as continuing to shape the dirt paths and jumps. Hulbert said he also wanted to add some more skinnies. A wall of blocks, also donated to the park for protection against erosion, will be the canvas for a student-led art project, where they plan to create a mural to enhance the park's beauty.
"It's a really cool resource, and we've made it better because this place used to be a dumpsite," said Hulbert. While the park was in its infancy, trash scattered the 20-acre lot, and Hulbert and the team of volunteers formerly known as the Spoke Club worked to clean up the land, taking out tires, batteries, and even baseballs from the field above the bike park.
Most recently, Hulbert and team installed a drainage pipe to help prevent erosion.
"These jumps aren't going anywhere for 10 years," said Hulbert.
Hulbert has taken city officials on tours of the land, and he said those meetings went very well.
The White Salmon Bike Park resides on city-owned land, and out of that, Hulbert and the bike park have signed a licensing and maintenance agreement which requires the club to continue keeping the park clean. The city provided garbage cans for visitors to the park.
The park now features an updated pump track, which is useful for beginners learning how to control their weight. The pump track takes riders into the meat of it all, with three different ride lines that range from novice to expert-level, based on the height and angle of the jumps.
"Having all the stages makes it beneficial for all the kids who want to learn," said Hulbert.
Hulbert's son, 16-year-old rider Chris Hulbert, showed off some skills on the highest jump on Friday, as a demonstration of what you can achieve with a little bit of practice.
"It's cool 'cause you land on your tire," said Chris. At other parks the ramps have more of a lip to them, so you land differently, he said. "Once you get on the steep part it gets a little intense.
"These are very safe jumps compared to other places around here," Chris said.
Chris said he knows there are many people who are "really stoked" about the park opening up, and he hopes to see the park become a place for people to hang out.
"Now that they have this safer option they're going to be learning a lot of good skills out here," Scott said.
Hulbert said the park is often used by people other than bike riders, including joggers and dogwalkers and those looking to stroll through nature.
"This is a great place in the summer. Everything is shaded," said Hulbert.
Hulbert is asking visitors to respect the rules of the park, which is to pick up trash and keep the place tidy. He highly recommends helmets for riders and pads for beginners.
Visit "White Salmon Bike Park" on Facebook for more information.