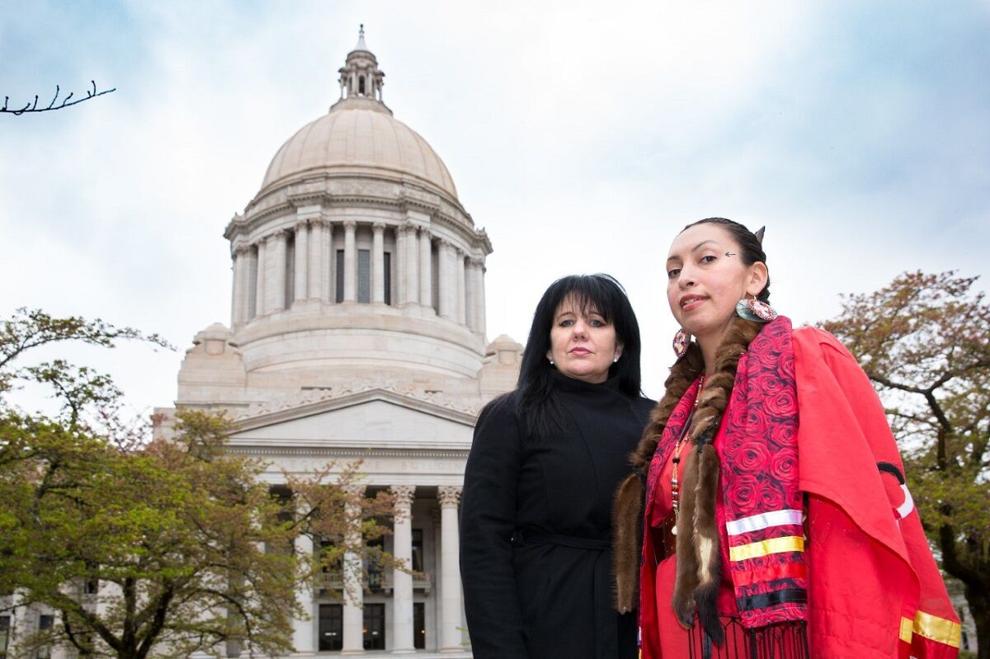 On May 5, Programs for Peaceful Living and Washington Gorge Action Programs recognized the National Day of Awareness to Commemorate Missing and Murdered Native Women and Girls to honor the lives of those who have been abducted, assaulted, trafficked or had their lives cut short due to violence. This population endures a murder rate that is 10 times the national average on some reservations, according to the National Indigenous Women's Resource Center.
This issue has been championed locally by Washington State Representative Gina Mosbrucker (R-District 14) who has been working as the lead author on a series of bi-partisan legislation to support this cause. Two pieces of legislation passed at the state level to protect Native American women, and a third bill has dropped for consideration in the next session.
The first, HB 2951 (2017-2018), ordered a study to determine how to increase reporting and the investigation of missing Native American women. It directed Washington State Patrol to work with the governor's Office of Indian Affairs to convene meetings with tribal law enforcement partners, tribes and urban Indian organizations to determine the scope of the problem and create partnerships to increase reporting and investigation, as well as to work with the federal department of justice to increase information sharing and coordination of resources.
The second, HB 1713 (2019-2020), established two missing and murdered Native American women liaison positions in the Washington State Patrol, one residing in Western Washington and the other in Eastern Washington. Initially this bill also was intended to set up a legislative task force to monitor and improve law enforcement response to missing persons reports for Native American women, but due to budget constraints that year the task force provision was removed from the final bill.
The third, HB 1571 (2021-2022), is currently under consideration and will be addressed again next January when the legislature reconvenes after Mosbrucker takes time between sessions to talk with the tribes, families and stakeholders to refine the specific needs for this "Bring them home bill", which includes all indigenous persons.
"I think what still keeps me up at night and still working on this after six years now, is the image of the 12 year old tribal girl holding up a cardboard sign that asks 'Am I next?'" Mosbrucker said during a phone interview immediately following the close of this year's legislative session. "I can't imagine wondering that."
Mosbrucker has eight months now to work with the more than 29 tribes and tribal urban areas to gather information and adjust the bill before it goes to a vote. She noted that this effort is being driven by the tribes. "The family members are telling us what we need to do, and what is broken," she said. This perspective helps her to refine the bill and she hopes to make it even stronger.
Currently there are five main parts to the proposed HB 1571. It would:
1. Upon the death of an indigenous person, direct agencies to immediately contact family members and tribes prior to the removal of remains and allow tribal members to pray over the body before the body is moved from a crime scene. This would honor and respect their cultural ways, but may not interfere with the crime scene or jeopardize a criminal investigation.
2. Require the state jail booking system to be checked during investigations seeking missing indigenous persons.
3. Create a Red Thunder alert to notify the public of a missing tribal person.
4. Create a symbol and help line phone number to be shared at locations where people may be trafficked.
5. Create a pilot program to set up a receiving center to care for up to 50 indigenous persons who are victims of human trafficking and offer wrap around support services to help them recover.
"The shelter is a heavy lift," Mosbrucker said. But she expressed confidence that since this would be a pilot program, it could be successful. "We will look at funding sources, like the capital budget," she said. But as to the specific design of a shelter, she added, "I want to leave that up to the people who have the needs to decide what it looks like."
Mosbrucker anticipates that there is still more work to be done. She is hopeful that others, including her counterpart Rep. Debra Lekanoff (D-District 40) who is vice chair of the State Government & Tribal Relations committee, will be able to successfully launch a legislative task force going forward.
In the end, she said that this all stems from keeping a promise to the Yakama Nation to create real change.