The Columbia Gorge Veterans Museum, formerly located in what was previously the American Legion building on Second Street in The Dalles, has recently opened its doors in a new location.
Now residing on the second floor of City Hall on Court Street, the museum currently carries more than 1,500 pieces of military memorabilia ranging from present day all the way back to World War I — most of which were pieces donated by local families and individuals who have served. "It's just kind of holding on to history," said Jean Maxwell, the museum's manager. "That's basically what we're doing, and honoring the local people."
A 501c3 nonprofit organization operating under the Mid-Columbia Veterans Memorial Committee inc., the museum first came to be in February 2017, with the American Legion as a co-sponsor. It was started by Maxwell as well as former director and current museum board member, Lisa Commander, with the help of former Mayor of The Dalles, Lester Cochenour. Cochenour, who had known for a long while that he wanted to open a military museum, kept personal memorabilia as well as those given to him over the years with the intent to donate it once a museum came to be.
According to Maxwell and Commander, it was Cochenour's donations that became their "founding collection," and got their doors open.
The museum was housed in their previous location until the American Legion sold their second street building and it was decided they would move. While considering several options, Maxwell and Commander said they knew it was best to stay where there was easy access to passersby. "Being right downtown is really critical, for the future of the museum," said Commander.
It was with the help of current city councilmember and museum board member Rod Runyon that they were able to move into The Dalles City Hall. Both Maxwell and Commander expressed their gratitude. "Rod … was the one who made the contact here with the city — he's been just a fabulous supporter [of veterans] — and we were offered this space [in city hall]. We feel very fortunate because the city's been so generous. We're very, very grateful."
According to Maxwell, the museum spent their last day at their previous location on July 31, 2020. Due to the pandemic they did not start their operations back up again for nearly a year, finally opening their new doors at the beginning of July 2021.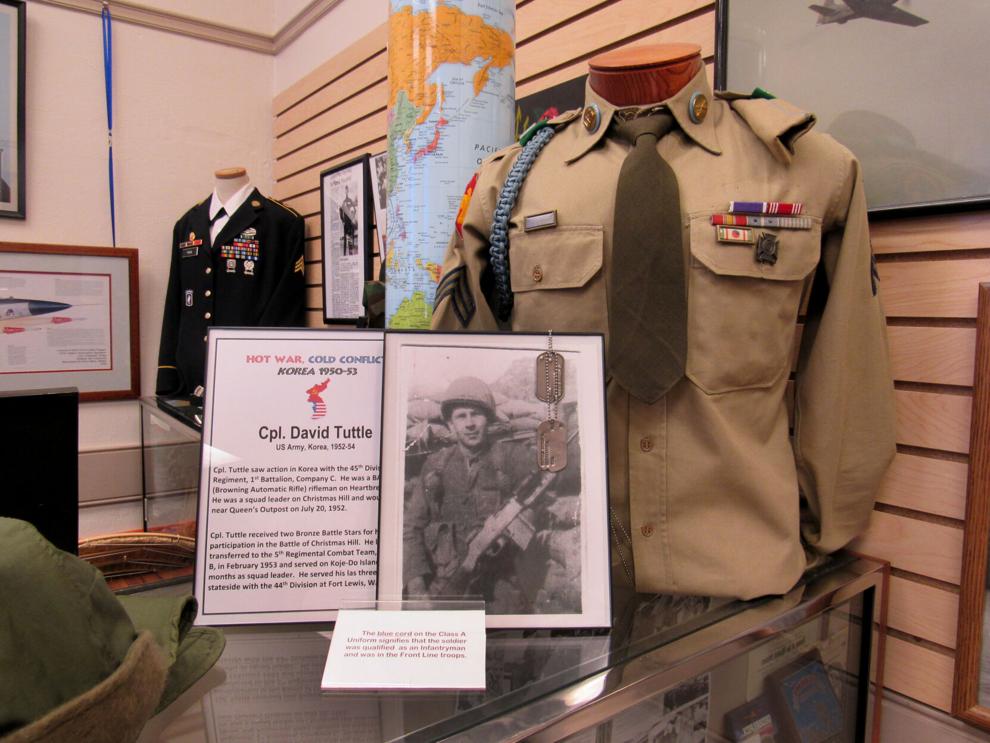 When speaking about the pieces on display, Maxwell and Commander expressed one of their favorite parts about the veteran's museum is the variety. "One of the design elements of the museum is that everything is mobile in here, so things can be shifted. We put wheels on all of the display cases," said Commander. "Before things shut down, we had folks coming here on a regular basis, just to chat and visit, and see things. They don't come in here just once, they keep coming back because we have things changing as things come in or have something going on, we're moving things around in here so it's not a static display."
When discussing the museum's role in the community, Maxwell and Commander turned to their mission statement: "To honor military veterans, past and present, from all branches of the Armed Forces, primarily focusing on our many veterans from Wasco, Sherman, Klickitat, Skamania, and Hood River Counties. [To] Inspire and inform about this region's extensive military heritage, [and to perform] educational outreach for k-12 students so all generations will understand the price of freedom and be stirred by what they learn."
"These are things that are treasured by families, but as families go on, [sometimes] they have no place to put these things," said Maxwell. "We don't want to see them ending up in a yard sale, or the salvation army or something. The idea is to preserve what they [service men and women] did. To prove that freedom isn't free."
"We tell people, if you've ever worn a uniform, you should be honored," said Commander. "Because some people say, 'Well, I didn't go overseas.' It doesn't matter. It doesn't matter what you did. You could have pushed a pencil in Kalamazoo, Mich. If you wore a uniform, we need to honor what you did, because that's still a sacrifice."
When asked if there as anything they would like to share with the community, they wanted to express their gratitude. "Everyone who has come through has been very supportive," said Commander.
They also wanted people to know that they are still accepting memorabilia for display. "We're getting a little bit more selective in what we can take because of our space," Maxwell said, "but there are things that we just can't pass up. Some things are pretty poignant."
Items they are currently seeking include 4x6 pictures of men and women who have served, along with a short bio about them. If you have a photo, or military memorabilia you are interested in donating, contact the Columbia Gorge Veterans Museum at 541-370-1248 or send them an email at info@vetsmuseum.org.
The museum is currently seeking volunteers for multiple positions, including museum docents, administrative support and marketing, and research and artifact maintenance, among others. If you are interested in volunteering, contact the museum by phone or email (listed above). If you are interested in supporting the museum financially, you can make donations in person while visiting, or sending them by mail to 313 Court, City Hall, Second Floor, The Dalles, OR 97058. The Columbia Gorge Veterans Museum is currently open Tuesdays, Wednesdays, and Thursdays, 1-4 p.m. Visit their Facebook page for updates or more information.