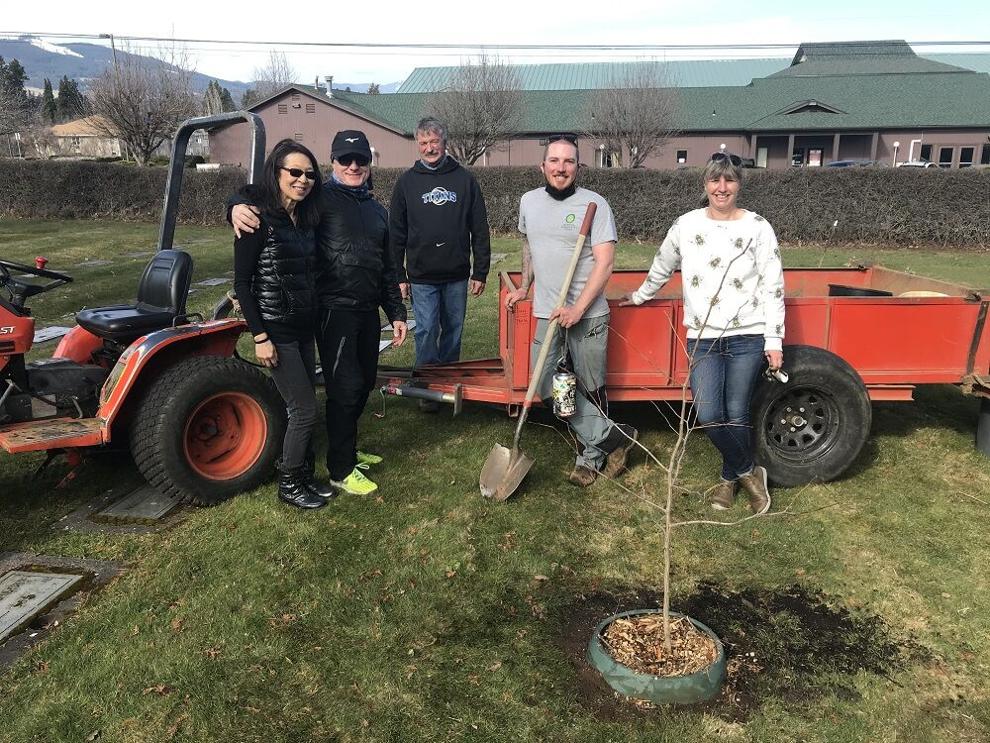 "They'll leaf out in a couple of weeks and be like yellow beacons in the fall."
So said Tyler Roth of the Hood River Tree Committee, who planted two ginkgo biloba trees March 12 at Idlewilde Cemetery as part of an international Peace Tree Initiative.
To mark the 75th anniversary of the close of World War II, in 2020, people in 30 communities around Oregon committed to plant about 45 special peace trees in 2019 and 2020. The effort is the dream of Medford resident Hideko Tamura-Snider, who survived the Hiroshima blast as a young girl. Oregon Tree Committee and Oregon Department of Forestry are coordinating partners on the project, with groups such as city tree committees.
The young trees were grown from seeds of trees that miraculously survived the atom bombing of Hiroshima on Aug. 6, 1945. Today, Oregon has one of the largest collections of Hiroshima peace trees of any state or nation outside Japan. Most are ginkgos, but persimmon seeds from Hiroshima are also being planted.
"The peace initiative is a world wide mission of peace and de-nuclearization and hope and advocacy that atrocities like this against humankind don't happen again," said Roth, who plans to water and tend the trees.
"You think it's a long time ago but its still within a lifetime," he said.
The pandemic interrupted many of the plantings including in Hood River, and Roth had planned to put the trees in the ground in late February — but put it off because of the heavy snowfall and cold weather.
With fellow tree committee member Jacquie Barone and Hood River Valley native Linda Tamura on hand, Roth placed the trees about 200 yards apart, with a sight line at old and new sections of the cemetery purchased by the Japanese American Citizens League. One of the trees is located about 50 yards south of the cemetery office building, and the other is near the north edge of the cemetery, just south of the entry road.
"This is a perfect spot," said Tamura, an author and retired Willamette University professor who graduated from Wy'east High School in 1969 and whose parents along with other Hood River Valley families hailed from Hiroshima. Nojis, Nishimotos, Kiyokawas and Hamadas, all families with roots in the valley, share Hiroshima as their home town.
"We're excited about it. We love seeing them here, especially in the Japanese sections," said Idlewilde Sexton Bob Huskey."They are the first ones of their kind in Idlewild. It speaks a lot for the Japanese Americans who have been here in the valley. We have folks who have traveled to see these because they thought they were already in place," he said of the delayed dedication. "We are going to make that happen, and they'll be protected. They're on sacred grounds."
Roth said he had many choices of location for the trees, but opted for Idlewilde for that reason. Tamura said a summer dedication event is being planned.
As a 10-year-old girl, Tamura-Snider lost her mother in the bombing of Hiroshima. Tamura-Snider survived, eventually moving to Medford and writing a book for children about her experiences as a survivor. In 2007, she helped found the One Sunny Day Initiative. Its stated mission is to plant seeds of universal peace, hope and reconciliation.
On a trip to Japan, Tamura-Snider learned that the non-profit Green Legacy Hiroshima was collecting seeds of Hiroshima's atom-bomb survivor trees, known as hibakujumoku, and distributing them worldwide as symbols of peace and resilience.
In 2017, Tamura-Snider persuaded Oregon Community Trees (OCT) board member Mike Oxendine in Ashland to request the seeds and germinate them, which he did. He successfully sprouted the seeds, which were collected from a single ginkgo tree and a single Asian persimmon. With no facilities to care for so many seedlings, he appealed to OCT and the Oregon Department of Forestry.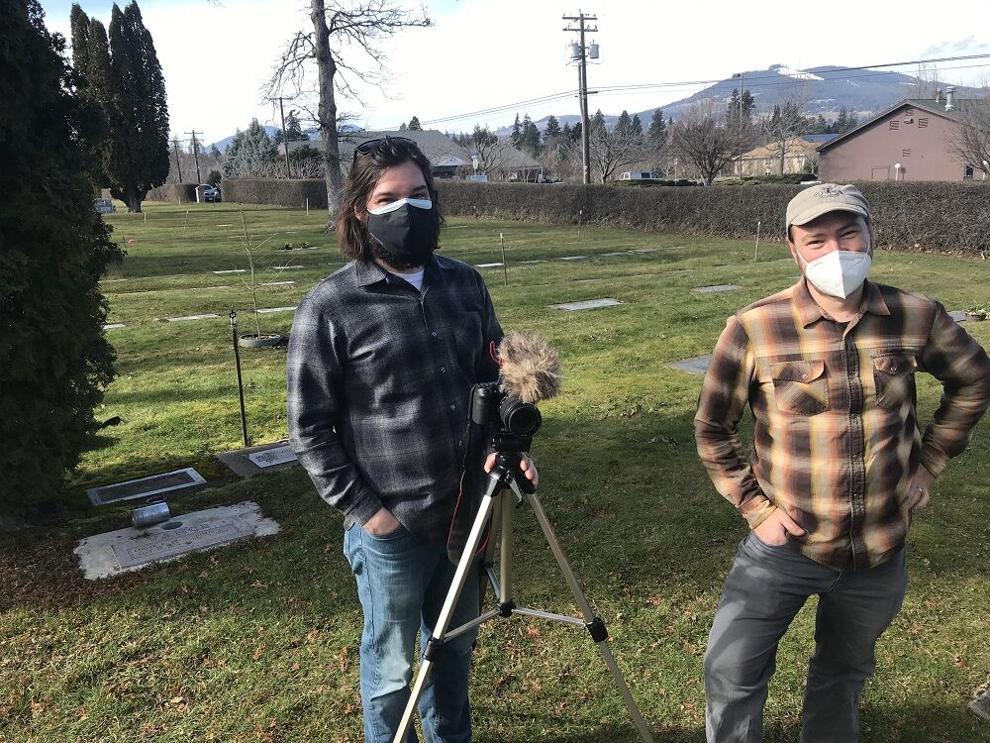 Also on hand at Idlewilde were independent filmmakers Dave Hedberg and James Krzmarzick of Oregon History Consulting in Portland. The yet-to-be-titled film follows the story of these trees coming to Oregon from Japan, visiting multiple communities and witnessing either the planting or dedication.
"... This year that message really is about peace, but peace takes on many forms: Resiliency, being at peace with yourself, at peace with the state of the world, and with what you can control and can't control," Hedberg said. Roth said fossil evidence shows that gingko are species of tree unchanged for millions of years.
"I think these trees are great examples of resiliency," Hedberg said. "When I heard Hideko's story, it struck me that this is a message everyone should hear. She witnessed the bombing and has dedicated her life to peace and counseling people."
Roth said the trees will leaf out in the coming weeks. The gingko bears a cherry-size fruit "but many consider their smell foul, so this is a good area, not too much foot traffic. But with the flash bloom and petals laying everywhere they are going to be magical."