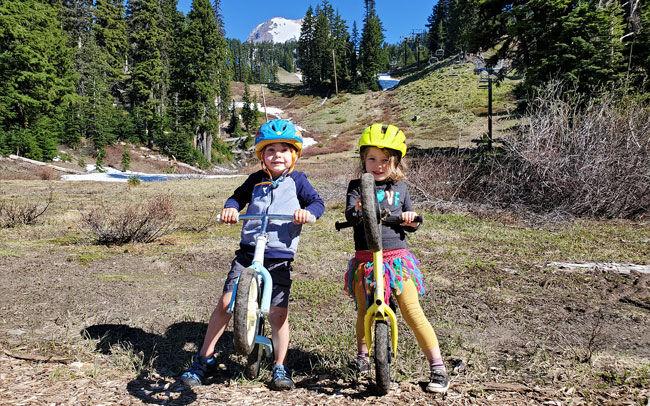 Mt. Hood Meadows is now operating its scenic chair lift and hiking experience five days a week — Thursdays through Mondays — through Labor Day, Sept. 6, according to a press release.
The Stadium scenic chair will run from 10 a.m. to 5 p.m. each day, and until 7 p.m. on Saturdays and Sundays. Chair rides are $19 ($15 for ages 7-14) and there's a savings of $3 on chair lift rides when purchased online in advance at SkiHood.com.
Meadows will debut eight miles of new hiking trails this summer that connect to the popular Timberline, Sahallie Falls and Umbrella Falls trails. These new trails wind through meadows of wildflowers and through the forest canopy to waterfalls and scenic overlooks.
The permit area has some of the most spectacular hiking terrain in the Northwest, and the scenic chair provides convenient access to the high elevation trail system. Access to the historic Timberline Trail is just a few hundred feet from the top of Stadium, and short hikes will take you into Heather Canyon. The scenic chair ticket provides rides all day, so several downhill hikes can be taken.
Meadows Paradise Grill and a retail shop are open.
Mount Hood Meadows summer events
July 17: Stargazer Dinner
Be here as the sun sets and the stars come out. Relax on our deck while watching the stars and constellations hover over the peak of Mount Hood. We will have telescopes for you to use but feel free to bring your own star viewing gear. We will be hosting our Stargazer Dinner again this summer, with an astro-inspired theme. Price is $35 for adults and $19 for kids ages 12 and younger, and must be purchased online in advance.
July 24: Mexican Food Festival
Celebrate the foods of Mexico! New this summer is our Mexican Food Festival — taste foods from all of the country. Purchase online in advance by noon on July 9 and save some money. The cost is $35 for ages 13 and older and $19 for ages 12 and younger when you purchase in advance.
July 31 — Aug. 1: Wy'east Howl Mountain Adventure Race
Take part in a 50K, 100K or half marathon mountain trail running event with Mt. Hood Meadows as the base camp. The course offers all-day views of Wy'east (the native name for Mount Hood), which gets closer and closer until runners arrive at the race finish on the mountain — the only ultra-marathon to do so. Register in advance.
August 7: Balance Bike Kids Event
No pedals allowed. Designed for the little ones, the Meadows Balance Bike race is a fun way for kids to show off their bike and balancing skills. Kids age 2-5 race through the base area and compete against others their own age for the chance to win a prize for top finishing place for their age group. All participants receive a participation medal and snack. $5 online registration.
Aug. 28: Mutts on the Mountain
Fundraiser for the Oregon Humane Society — Guests of all ages can relax on the mountainside and listen to live music, enjoy food and drink and browse vendor booths.
August Sunday Mushroom Hunt Series
Join Meadows team member and local mushroom expert Jason Roberts on a hike through permit area locating and recognizing mushrooms found on Mount Hood. This is not a hike to forage for mushrooms, but it will educate and inform you on how to find some of the most delicious varieties. Roberts will also provide tips on where to find these yummy morsels for yourself. These hikes will be more specific to the bolete or porcini mushroom family as they are the easiest to identify for beginning mushroom hunters. There are only 20 spots available each day, register in advance.
August Friday Night Movies on the Deck
Watch an all time favorite movie each Friday night in August (and Sept. 3 as well) starting at dusk.
For more information visit the resort website at SkiHood.com.