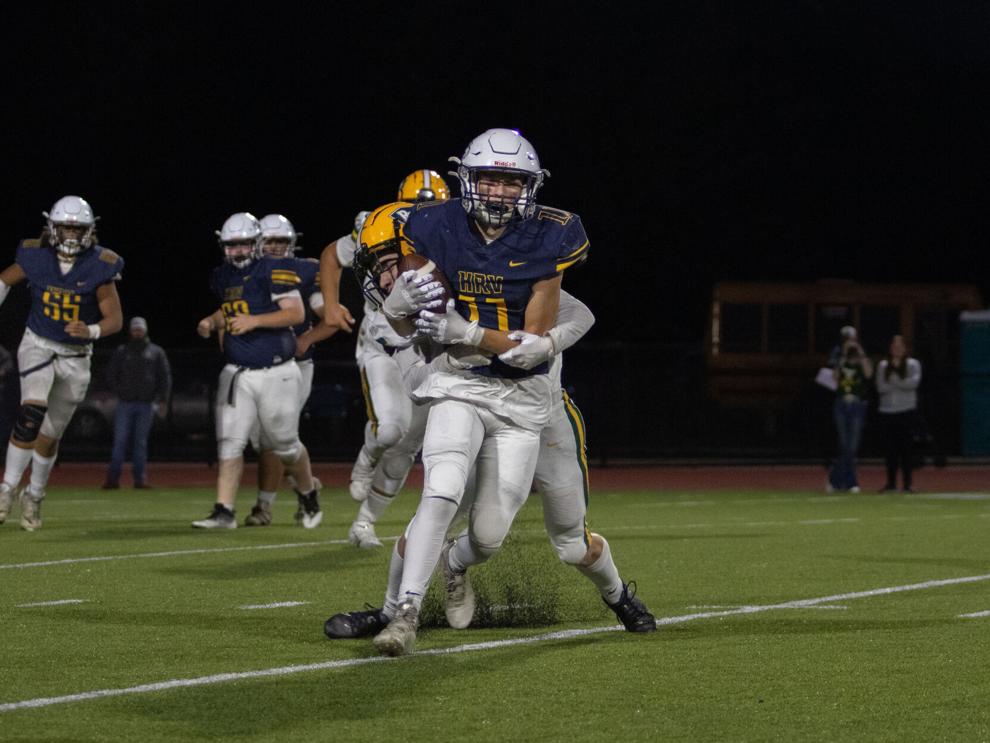 Putnam scored on a kickoff return to end the first half and another to begin the second to spoil Hood River Valley's homecoming football game Friday at Henderson Stadium. The unbeaten Kingsmen (6-0) were outgained by HRV (2-4) but used the special team scores to ground out a, 26-13, 5A Special District 1 win.
Hood River Valley fell behind by two scores early, battled back to tie the game late in the first half, but then failed to cover the Kingsmen kick returners. Putnam took the lead for good on Tyler Creswick's 78-yard kickoff return 17 seconds before halftime. Creswick, who also caught three Konnor Bickford's passes in the first half, bobbed and weaved his way to the end zone, aided by some good downfield blocks.
Putnam opened the second half with a 68-yard kickoff return which enabled the Kingsmen to again open a two-score lead at 26-13. Just 10 seconds ran off the clock in the second half, but the game's scoring was complete.
Putnam jumped out to a 13-0 first-quarter lead, taking advantage of good field position on each of its first two touchdowns. The first came after the Kingsmen gained possession at the HRV 27. Bickford and James Bauman connected on a second-and-10 play for a 6-0 lead. Hood River gave up the ball on downs on its ensuing possession at their 39. Bauman ran a fly sweep left and was turned back to the right after a short gain. He stayed on his feet, picked up a few key blocks and outran HRV's pursuing defenders to the right side of the end zone.
Putnam dominated first quarter total offense, 105 yards to 23, but that changed significantly in the second period. Hood River, which gained 111 yards in the period to Putnam's 16, pulled within a score with 2:52 remaining before halftime on Davis Parr's 3-yard pass to Toby Stintzi. Hood River regained possession a short time later on Grady Williams' interception of Bickford. A Shaw Burns run moved the ball into Putnam territory at the Kingsman 43. Burns then scored on the next play, running to the left and bouncing outside, breaking tackles en route to the end zone.
Burns sat out most of the first quarter after he was injured in HRV's game a week ago against Wilsonville. He finished with 111 yards rushing on 19 carries. Stintzi, who had five of Parr's seven completions, left the game early in the third quarter when his head hit the turf hard after he had made a 12-yard, first-down catch.