A Wallace and Priscilla Stevenson Intermediate School student raised $5,000 for her sixth-grade class, led by Laura Meyer, after receiving first place in a creative contest highlighting Suicide Prevention Month.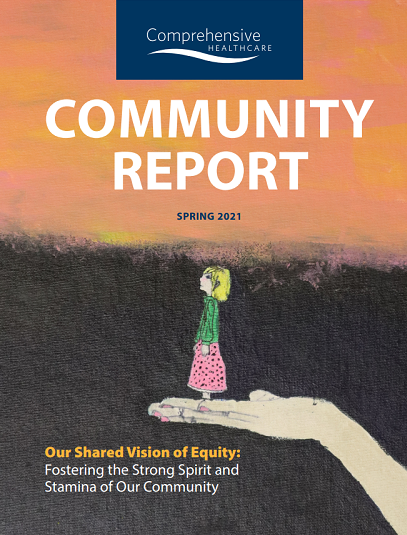 In September, Comprehensive Healthcare's Foundation teamed up with US Bank and Cashmere Valley Bank to host a creative contest to encourage students in grades six to nine to have important conversations about mental health. Together, these organizations raised $15,000 to award to the classrooms of the winning participants of a creative contest. Throughout the month of September, which is also Suicide Prevention Month, students were invited to submit an original, creative art or essay piece that expresses what suicide prevention and mental health means to them. Submissions have now been gathered and the judges have determined the winners of the art and essay categories of the contest.
The winner of the art category is Lola Marti, Grade 6, from Mr. Vincent/Mrs. Meyer's sixth grade class at WPSIS. The winner of the essay category is Caitlin Pham, from Jodi Scott's eighth grade ELA Class at West Valley Jr. High. Lola and Caitlin's classrooms have each been awarded $5,000 to help with technology, supplies and other needs that have arisen during this unique and challenging school year. Smaller awards of $3,000 and $2,000 have been awarded to the second and third place winners.
The judges of this contest included president and CEO of Comprehensive Healthcare, Jodi Daly, a member of the Comprehensive Healthcare Board of Directors, and two school district representatives from the counties serviced by Comprehensive Healthcare. Submissions were presented to the judges without names or school information, and were selected based on originality, creativity, and quality of their piece.
"We thank all of the students who participated in this event, and for all of our community partners like US Bank, Cashmere Valley Bank, Leslie Paddock from our Board of Directors, and all of the schools throughout Southern and South Central Washington for making this possible," said Daly. "This is a very important topic and conversation for families to be having, and it was inspiring to see such beautiful and original pieces from our local students."
For more information about this contest, visit the news section of Comprehensive Healthcare's website at www.comphc.org.