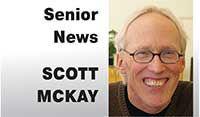 Well, it's the beginning of the holiday season — when we enjoy the company of family and also gain seven pounds by the start of the New Year! But while visiting with parents, children, grandchildren, or all three, it can be difficult navigating around and through past hurts and slights that are brought to family gatherings along with gifts and holiday treats.
But I found this advice that might help avoid the traps and difficulties often encountered at family gatherings. It is from the website Next Avenue (www.nextavenue.org), a service of several PBS stations that offers advice for older adults.
First, bury the hatchet (and although tempting — not in someone's back!). You may not forget past wrongs but try to maintain a spirit of forgiveness.
Second, keep your mouth shut! Well, not exactly. But hold your tongue — even when they have it all wrong! Follow the advice of Rumi, a 13th century Persian poet and philosopher, who suggested before you speak, let your words pass through three gates. "At the first gate, ask yourself, 'Is it true?' At the second ask, 'Is it necessary?' At the third gate ask, 'Is it kind?'"
Third, simplify and reduce stress. Don't be totally worn out when guests arrive. Determine ahead of time what is essential and what is not. And skip what is not.
Fourth, sneak in a few breaks to relax before, during and after the gathering.
Fifth, reinvent your traditions. Find a new location for the gathering. Or go as a family to help volunteer for a community event. Think outside the turkey roll.
Sixth, rethink your gift-giving. Give "experience" gifts: Tickets to the theater or a gift card to a restaurant they would not normally visit. Or donate on behalf of your loved one to a non-profit. (Great idea. But I'm not sure that will go well with the grandkids!)
Families are our support system in times of trouble and our connections to the past and future. And when families are so scattered and often disconnected, the time together is a special time to be enjoyed and savored.
A while back I challenged you to decipher several humorous quotes where I removed most of the vowels — a tough assignment. This time it will make it a little easier. Here are a couple more quotes from two famous comedians — this time spelled backwards. Good luck.
".secalp esoht ot gniog tiuq ot em dlot eH .secalp owt ni gel ym ekorb I rotcod eht dlot I"
"!srorriM ?elbmuh em speek tahw wonk uoY"
The hair care product that used the catchphras "a little dab'll do ya" was Brylcreem. (You may also remember Edd Byrnes played Kookie on the 1958-1964 TV series 77 Sunset Strip and recorded "Kookie, Kookie Lend Me Your Comb" with Connie Stevens.) I received correct answers from Steven Woolpert, Susan Ellis, Sam Bilyeu, Jess Birge, Rhonda Spies, Gene Uczen, Dave Lutgens, Doug Nelson, Rose Shultz, Pat Evenson-Brady, Linda Frizzell, Keith Clymer, and Lana Tepfer, who I missed last week but this week is the winner of a quilt raffle ticket. And I missed Rus Hargrave from several weeks back.
Tis the season to be grateful and one particular song expressing that feeling is "It's a Wonderful World." The song was recorded and released in 1967 but sold poorly in the U.S., although it was number one on the British pop charts. But in 1987 it was featured in Good Morning, Vietnam starring Robin Williams and became a major hit. For this week's "Remember When" question, what singer and jazz musician first recorded the song? E-mail your answer to mcseniorcenter@gmail.com, call 541-296-4788, or mail it with a copy of "Hello, Dolly," his most successful recording.
Well, it has been another week waiting for the curveball to zip around the corner. Until we meet again, from Oprah Winfrey, the entertainment mogul, "Be thankful for what you have; you'll end up having more. If you concentrate on what you don't have, you will never, ever have enough."
"My cooking is so bad my kids thought Thanksgiving was to commemorate Pearl Harbor."
Nutritious home-delivered meals and pick-ups are available for anyone over 60. For more information, you can call the meal site in your area.
Seniors of Mosier Valley — In-person dining now at noon Mondays and Wednesdays. On Nov. 24, live music at 11 a.m. and Thanksgiving dinner at noon. For more information call 541-980-1157; Hood River Valley Adult Center at 541-386-2060 — open for in-person dining; Sherman County Senior and Community Center at 541-565-3191 — open for in-person dining; The Dalles Meals-on-Wheels at 541-298-8333 — open for in-person dining Tuesday through Thursday; Klickitat County Senior Services — Goldendale office at 509-773-3757 or the White Salmon office at 509-493-3068; Skamania County Senior Services at 509-427-3990.