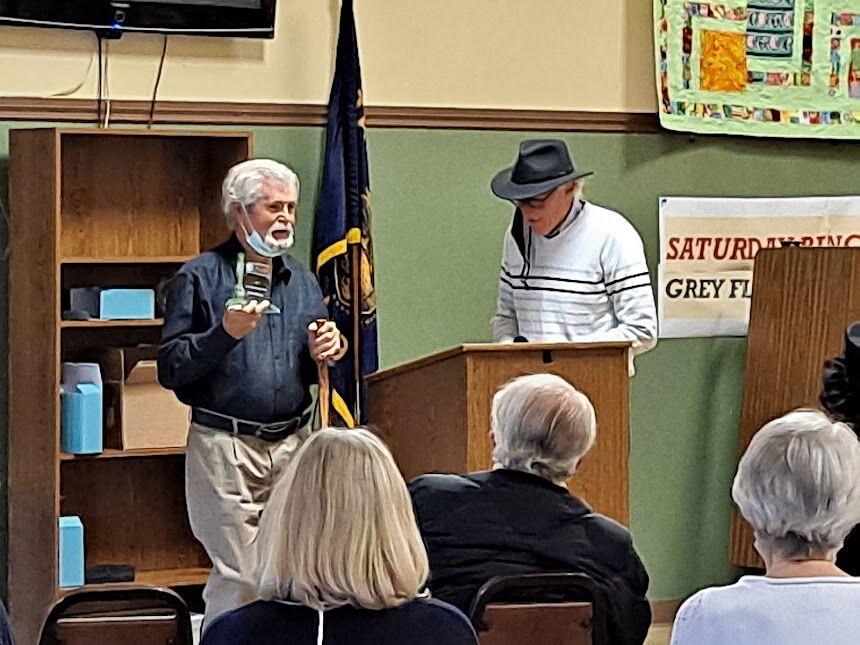 THE DALLES — Mid-Columbia Senior Center hosted their 2021 Wasco County Ageless Awards on Wednesday, Nov. 17 at 3 p.m.
The Ageless Awards honor volunteers 75 and older for their contribution to their community. Each year, there are four awards given out. This year, the winners were Sherry Munro, Duane and Sue Powell, Darrell France, and Mary Davis and the Fort Dalles Floozies.
The ceremony was led by Mid-Columbia Senior Center Executive Director Scott McKay, with speeches given by The Dalles Mayor Rich Mays and Keren Wilson, CEO and founder of AGE+, a non-profit that provides resources to older adults. McKay said the Wasco County Ageless Awards are based on the AGE+ awards by the same title.
McKay conducted interviews with each of the awardees beforehand and gave them all a short introduction, including why they'd been nominated for the award. The awardees then had the opportunity to give a short speech.
The first awardee, Sherry Munro, was nominated for her work with the Civic Auditorium, McKay said.
"Sherry has been on the board of the Civic Auditorium since 2006," McKay said. "And she's helped manage the Civic Auditorium, overseen activities and programs at the Civic. You can find Sherry most every day at the Civic Auditorium if you want to. If you ever want to talk to Sherry just go to the Civic."
McKay said Munro is also involved with The Dalles Kiwanis, and especially loves working with youth. He said she perseveres despite her age, and is a great role model for older adults who may feel stuck.
"(Munro) reminds us that for many of us oldies, we all have health problems, but we can't let that get us down," McKay said. "You gotta keep moving forward, and don't use that as an excuse. And I really appreciate this one because I can relate to this: 'Sometimes there are things you just don't want to do. But you still got to do them.'"
In Munro's acceptance speech, she explained that she and her husband moved to The Dalles from Hood River in 2000, and she hadn't wanted to move. She said she had been miserable about the move at first, but now she is incredibly grateful for it.
"It was probably the best thing that ever happened to me," she said. "I got involved in Kiwanis, I made a lot of friends, and now you couldn't get me to leave The Dalles."
Munro said her work with the Civic Auditorium is a big part of her life, and she is determined to help finish it.
"I refuse to die until the Civic Auditorium is done," she said.
McKay next introduced Duane and Sue Powell, who are residents of Dufur. He said Duane is involved with the Dufur Historical Society and the Dufur Grange, but the main focus of the award would be Duane and Sue's work with the Dufur Meal Site, where Sue is the head cook.
McKay said he really admired the Powells' perspective.
"A quote I got from when I interviewed Duane and Sue was they never feared the rocking chair, they just never had the desire to use it," he said. "I thought that was a great perspective."
Duane gave the pair's acceptance speech, where he mentioned that they had met in high school, which is when they began volunteering, and that would continue through the rest of their lives. They were both involved in the United States Junior Chamber (also known as the JCs) which Duane said was very influential for both of them.
"(The JCs) have a creed," Duane said. "And the first line and the last line have probably been one of the most important things in our life. It starts off with 'Faith and God gives meaning and purpose to human life,' and that's been very important to us in our marriage. And the last line says, 'Service to humanity is the best work of life.' And I guess we kind of adopted that."
The next awardee, Darrell France, was nominated for his work cleaning up the Dufur Cemetery, McKay said. He said France started cleaning the cemetery five years ago and has been the official caretaker ever since.
"Darrell told me that the grass was so tall you couldn't see the headstones and the dogs were using it as a dog park, so you can imagine what that was like," McKay said. "He works hard every spring weeding and raking the cemetery, and before Memorial Day, they spend up to 14 hours cleaning and preparing the cemetery."
McKay also mentioned France's work with Fix It for HIM, an organization that builds ramps to increase accessibility for disabled people.
"(France) never misses an opportunity to build ramps for seniors, those who are disabled, who are in need of a ramp so they can continue to live independently," McKay said. "It was amazing. Over the last five years Darrell and his crew have built over 60 ramps, which means about one ramp a month."
France said everything he does, he does with help from others, which means a lot to him. He said he believes he does what he can to help, but he doesn't feel more deserving than anyone else, and that his biggest guide is his faith.
"I found from Darrell that his faith is central in his life," McKay said. "I asked him why he volunteers and he said because the Bible says to help the widows and the poor."
The final honoree was Mary Davis, who, according to McKay, insisted that The Fort Dalles Floozies were also awarded.
"When Mary was nominated, she made it clear that she would not accept the award unless all the Floozies were included," McKay said.
Davis was chosen for the award in a large part because of her work with the Floozies, McKay said. The Floozies have greeted all of the cruise ships that come into The Dalles for 10 seasons, he said, which helps the economy by making tourists feel welcome.
"They are ambassadors for the historical The Dalles by participating in a variety of activities for different organizations," McKay said.
Davis said she doesn't consider what she does work, because she has so much fun doing it.
"When a person is passionate about something, and they find other people who are just as passionate about something, and they give it their all, it is fun," she said. "It's not work."
Davis also talked about the variety of members of the Floozies and all the things they're involved in, because she thought they all deserved recognition, she said.
"(The Floozies) are absolutely involved in everything in our community," she said. "We feel it's up to us to set an example for those younger than us, but also to encourage each other. To be physically active as possible and have fun. I know we as a group have, I feel like they're another family."
This year marked the second annual Ageless Awards, with the first being in 2019 and 2020 being skipped due to the COVID-19 pandemic. The 2019 winners of the award were Bill Hamilton, Prudence Amick, Terry Stoddard and Lucille Peterson.