Ravens and crows at landfill create health hazard
THE DALLES — Pests and predators in Wasco County could be facing the dual threat of two wildlife service contractors, not just one, if a proposal before the county Board of Commissioners last week continues to move forward.
The proposal would allow the county to contract with Belozer's Outdoor Enterprises, LLC for the control of large and small predators, and still retain some of the services of Animal and Plant Health Inspection Service (APHIS), a federal program under the U.S. Department of Agriculture with the authority to use powerful pesticides to "mitigate" wildlife threats like raven congregations control at the county landfill and nearby orchards at the east end of The Dalles.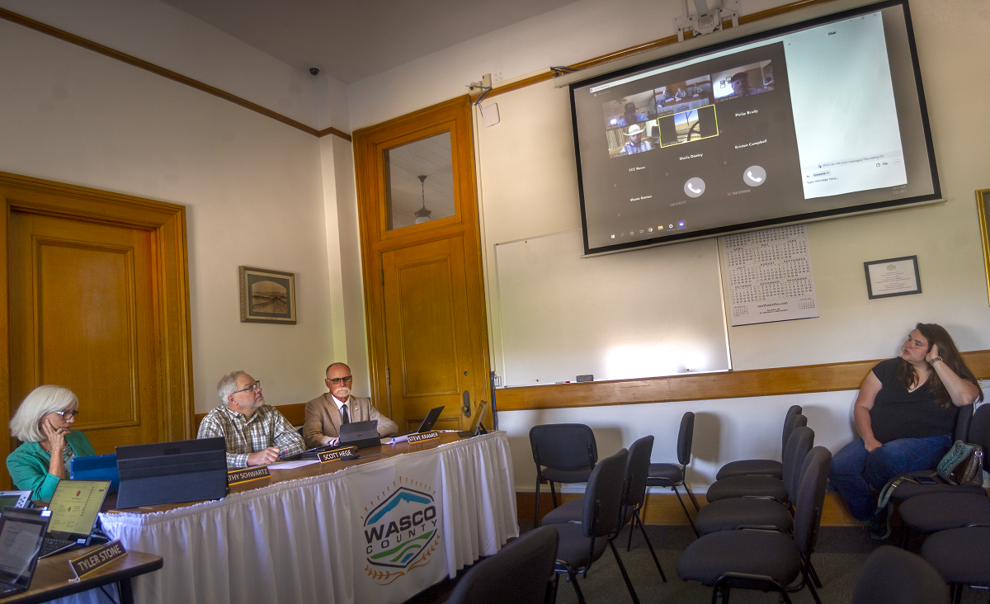 "In our county, it seems like we have two issues," said Commissioner Steve Kramer. "We have a bird issue at the north end, we have cougar and coyote predators in the south end. In my mind, I would like to hire the most highly qualified folks to do those two specialized tasks. I feel that we can split it, we can have two contracts."
"The orchardists here are supportive of reducing the bird population, they have become a really bad problem," said Gary Reed, a cherry grower on Threemile Road. "It's not just the cherries they eat, although the birds are eating the cherries off the top, but it's also a real health risk because they are crapping all over the fruit. That creates a potential for a salmonella outbreak, and during a food inspection that could potentially get us shut down. We've been working on this for a few years now, and it's just critical we move ahead and find a way to deal with this."
Reed said he was not sure why there has been such an increase in bird damage, except that there is a lot more garbage and the landfill is a lot bigger place now. "I'm not sure any of the techniques they have used in the past have had any effect at all," Reed added. He noted fireworks have been used to move the birds, but it did no good. "It makes the birds fly up, but then they just fly right back down," he said.
There are sometimes 200 or 300 crows spread out in the orchards around the landfill every afternoon, Reed added. "It's very difficult to move those crows out. It's going to take a concerted effort," he said.
Ashley Thompson, assistant professor of horticulture with Oregon State University Extension Service, said that although birds are concentrated around the landfill area, there has been an increase in bird predation in other orchard areas as well. "I just can't overstate the implications of a salmonella outbreak due to these crows within the cherry industry — it would be absolutely devastating for our economy," she said, locally but also throughout the industry in Oregon and Washington.
She said there was a lot of work within the industry on reducing risk from birds, but "birds are very smart and they learn, so we are constantly trying to find new and better ways to control for them."
Mike Omeg of Orchard View agreed. "We have observed on our properties at Orchard View, even on the Mill Creek side, that there are higher populations of crows and ravens then there has been historically. I don't know the (full) cause of that, but as the cherry industry is changing, we have a wider variety of cherries planted. When it was all Bings, they all got ripe at the same time. Now we have pockets of varieties that ripen earlier or ripen really late, and the birds have learned to specialize and home in on those. That has a huge impact."
Commissioner Schwartz said she had spoken with Shane Koyle, district supervisor for USDA Wildlife Services based in La Grande, and the agency was proposing using a form of pesticide to reduce the number of birds. "Shooting them is short term and doesn't really work in the long run," she said.
Orchardists attending the meeting asked the commissioners to support efforts to reduce bird damage in the orchards and try to speed up the process, which has been going on for over a year with no timeline yet set for action.
The board agreed, and said they would invite USDA Wildlife Services — with whom the county has a multi-county annual contract for wildlife services through a program called APHIS — and Waste Management Services, which operates the Wasco County Landfill, to meet with the board on the issue.
The board also responded to an email from Koyle, in which he told the county that "Myself and Oregon Department of Environmental Quality met with Waste Connections about assisting them in mitigating the ravens at the landfill and now we are in the processes of reaching out to the orchard owners near the landfill to see if they would like our assistance also.
"For work we do on the landfill we will ask for waste connections to fund that. However, I'm hoping to get the commissions blessing to use a portion of the funds of our county agreement to assist these orchard owners who are losing fruit to ravens ... I think protecting orchards is a wise use of the agreement funds but due to it being a new concept, thought I would run it by the commission first."
"This is the first time in eight and a half years they have contacted us about fulfilling the contract they have with us," responded Commissioner Kramer. "I'm saying go for it, take care of it." The full board then asked that Koyle be informed he had the board's enthusiastic blessing, and be asked what the timeline was for action.
The board also discussed splitting predator control services away from the federal APHIS program to an additional contract with Belozer's Outdoor Enterprises, LLC, which is owned and operated by south Wasco County residents Jon and Jan Belozer.
Jon Belozer said he has 36 years experience as a wildlife control specialist in central Oregon, much of that work with the federal APHIS program. He pointed out that the "legacy" APHIS contract includes 27% of the counties contribution going to administrative services. "We can demonstrate that we will use every dollar of that money supporting field personnel and providing services to the taxpayers of Central Oregon," he said. He is working mirror the scope of the APHIS contract by providing services to Crook, Jefferson, Wheeler and Wasco counties in terms of predator control, including ariel hunting services. "This has been a cooperative program with the counties sharing resources and funding as a group," he told the board. "Our goal is to be the most effective and efficient wildlife control operation in Central Oregon," Belzor said. "It's the same thing I have always done, except I won't be in the employment of the federal government."
Peter Grubb, ranch manager of Young Life Washington Family Ranch on the southern edge of Wasco County told commissioners Belzor's services were essential to the camp. "We have two camps here with about a 1,000 kids a week, and we do have mountain lions that have frequented the camp, and lion kills adjacent to housing that do pose a human health and safety issue. It is a very challenging environment to catch those lions, it has to be done quick and in a way that doesn't interfere with the camps. Traps just don't work. Having Jon specifically, the skill set that he brings, is essential," he said.
Calling in via Zoom from the cab of a combine, Kevin Duling said he was located in something of a "hot spot" for mountain lions. His wife had come across one while jogging, and there had been livestock troubled around the house. He said Belozer had responded quickly, within a few hours, and "eliminated the problem."
Duling said it was amazing to watch Belozer at work. "The action of the dogs, and what he has trained them to do, is just incredible. I don't think there is anyone to compete with him, to be honest. I would hate to lose that resource."
Shane Gomez, a landowner in Antelope, said Belozer was trusted in the community. "I won't let just anyone onto my property," he said. "Jon has our trust, to hunt these cats on our property. That's true for the majority of property owners in south county." Gomez noted that wildlife services were about the only services provided by the county that most residents of south county made use of. "We are 90 miles from The Dalles, but this is one service that we use."
Tyler Stone, the county administrator, told the board he was working with APHIS on the legal language of a new contract. "I have sent APHIS new contract language, and when I hear back from them then we can proceed," Stone said.
Predators coming under the contract would include coyote, cougars. Control measures would also include feral pigs, which can significantly damage wetland areas in the county and have in recent years been reduced using aircraft to hunt them from the above.