WHITE SALMON — A search and rescue team last week recovered a body, which is believed to be a Husum woman missing since May 24.
Husum resident Ruth Elsasser, 42, had been missing since the morning of Monday, May 24, after it was believed she had gone on a hike, run, or a walk on one of the trails around her house.
County prosecuting attorney and coroner David Quesnel confirmed to Columbia Gorge News that the county recovered a body last week, and that there are "reasons to believe it is the missing person out of the west side of the county," citing identifiers consistent with information provided to investigators, such as articles of clothing and a ring that belonged to Elsasser.
By Monday morning, the family had been informed of the discovery. Elsasser's sister, Amy Elsasser Morel L'Horset, shared the news of her loss on Facebook: "I am shattered.
"We all grieve in different ways. I am finding the most comfort by immersing myself deeply with those who were closest to Ruth," Elsasser Morel L'Horset said.
The nursing program Elsasser worked with as an instructor, Frontier Nursing University, also shared the news of Elsasser's passing.
"Please join us in honoring the mother, wife, educator, mentor, and wonderful person she was. We give our utmost condolences to her loved ones," Frontier Nursing University said in a statement. "Thank you, Ruth, for being an irreplaceable part of the FNU community; you'll always be in our hearts."
A longtime friend of Elsasser's, Gina Randall-Thornton, said she is "missing my beautiful friend and grieving today."
She had been close to the events following Elsasser's disappearance.
Search and rescue (SAR) teams led by the sheriff's office had been out searching for Elsasser at least three times since her May 24 disappearance, working from at least 11 p.m. Monday night into early Tuesday morning, Randall-Thornton said. They later returned that afternoon and Wednesday, combing through trails, dense forest and water, and using drones to search by air. After several hours and nothing to show for it, she said SAR shut down the search, telling people close to Elsasser that "at this point there is really nothing they can do," she recalled. Still that did not stop the community from continuing their efforts — on Sunday, May 30, she joined friends and neighbors in a line search with around 20 people through her property and adjoining areas, but uncovered no information.
Unofficial reports of a discovery were initially shared on Facebook last week, but Randall-Thornton said she removed the early posts "so that Ruth's boys hopefully wouldn't find the information online."
"Certain community members were going by their own interests and posted information that was preliminary and at the time, untrue — and that family hadn't even heard," she said, adding that she felt "deeply wounded and that the family was disgraced" by the postings.
A Klickitat County Sheriff's Office press release, received Tuesday morning, detailed search efforts by sheriff's deputies and SAR volunteers.
When Elsasser had been reported missing, the press release said Deputy Mitch Kegley responded to investigate the call. Volunteers with the Klickitat County Sheriff's Office Search and Rescue were called in and assisted with searching the area. Several Search and Rescue dog teams were used to assist in searching for the missing person. The area around the residence was steep and difficult to navigate. Attempts were made to "ping" or locate the missing person based on her cell phone's location, but was ultimately unsuccessful.
On May 25, 2021, said the press release, Undersheriff Tim Neher, Sergeant Fred Killian, and Deputy Erik Beasley responded back to the residence. Deputy Erik Beasley deployed a Sheriff's Office drone to search the harder to reach areas. Additional searchers and dog teams returned to the scene to continue searching for the missing person. Additional attempts were made to "ping" or locate the missing person based on her cell phone's location, but was ultimately unsuccessful. On May 26, 2021, searchers returned to the area to continue the search for the missing person.
Detective Jason Ritoch and Detective Robert Bianchi were assigned to investigate the case and spent the next several days speaking to family and friends.
On June 3, 2021, a neighbor of the missing person located a body at the bottom of a steep cliff, a short distance from the missing person's residence. Detective Jason Ritoch responded, but was unable to reach the body due to the steep terrain. Detective Jason Ritoch arranged with the Klickitat County Sheriff's Office Search and Rescue volunteers, for a rope rescue team to respond the next morning to assist with recovering the body.
Klickitat County Sheriff's Office Posse volunteers were called in to maintain security of the scene, until Klickitat County Sheriff's Office Search and Rescue volunteers could return the next morning.
On June 4, 2021, volunteers with the Klickitat County Sheriff's Office Search and Rescue, returned to the scene and used a high angle rope rescue team to recover the body. Once the person had been identified as the missing person, family members were notified. Detective Jason Ritoch is continuing to investigate the case.
Sheriff Songer would like to thank the many volunteers including volunteers with the Klickitat County Sheriff's Office Search and Rescue, Department of Emergency Management Director and Klickitat County Sheriff's Office Search and Rescue Coordinator Jeff King, and the Klickitat County Sheriff's Office Posse, for their countless hours spent trying to locate the missing person in this case, said the press release.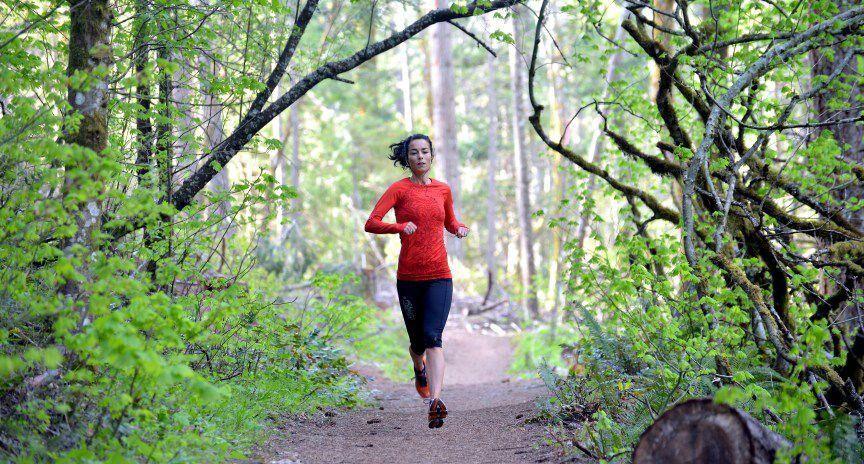 Randall-Thornton had known Elsasser for approximately the last nine years. She was Elsasser's medical assistant at NorthShore Medical Group after Elsasser, a family nurse practitioner, moved to the area with her now ex-husband Stephan Coffman.
Elsasser has always been an active person, for as long as she knew her.
"She was on so many trails all the time, all over the Gorge and beyond," she said of Elsasser.
Hood River News, now Columbia Gorge News, wrote a profile on Elsasser in 2013. The story describes how she became a marathon runner.
Elsasser was diagnosed with Gaucher's disease at age 4, the article notes, "a chronic, painful condition that forced numerous hospitalizations throughout her life." With the help of cutting-edge gene therapy and the addition of a world-class expert on Gaucher's, Dr. John Barranger, the disease faced "formidable opponents" in her care team, including her father.
"My father was a college football coach," Elsasser had told Hood River News. "He'd call out to me, and have his team stop and yell, 'Don't let those boys beat you!'
"The discipline and mental toughness paid off; her growing endurance and speed would often leave the team in the dust," Hood River News wrote. She became a lifelong runner, "finding solace and strength in her five weekly runs and daily exercise and nutrition regime."
In September 2012, she was later diagnosed with Parkinson's disease, a diagnosis that put her "in total despair," Elsasser told Hood River News. Soon she found inspiration in Alex Flynn, a fellow long-distance runner who was also diagnosed with Parkinson's — leading her, then a 34-year-old mother of two, to train for the 2013 Boston Marathon. She finished with a time of 3:41:05, about 20 minutes before the first bomb went off. She had supporters all along the way — "Friends and family joined her in Boston and groups of friends formed prayer circles at home. After the race ended, Coffman had 37 text messages awaiting her in her hotel room. She felt 'completely surrounded' by love."
Some parting thoughts Elsasser left in the article: "The route of the marathon, all 26.2 miles of it, were lined with thousands of people cheering each other along; great runners, people running for causes, people overcoming something, like me. There wasn't one step of the way that I didn't feel connected to everyone there. It was amazing. The bombs were a terrible, big disconnection for the world, but that wasn't the only story. The other story was the connections — the little kids, the guys in wheelchairs, the hospital patients wheeled out, people everywhere — all there to share in the incredible experience."