HOOD RIVER — Gorge Composite Squadron of the Civil Air Patrol, located at the Hood River Airport, hosted an Awards Evening on June 1. Cadets who demonstrated leadership during the past year of quarantine by attending meetings regularly, teaching lessons on aerospace, leading leadership activities were honored. In addition, cadets were in good standing academically, progressing satisfactorily through the CAP cadet program, be of high moral character and demonstrated growth potential.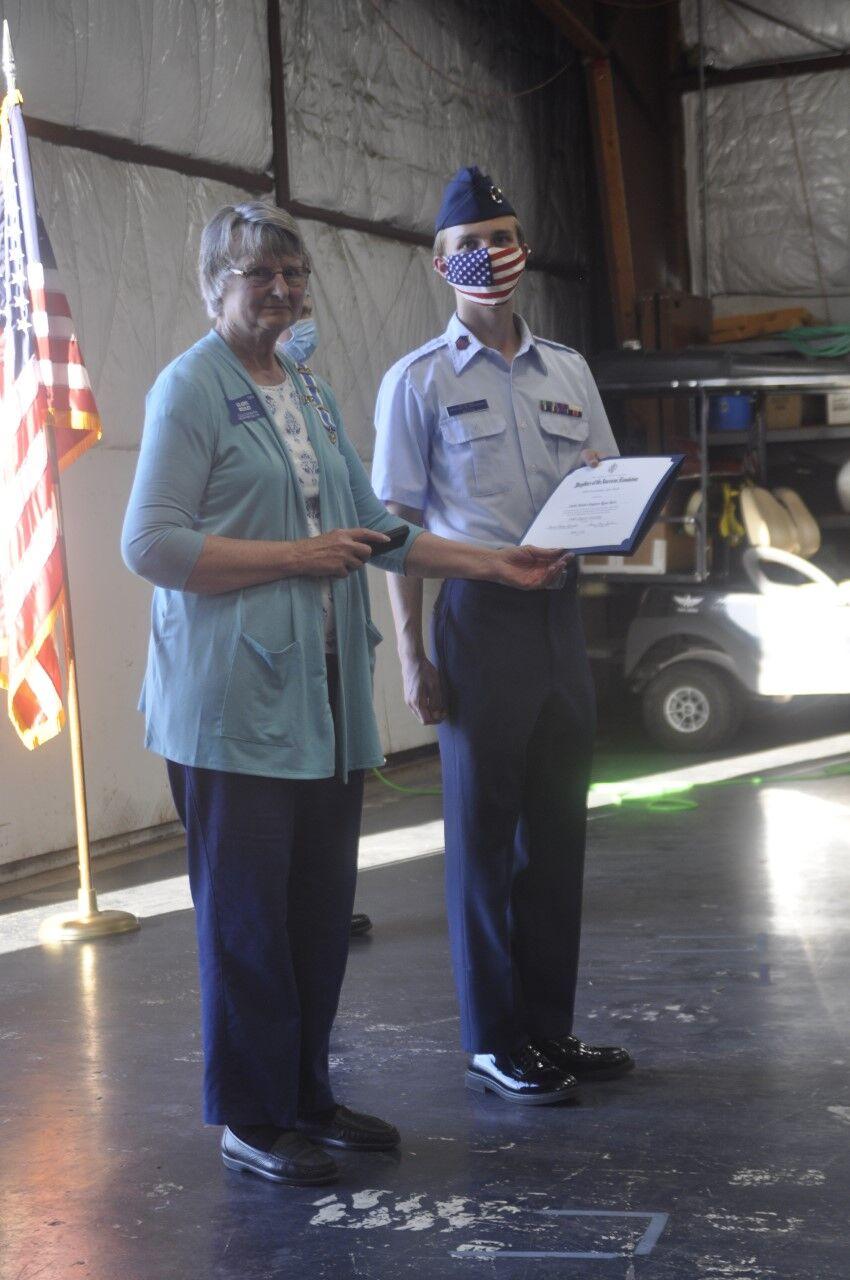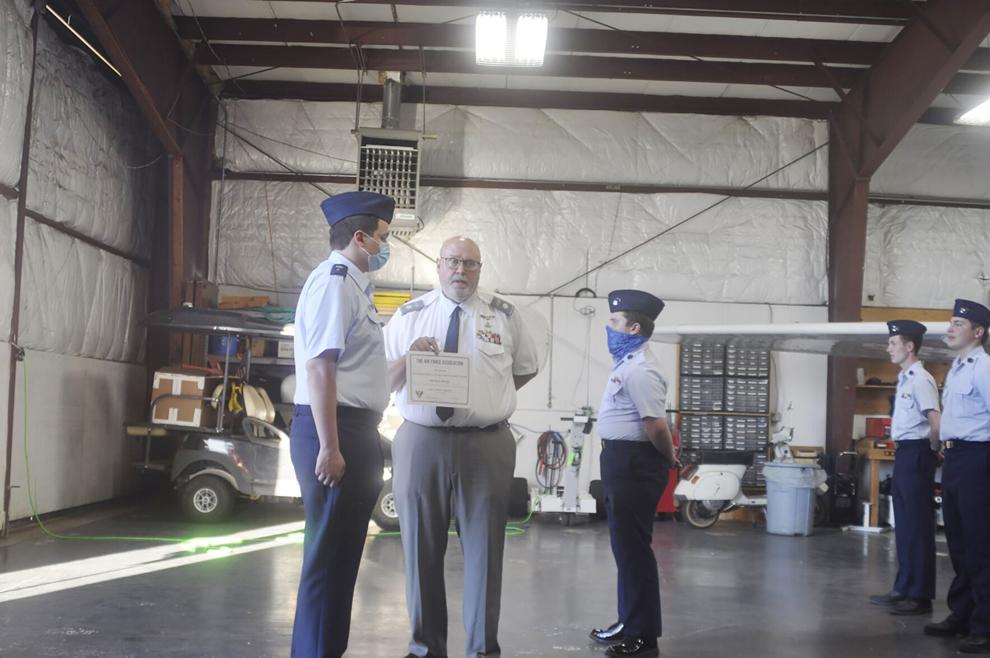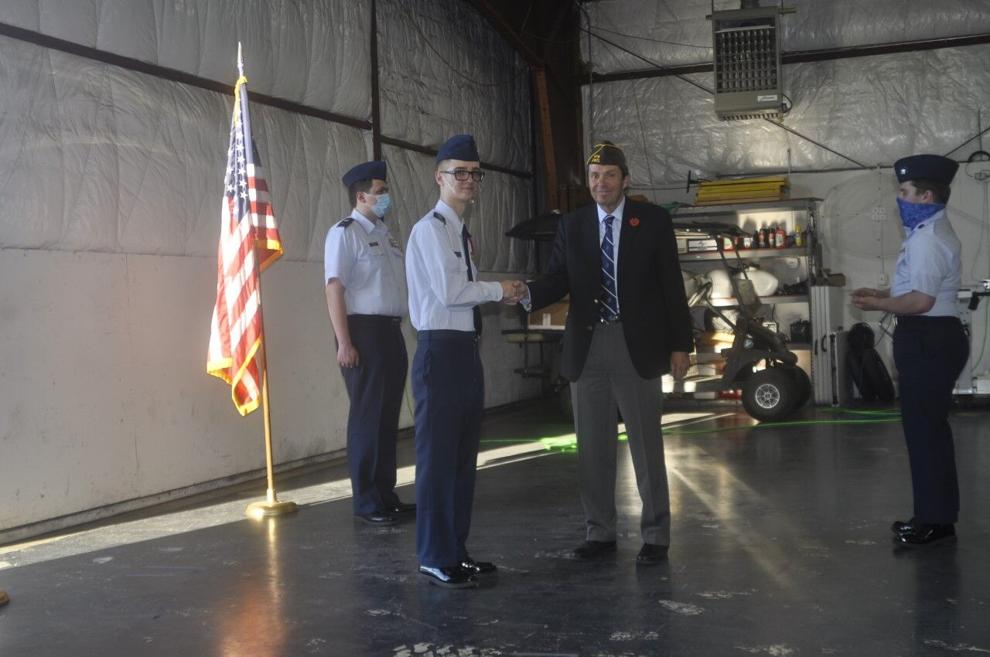 Gladys Wesley, regent of the Daughters of the American Revolution Celilo Chapter, The Dalles, presented the National Society Daughters of the American Revolution Outstanding Cadet Medal to C/MSgt Ryan Betts, Hood River Valley High School, Hood River. The National Society DAR Outstanding Cadet Medal is awarded to a cadet of outstanding ability and achievement. Ellen Hopkins helped facilitate the presentation.
Tom Tesoriero, quartermaster at VFW Post 2471 The Dalles, presented the VFW Award to Outstanding Cadet Office: C/2nd Lt. Isaac Walker, Running Start Program, North Bonneville, Wash.; and VFW Award to Outstanding Cadet NCO to C/TSgt Riley Richards, homeschool, High Prairie Academy, Lyle. This is an annual award established by the Veterans of Foreign Wars (VFW) to recognize the outstanding CAP cadets in each squadron.
Lt. Col Scott Maguire, Civil Air Patrol Regional Public Affairs officer, presented the Air Force Sergeants Association Cadet NCO of the Year Award to C/CMSgt Travis Wayda, Oregon Charter Academy, Parkdale — this is awarded to the cadet noncommissioned officer who exhibits outstanding qualities in the areas of followership, leadership, self-discipline and aerospace education; Air Force Association Outstanding Cadet Award to C/2nd Lt. Zachary Revier, Hood River Valley High School — an annual award established by the Air Force Association (AFA) to recognize the outstanding CAP cadet in each squadron; and CAP Achievement Award to C/CMSgt Jakob Stanbrough, Goldendale High School, Goldendale — for outstanding service to the unit, group or wing, particularly in the area of aerospace education.
Senior C/SMSgt Charis Bronson will graduate from Hood River Valley High School. Bronson received an Air Force ROTC Scholarship and will attend Michigan Technical University, where she plans to major in geology and minor in astrophysics. She plans to work in the field of aerospace.
Established in 1941, Civil Air Patrol is the official auxiliary of the U.S. Air Force and as such is a member of its Total Force. In its auxiliary role, CAP operates a fleet of 560 single-engine Cessna aircraft and more than 2,000 small Unmanned Aircraft Systems (sUAS) and performs about 90 percent of all search and rescue operations within the contiguous United States as tasked by the Air Force Rescue Coordination Center. Often using innovative cellphone forensics and radar analysis software, CAP was credited by the AFRCC with saving 130 lives during the past fiscal year, according to a press release. Fifty-four thousand of CAP's members also perform homeland security, disaster relief and drug interdiction missions at the request of federal, state and local agencies. As a nonprofit organization, CAP plays a leading role in aerospace education using national academic standards-based STEM (science, technology, engineering and math) education.
Members also serve as mentors to more than 20,000 young people participating in CAP's Cadet Programs. Visit www.CAP.News or www.GoCivilAirPatrol.com for more information.