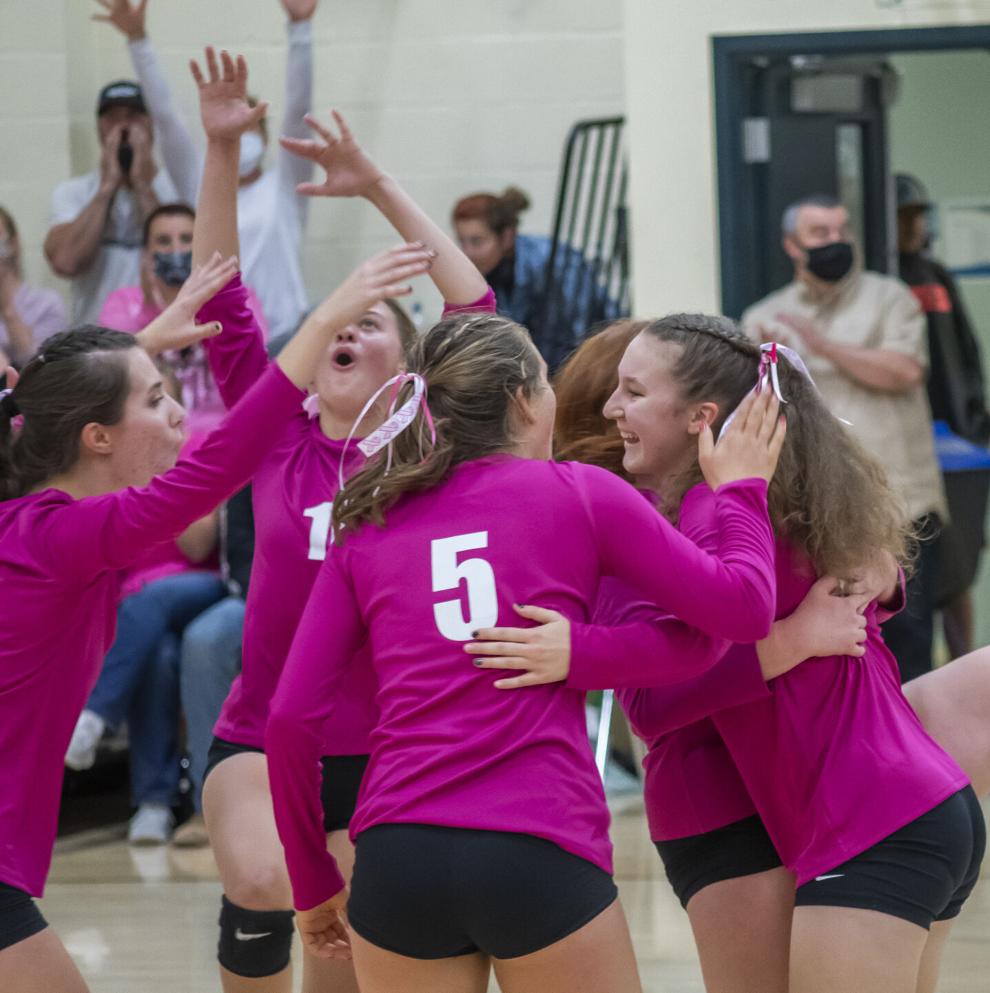 It's playoff time in Class 1A volleyball as the six-team Big Sky Conference District Tournament starts Wednesday. The No. 15 ranked South Wasco County High Redsides earned the Big Sky West Division No. 1 seed with a 6-0 league record and a 16-6 overall mark.
South Wasco, guided by Coach Susie Miles, concluded the regular season with a 3-2 home win over the Dufur High Rangers (3-2 league, 8-7 overall) Oct. 12 and 3-0 nonleague victory over the Horizon Christian/Trout Lake High Hawks (4-11) Oct. 14 at Trout Lake High School. The Redsides then followed with a 3-0 loss to the Open Door Christian Academy Huskies (3-5 Valley 10 League, 7-6 overall) Oct. 16 in Troutdale.
"The Dufur game was very exciting and a long, hard fought two-hour match," said Miles. "We always look forward to playing Dufur, as it is always a tough contest and a great rivalry. Overall, I was very impressed with the Redsides' never-quit attitude. We were trailing several times in the match and never gave up. I have been very impressed with our serving all season. It continues to be a team strength, day in and day out."
Dufur won the first set 26-24, South Wasco won the second, 25-20, and Dufur was victorious in the third, 25-14. South Wasco won, 25-22, in the fourth set to set up the fifth-set tiebreaker. South Wasco trailed 13-9 and then rallied to get a 17-15 win and a 3-2 match victory.
Against Dufur, South Wasco served 92.2 percent as a team. Junior Sadie McCoy was a perfect 19-for-19 from the service line and junior setter Kylie Iverson was 12-for-12. Senior Hailey Anderson was 20-for-21 with a team-high seven aces. Sophomore Hannah Babcock and junior Tracy Magill each had four aces.
Anderson had a team-high 10 kills versus Dufur, senior setter Holly Miles had seven, Iverson had six and Babcock had five. Iverson led the Redsides in assists with 16. Miles had a team-high 29 digs and Iverson had 23. In a quick match versus Horizon/Trout Lake, Miles, Anderson, sophomore Julie Hull and Iverson both served 100 percent.
"We had a fun match against Horizon/Trout Lake, and I was impressed with how relaxed the girls played," said Miles. "We were missing players due to illness and we didn't play our best against Open Door Christian. We are ready to regroup, practice this week and play tough at districts on Saturday at Echo."
South Wasco will play a yet-to-be determined opponent in the four-team Big Sky League quarterfinal playoffs Saturday at 10 a.m. at Echo High School.
Dufur, the Big Sky West Division No. 2 seed, will host a yet-to-be determined opponent at 6:30 p.m. Wednesday. Dufur will play either the Sherman High Huskies (6-4 league, 9-9 overall) or the Ione/Arlington High Cardinals (6-4 league, 9-8 overall).
Sherman concluded the regular season with a 3-2 road win Oct. 12 over the Condon High Blue Devils (5-4 league, 6-9 oveall), followed by a 3-0 home loss to the No. 7 ranked Echo Cougars Oct. 14. Sherman faced Condon Monday in a match to determine which team is the Big Sky East Division No. 3 seed (result was after the printed edition deadline).
The Glenwood/Klickitat High Eagles (2-2 league, 8-4 overall) earned the Big Sky West Division No. 3 seed and will compete in playoff game on the road Wednesday against a yet-to-be determined opponent. The Eagles' opponent will be either Sherman, Condon, or Ione/Arlington. Wednesday's winner advances to the district tourney on Saturday.