Hood River Library hosted its fourth Lunch and Learn conversation Jan. 30, titled "Mi Sueno Americano/ My American Dream."
About 20 gathered in the downstairs meeting room for the presentation by Nubia Contreras, whose parents immigrated to the United States more than 30 years ago. She was born and raised in Hood River, attending Hood River County public schools. She is a certified prevention specialist with Hood River County, a DJ and board member at Radio Tierra and the new community liaison for Columbia Center for the Arts.
Contreras also led the Jan. 23 "Crossing the Border/ Cruzando la Frontera" conversation.
"Everyone has a different dream, or goal, or aspirations," she said as an introduction to the topic. "Most who cross the U.S.-Mexico border, or any other race that crosses over by land or by sea, they all have a dream and that's to give their family a better life, to flee from violence, to live."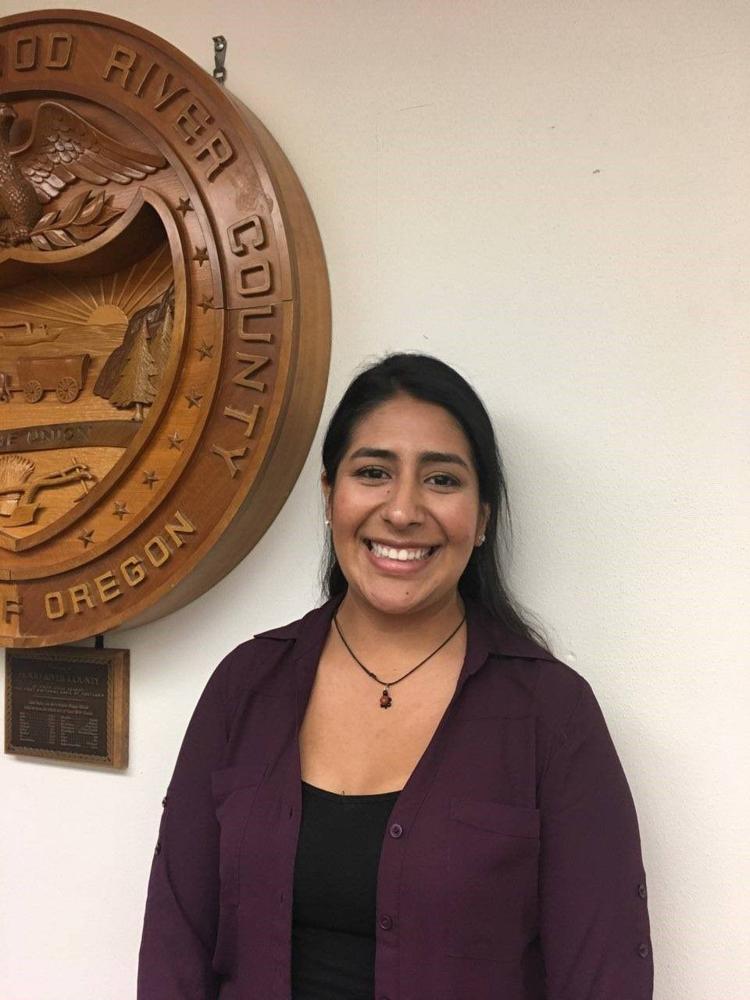 The American dream can be achieved by anyone through hard work because of the U.S.' free enterprise system that makes upward mobility possible, she said, regardless circumstances such as race and class.
"Financially, you can own your own business and make large and small decisions for the control of your own life," she said. But it's more than that.
"To be safe in our own home, in our environment, in our community, not fearing our next door neighbor or a bomb dropping in the middle of the night — for everyone. Not just for one certain class based on your race or background … We want to be able to give our family, or kids, a better life."
Her father is an ag worker and her mother a preschool teacher. They were able to purchase a home after 24 years in farmworker housing — not an easy task if English isn't your first language, Contreras said, although they had help from her sister, who worked in a real estate office.
"Mom had a Bachelor's in education when she migrated here," Contreras said. "That became invalid. She had to learn English. She got her GED and then her Associate's. All my life I saw my mom studying, or she'd take (my sister and I) to her classes. Education was always in the picture."
Her father took English classes but didn't get his GED, "I guess because after working 10-12 hours in the field, he didn't have the energy to study … He's 60-plus and still working in the fields. My American dream would be to have him home and have the possibility to retire. Unfortunately, he doesn't have insurance or a 401k retirement plan (as an orchard worker).
"That's our life. That's the situation we live in," she said.
Though education may be a dream for some, it may also be unattainable. Most classes are held at night, meaning those who attend must get home from work, quickly grab their evening meal and then go to class.
"Your capacity to learn is a little bit lower when you're not fully engaged," she said. "Not that people don't do it. Just that it's harder."
Contreras showed a video of a female Uber driver who immigrated to the United States three years ago from Peru to chase her American dream. Now a citizen and resident of New York, she works 10-12 hours a day as an Uber driver — making roughly $700-$1,000 a week — as one of two "part time" jobs; she also works as a housekeeper. What keeps her motivated is her desire to provide "a different life" for her son.
Contreras said that it's a common story. "A lot of our families that I know in Hood River work two jobs, both the mom and the dad if it's a two-parent household, in order to make a living in Hood River," she said. That means the oldest child in the household often becomes the caretaker of any other children.
She showed another video of a woman who came to the U.S. from Canada legally with her parents at age 6. She didn't know her visa had expired until she was a senior in high school; her parents had tried to remain in America legally, but were ultimately stalled: A lawyer filed the documents late, an employer who needed to sign the paperwork refused a year into the process, losing them their legal status.
"When you're brought here as children, there is no line, which is why reform matters to so many people," the woman said. "Give us a chance to get in line."
Contreras said this too is common. "One of my close friends in high school moved back to Vera Cruz after high school," she said. "I didn't know he was undocumented until our senior year. He was one of the smartest, 4.0 all throughout high school, an amazing person, and he decided it was better to move back even though his home was here in Hood River. He's now getting his Master's in Germany and is doing good, but at the time, it was devastating. He had dreams of attending a private university here."
One woman asked why the United States has to be responsible for "solving the world's problems" by taking immigrants, and two others offered stories of how they see the situation through the lens of compassion. One man talked about how Americans need to look at the treatment of native people in order to come to truly come to a solution.
One man spoke with help from a translator about the gratitude he feels towards the Hood River community for helping him work towards his American Dream.
The discussion went past the designated hour, and Library Assistant Director Arwen Ungar invited those who were able to stay and continue.