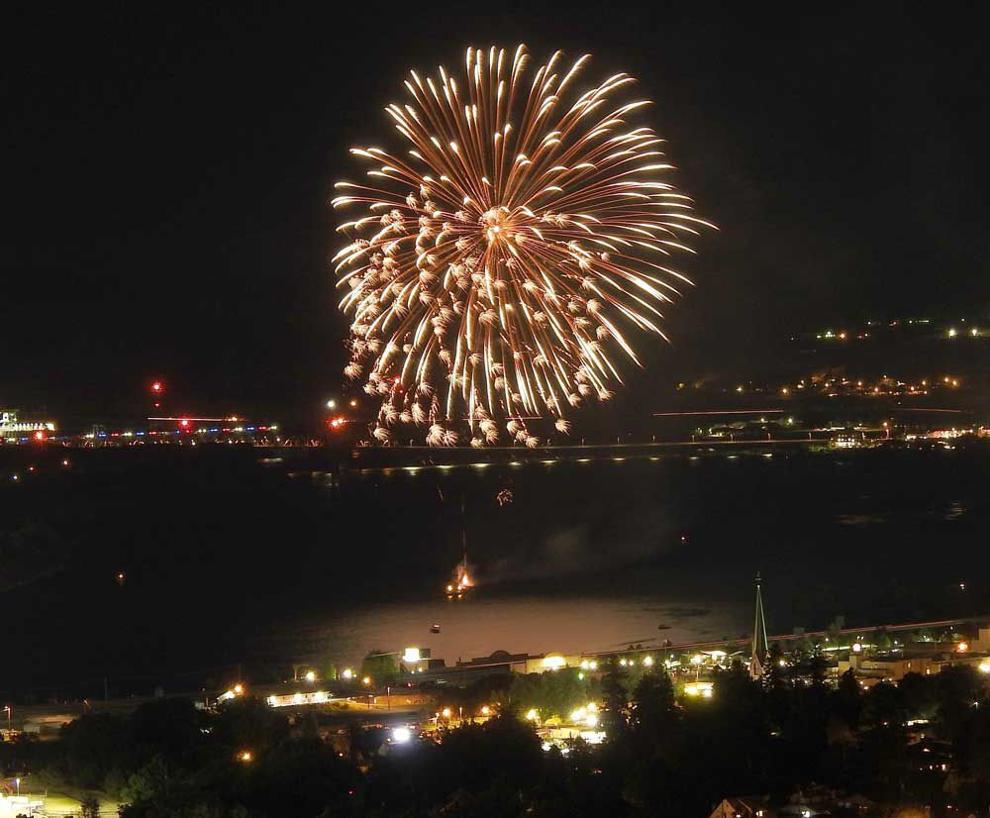 Sunday is the Fourth of July holiday, celebrating the signing of the Declaration of Independence of the United States in 1776.
Most events are back after last year's COVID-19 shutdowns, including parades, fireworks and a fun run.
Hood River
The Hood River Fourth of July parade begins at 10 a.m. at Pacific Avenue and 12th Street on the Heights and ends at the Hood River Aquatic Center. There is a $10 entry fee for those wishing to participate in the parade. A "bring your own picnic" event is happening at Jackson Park afterwards that will include music. For more information or to register for a parade entry, visit hoodriverfireworks.com/parade. This year's parade is sponsored by Gorge Reality Group due to Lions Club International COVID restrictions. For updates, visit their website or facebook.com/hoodriverfireworks.
•••
Hood River Eyeopeners Lions Club is again sponsoring the fireworks show, beginning at 10 p.m. at the Hood River Event Site. Admission is free, but parking is subject to parking fees by the Port of Hood River.
This event is completely financed through community donations; contributions may be made by mailing a check to Eyeopeners Lions Fireworks, 1767 12th St. No. 136, Hood River, OR 97031, online at hoodriverfireworks.com or at the retail booth located at the Rite Aid parking lot.
•••
There will be limited access to several Port of Hood River waterfront properties beginning Saturday, July 3, when the Lions Club will begin setting up its fireworks display just west of the mouth of the Hood River. Parking will be free on the Fourth of July at all port-owned streets and Lot 1 (the vacant lot located south of the Event Site) The Event Site parking lot will be open to 2021 season pass holders and pay to park as usual.
The following areas will be closed or have limited access:
The Spit: The port will close the Spit area at noon on Saturday, July 3 until noon on Monday, July 5.
Event Site Access to Sandbar: Access to the Sandbar from the Event Site will be closed at 7 p.m. on July 4 to all access. Kiteboard launching and landing from the Event Site grass and beach is prohibited.
Marina Beach and Marina Park: The sandy area of the Marina Beach will be closed at 7 p.m. on July 4 and closed to kiteboarding launching and landing, due to the fireworks safety parameter. Once the Marina Park parking areas are full, "Closed" signs will be posted at the entrance and additional vehicles will not be allowed into Marina Park.
Fireworks of any kind are prohibited on all port properties, including the Marina and Waterfront areas. This policy is strictly enforced. People planning on watching the fireworks from the Marina and the Waterfront are reminded that the show's conclusion usually brings very heavy traffic congestion and there will be significant delays in exiting the area. The port urges patience and cooperation to help ease the pressure created by the large number of vehicles attempting to exit the area at the same time. Dark conditions and heavy pedestrian traffic during this time make it all the more important to use caution and take your time driving in the area. There is no overnight parking or camping allowed anywhere on port property.
For more information, contact the Port of Hood River at 541-386-1645 or via email to porthr@gorge.net for more information.
•••
The Kollas Cranmer Fourth of July Run has been canceled again this year.
The Dalles
The day's events begin at 7 a.m. with the FD4 3K, 5K and 10K Rocket Run by the Dufur Track Team — registration opens at 6:30 a.m. — followed by a community breakfast sponsored by McDonald's at 8 a.m., additionally sponsored by Cochenour Builders. Yoga sponsored by Pure Yoga begins at 9 a.m. All three events happen at Bargeway Pub.
A Fourth of July parade begins at 10 a.m., with a viewing celebration at Sorosis Park beginning at 9 a.m. — beginning at 6th and Webber Street and ending on Second Street by The Dalles Chamber. To participate, download the parade application at thedalleschamber.com/wp-content/uploads/2021/06/Parade-2021-4th-of-July.pdf. For more information, email Events@TheDallesChamber.com. The annual fireworks show begins at 10 p.m. at Lewis & Clark Festival Park.
"We are excited to bring back a full schedule of events for the Fourth of July this year," said Matt Herriges, Fort Dalles Fourth committee president, in a press release. "... All of this would not be possible without our generous local sponsors, community partners, and support of our Veteran Banner fundraiser A special thank you to all of those that have supported Fort Dalles Fourth the last eight years."
More information and updates can be found at www.facebook.com/fortdallesfourth or www.fireworksinthedalles.com, or call the chamber at 541-296-2231.
Bingen/White Salmon
The Mt. Adams Chamber of Commerce is hosting the Fourth of July Parade through downtown, followed by a free concert in Rheingarten Park, located at the intersection of Washington and Main Streets from 1-4 p.m. The parade begins on Grandview to Jewett to Main Street, where it will end at the park. The concert begins at 2 p.m. There will be prizes awarded for the most patriotic entries. Everyone is welcome.
"It's time to shine up your wheels, dust off your walking shoes, dress up your dog or decorate your bike," said a chamber press release. "Join us for this small-town celebration of the Fourth of July. Beginning with a parade led by Grand Marshall Carol DeLay starting at 1 p.m., this perfect afternoon festival creates an ideal mid-summer day's trip to the north shore of the Columbia River Gorge."
The parade will feature the 204th Army Marching Band from Vancouver. Local group Harmony of the Gorge will be singing in the parade and also at the park, where there will be VIP tented seating for military veterans and their guest. Veterans are additionally invited to ride in the parade. If you need a vehicle/driver, the chamber will coordinate and drop you off at the park; call by July 1.
For more information, contact Mt. Adams Chamber of Commerce at 509-493-3630, or visit the webpage mtadamschamber.com.
•••
The Port of Klickitat invites local Washington communities to safely discharge fireworks from 8-11 p.m. at Bingen Point. The City of Bingen Municipal Code 8.16.020 prohibits fireworks within city limits. It is possible to legally purchase certain fireworks on federal or tribal lands which are in violation of Washington law (RCW 70.77) and will be confiscated at the event.
For the enjoyment and safety of all:
Minors must be accompanied by and adult
Use of fireworks is strictly limited to the hours of 8-11 p.m. on July 4 in the designated area
No pets, alcohol, drugs, or weapons. Illegal fireworks are prohibited and will be confiscated.
The port could not host this event without the assistance and cooperation of the cities of Bingen and White Salmon, the Klickitat County Sheriff's Office, Fire District 13, and several other volunteers, said a press release.
For links to more information on the event, legal and illegal fireworks in Washington, and state law regarding the use of fireworks, visit the port's web site at www.portofklickitat.com.
Husum
The annual Husum July 4 parade and fun run has been canceled due to the heat wave.