Mid-Columbia Senior Center, The Dalles Area Chamber of Commerce and North Central Public Health District have launched a campaign in hopes of increasing COVID-19 vaccination numbers in Wasco County, MCSC Communications Specialist Rachel Harrison said last week.
After the three groups met and discussed the idea, they reached out to Columbia Gorge Community College, The Dalles and Wasco County which all joined the campaign as partners.
Chamber Director Lisa Farquharson said businesses are among the first to suffer when case numbers rise. She said not meeting state-mandated thresholds locally is "letting businesses down."
Farquharson said individuals doing their part to keep case numbers down — regardless of their political views and beliefs about COVID-19 — help Wasco County's businesses face less restrictions.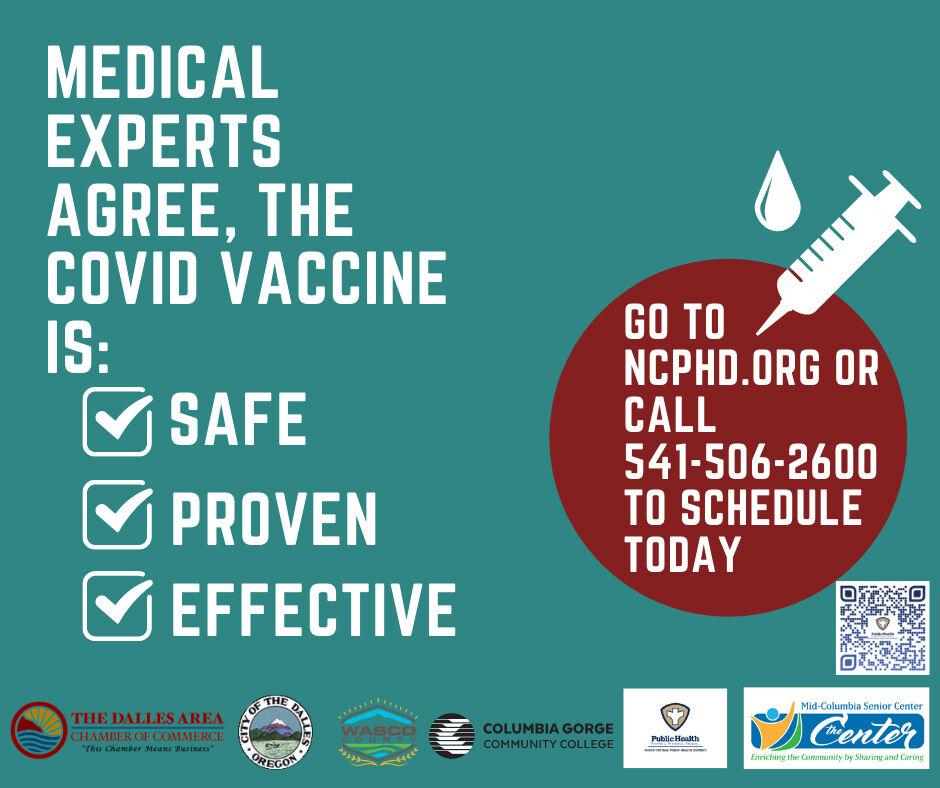 NCPHD Interim Director Shellie Campbell said there are plenty of vaccine doses available in Wasco County at this point. She said individuals getting the vaccine are playing their part in reaching herd immunity, which will ultimately end the pandemic. Campbell said people concerned about the vaccines' safety and efficacy should talk with their primary care provider or research statistics from "trusted sources" like the CDC and Oregon Health Authority.
"People are certainly hearing many different things from media, social media and their neighbors," Campbell said. "I want to reiterate that the vaccines are safe and effective and are the runway to ending the pandemic."
The campaign launches as Wasco County moves from "lower" risk up two levels to "high" after reporting 46 COVID-19 cases in the 14-day period ending April 17, according to NCPHD. "Lower" risk counties as defined by the state have less than 30 cases in a 14-day period.
The jump in risk levels lowers in-person capacity limits in gyms and restaurants from 50 percent to 25 percent and faith institutions from 75 percent to 25 percent capacity in-person.
"The impact is direct," Farquharson said. "We've got to do this. Our businesses are so frustrated today."
According to NCPHD's Facebook page, the rising case numbers "stem from social gatherings and from spread within households."
As of April 20, 35.63 percent of Wasco County residents were vaccinated, according to NCPHD. The agency hosted a vaccination clinic for 16-17-year-olds at Wahtonka Field on April 23 and offers online scheduling for appointments.