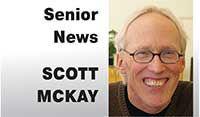 Falls can be more than an inconvenience then the were when you would just pick yourself up, dust yourself off, and move on — although often a little embarrassed. Among older adults, falls are the leading cause of both fatal and nonfatal injuries. And according to the Center for Disease Control and Prevention (CDC), one in four older adults will experience a fall.
Most of the time falls and accidents don't "just happen." Here are a few tips to help you take care of your overall health to avoid falls and broken bones. (For an explanation of the benefits of each tip, go to the National Institute on Aging's website www.nia.nih.gov/health/prevent-falls-and-fractures.)
1. Find out about the side effects of any medicine you take. If a drug makes you sleepy or dizzy, tell your doctor or pharmacist. 2. Stay physically active. 3. Wear non-skid, rubber-soled, low-heeled shoes or lace-up shoes with non-skid soles that fully support your feet. 4. Have your eyes and hearing tested. 5. Get enough sleep. 6. Limit the amount of alcohol you drink. 7. Stand up slowly. 8. Use an assistive device if you need help feeling steady when you walk. 9. Be very careful when walking on wet or icy surfaces. 10. Always tell your doctor if you have fallen since your last checkup, even if you aren't hurt when you fall.
In addition to these tips, Providence Senior Health Programs along with Oregon State University's StrongPeople is offering the following free online webinars:
"Making the Most of Your Mobility as You Age" on Thursday, Sept. 23 from 10-11:30 a.m. Providence experts will explain how to reduce your risk of falling and remain healthy and mobile as you age. Register in advance at forms.office.com/r/1zLuYdAc3D or contact Deana VandenHoek at 503-537-1471 or deana.vandenhoek@providence.org.
"Falls and Incontinence: Hidden Connections and Practical Solutions" on Wednesday, Sept. 22 from 9-10:15 a.m. This training will provide education for men and women regarding falls and incontinence and what can be done to reduce the prevalence of these conditions. Register in advance at tinyurl.com/mpnj5b7c. If you have questions, contact Lauren Kraemer at Lauren.Kraemer@oregonstate.edu.
I've found knowing what to do is the easy part. The hard part is doing what you know, so you can prevent falls and maintain your independence for years to come.
Remaining answers to last week's "Quantagories".
4 = Quarts in a Gallon; 24 = Hours in a Day; 1 = Wheel on a Unicycle; 5 = Digits in a Zip Code; 57 = Heinz Varieties; 11 = Players on a Football Team; 1000 = Words that a Picture is Worth; 29 = Days in February in a Leap Year; and 64 = Squares on a Checkerboard.
From two weeks ago, I received the correct answer of Dinah Shore from Susan Ellis, Steven Woolpert, Billie Maxwell, Claire Zumwalt, Rhonda Spies, Barbara Cadwell, Norma Simpson, Lana Tepfer, Doug Nelson, Gene Uczen, Linda Frizzell, Dave Lutgens, Rose Schulz, Kim Birge, Tiiu Vahtel, and the winner of a quilt raffle ticket, Mark Fortin, who sent in the answer Dinosaur. Don't you love auto correct!
The 1973 American coming-of-age comedy film starring young Richard Dreyfuss, Ron Howard, Harrison Ford that portrayed cruising and early rock 'n' roll was American Graffiti. I received correct answers from Susan Ellis, Doug Nelson, Rhonda Spies, Norma Simpson, Jess Birge, Jay Waterbury, Lana Tepfer, Steven Woolpert, Dave Lutgens, and this week's winner of a quilt raffle ticket, Gene Uczen ,who remembered it was Suzanne Somers in the T-bird.
When my family drove from Indiana to Florida (my dad was thrilled when the interstate highway system was built!) my sister and I would have to find ways to entertain ourselves during those long trips. One way was singing. For this week's "Remember When" question, this song began with ninety-nine bottles of what on the wall? E-mail your answer to mcseniorcenter@gmail.com, call 541-296-4788 or send it with the 13 and a half minute live recording of the song in its entirety. (Yes, there is a recording!)
Well, it's been another week waiting for the leaves to fall. Until we meet again, keep your head up, but watch your step.
"I want to stay as close to the edge as I can without going over. Out on the edge you see all kinds of things you can't see from the center." — Kurt Vonnegut
Nutritious home-delivered meals and pick-ups are available for anyone over sixty. For more information, you can call the meal site in your area.
Hood River Valley Adult Center at 541-386-2060 — now open for in-person dining;
Sherman County Senior and Community Center at 541-565-3191 — now open for in-person dining;
The Dalles Meals-on-Wheels at 541-298-8333;
Klickitat County Senior Services — Goldendale at 509-773-3757 or White Salmon at 509-493-3068;
Skamania County Senior Services at 509-427-3990.