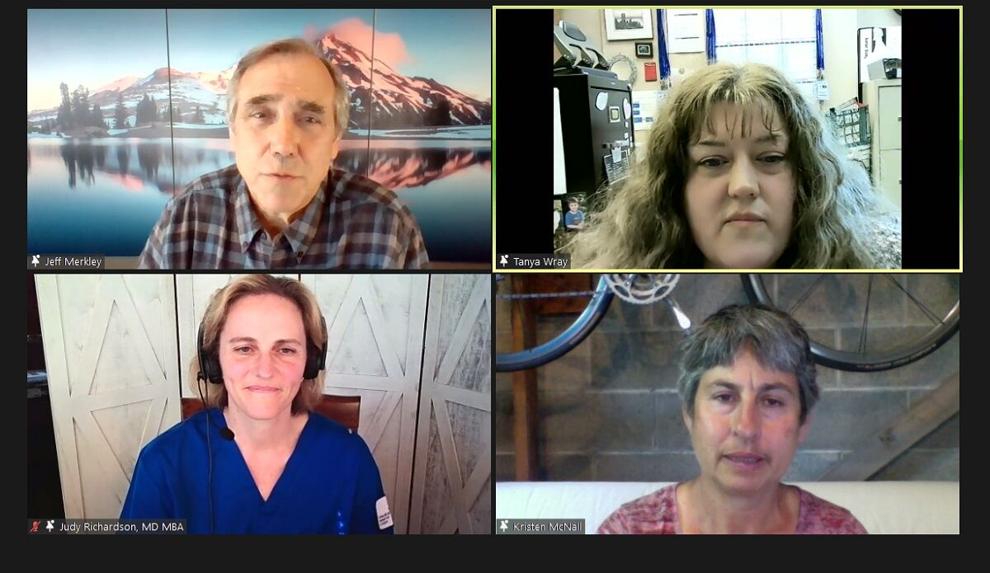 THE DALLES — Oregon U.S. Senator Jeff Merkley honored Wasco County Medical Reserve Corps volunteers during a virtual town hall Tuesday, June 1, for Wasco County residents.
"At the start of every town hall, I like to shed light on a group that has done some good work in building community, and today we're going to shine that light on the Wasco County Medical Reserve Corps (MRC)," Merkley said.
"This medical reserve corps has been working in partnership with the North Central Public Health District to really enhance the vaccination clinics, with 70 some volunteers serving hundreds of hours throughout the tri-county area, helping people get vaccinated. You need the medical professionals, but you also need lots and lots of volunteers to help them out. "
Merkley noted NCPHD has gotten attention for both its volunteer support and its innovative approaches to increase vaccination rates, including use of music, food and prizes to encourage people to come out, be entertained, and get vaccinated at the same time," Merkley said. "There is no question that creative, aggressive approaches to getting the vaccine distributed to folks has saved live," he said.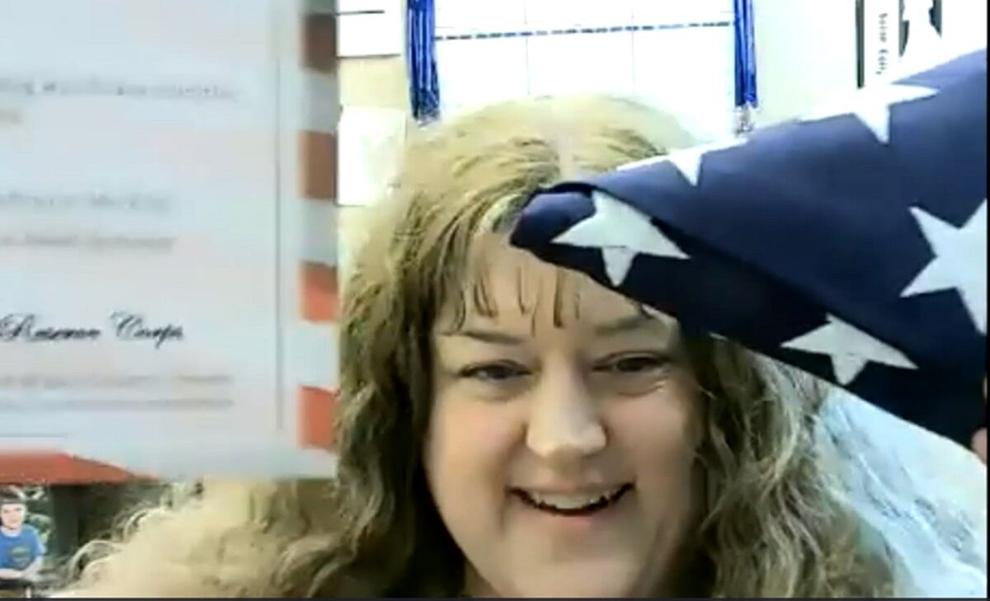 Tanya Wray, volunteer coordinator for Wasco County MRC, thanked Senator Merkley for his support. "We are so proud of our volunteers, and we are always trying to find ways to show that appreciation. So having you acknowledge them in this way is really wonderful," said Wray. "We always say, 'We can't thank them enough,' so this is really great. Thank you for doing this." She said the flag and certificate Merkley sent them would be shared with the volunteers at a "thank you" lunch. She said the volunteer hours have been critical throughout the pandemic.
"I can't imagine how we would have gotten through this without all the hours they donated," she said. "All of our staff is honored to work alongside such compassionate, hard working people."
Those wishing to join Wasco Co. MRC can go to serv-or.com and choose Wasco Co. MRC, or go to NCPHD.org — Medical Reserve Corp page for more information and a link to SERV-OR.
Dr. Mimi McDonell, health officer with NCPHD, agreed with Wray, saying volunteers "have volunteered over 1,000 hours toward getting vaccinations to Wasco, Sherman and Gilliam County residents. We truly could not do this without them. That's a very significant thing."
Merkley then updated county residents on progress — and lack of progress — in the Senate.
The American Rescue Plan is now being implemented, Merkley said, with funds rolling out to the counties and cities, including about with about $5.2 million going to Wasco County and about $3.4 million being split between various cities in the county based on population, including Maupin, Antelope, Mosier, The Dalles and others. "Those are pretty flexible funds, the goal was to put that money in the hands of those who know what is needed most."
Another win is his work with Senator Ron Wyden to renew payment in lieu of taxes and secure rural school funds for Oregon counties, which combined will bring about $1 million to Wasco County, he said.
"Another good development is that for years, I've been trying to fulfill the promise of $10 million for the scenic area that was authorized by congress by not funded. After a couple close calls, we think we are on track this year to get that funding on both sides of the Columbia River Gorge," Merkley reported. "That's a decades old commitment by congress that may now be fulfilled."
Also making some progress in Congress, with the U.S. Army Corps of Engineers, is the rebuilding of some of the tribal fishing sites along the river and some of the villages that were supposed to have been rebuilt back when the dams were built, Merkely said, another of the "decades old challenges that have not yet been fulfilled."
Merkley said in addition to water and transportation infrastructure plans, he is support the American Jobs Plan, which focuses on funding for housing, rural broadband and forest maintenance. "I'm trying to get Congress to think of our forests as part of our infrastructure. The president's budget is about two-thirds of what is needed to treat our second growth forest (for fire resilience).
"That work of thinning and mowing and some logging, could be a real win-win situation," he said.
Following an overview on work being done, Merkley began fielding questions, the first being from Leo Lemann, a sophomore at The Dalles High who asked how likely it would be the federal minimum wage will be raised this year.
"I think the odds are pretty low, because of the filibuster, which requires bipartisan cooperation to pass any policy bill in the senate," Merkley replied. "This shows how really broken our system is in the senate. It's fine to slow thing down in a 'cooling saucer,' as President Washington said, but we have a freezer. It's like, 'an eye for an eye makes the whole world blind.' We have to get rid of the filibuster."
Kim Morgan, The Dalles, asked what the prospect for community college being fully funded was, Merkley President Biden's idea was for community college to be free, and four-year college to be debt free. "It's not impossible," Merkley said, noting that as a high school graduate he was able to work a summer job and pay for schooling. "Today, the cost is a barrier. The idea is the feds would supplement local, state funding of college. There really are no reasons not to do this in the world we live in today. Most countries are investing in this," he said.
In regards to the American Job Plan, Merkley said it was unclear if it would pass. "I support the bipartisan approach. Europe, Canada, China and Japan are all doing much better on infrastructure than we are.
"Our future economy is for countries that invest in people and infrastructure. We are doing neither, and we really need to do this."
Merkley said working with legislation and policy related to competition with China, it was clear more investment was needed in the U.S.
"This goes to the point of the difference regarding China's investment in infrastructure and ours," he said. "I do not think the future belongs to the nation with biggest military budget, but to nations that invest the most in their people and their infrastructure. The battle is really about your economic strength, not your military might," he said.
"China has an international strategy of investment, they are investing in renewable energy, electric cars, rare earth minerals ... we don't have a strategic plan like that."