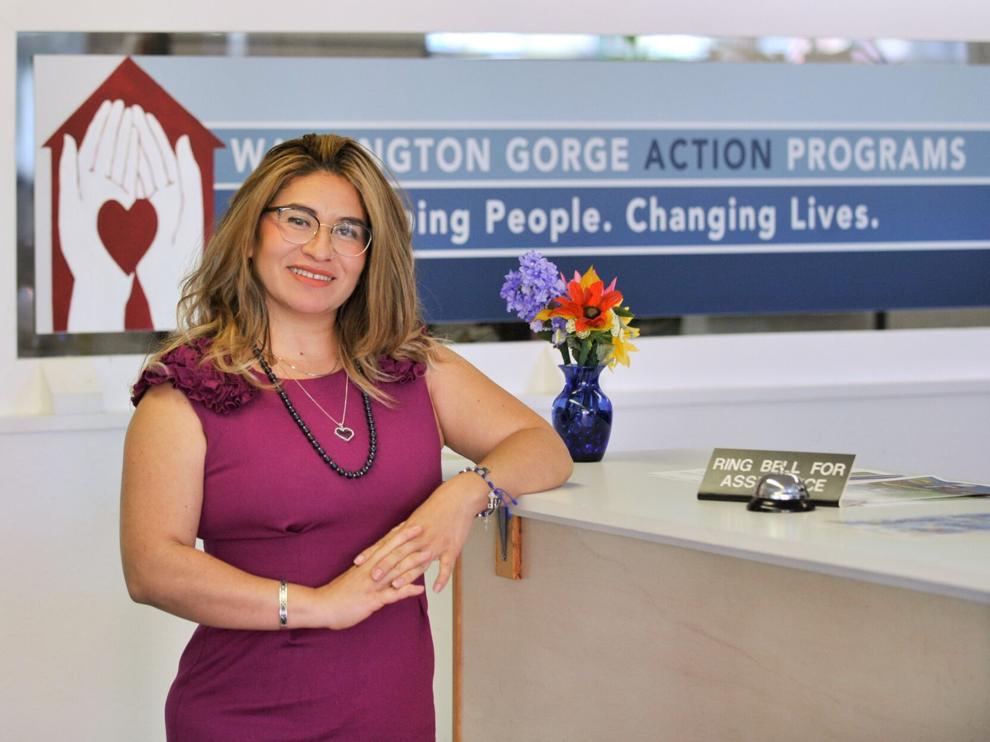 BINGEN — Imagine leaving your home, country, and immediate family to arrive in a new country, with a new language and a new family, all at 10 years old. For one White Salmon woman, this was her reality, and she works hard now to help others who have been through similar experiences.
Lorena Salazar-Zamora was born in a small rural town of Petatlán, Mexico, where nearly 50% of the population lives in poverty, according to 2015 statistics from DataMéxico. As recently as 2020, more than 6% of the population still has no bathroom or sewage system access.
It wasn't easy to leave her grandmother, who raised her, behind. But now, in adulthood, Salazar is thankful for the unexpected journey her dad brought to provide her with the opportunity for a better life. She now has three beautiful children from ages 3-19 who keep her forever busy.
They landed in Hood River, where she had to adjust to a new culture and language. At age 16, the family relocated to Las Vegas, Nev., where she graduated from school and landed her first job in a finance company.
She found that she had a knack for working in finance, working with clients on applications, credit reports, and verifying employment. She developed customer service skills and met a wide variety of people from different backgrounds and cultures. She worked at a small agency where the owner helped her grow in professional skills and customer service.
"They were amazing. It taught me the ropes of great customer service," she said.
At age 21, her life took a turn, and she welcomed her first child. Unfortunately, the unexpected happened, and she became a single mom and moved back to Hood River. She needed to work to pay bills.
"I think I've been working my whole life," Salazar said.
She remembers one stressful moment when she needed help to pay rent, and a friend referred her to Mid-Columbia Community Action Council (MCCAC).
"I'm thankful for the assistance and resources that are available for single mothers and for those who are struggling during hard times. It was able to get me through life and be okay," she said. But she felt it was important to be self-sufficient as much as possible, so she only used it one time.
Later, she learned of a job opportunity at that same organization to support the energy assistance program that helped people pay energy bills. She applied and was hired to help process applications, working seasonally during the winters for three years. "That is where I got to know I like working with the community," she said.
She knew how important it was to be professional yet kind and understanding. She learned about working with people from even more backgrounds, including those with disabilities and those struggling with mental health issues. She said the biggest lesson she learned was not to judge those applying for assistance. "We all have things going on in life," she said, adding, "I sit back, and I understand that I've been there."
Salazar herself has been a legal resident for a long time but remembers the struggles it took to get there. Although she is documented now, she still has a nagging feeling about how she arrived in the U.S. as a child. This is an uncomfortable conversation, and she said she worries. "You still feel like people will judge you even though you went to school here, you got an education here, you have friends here, and you're paying your taxes."
She wants to remind others, "We came like everybody else. Our parents were looking for their kids to be successful, for their child not to live in poverty in Mexico, for their child not to marry at the age of 14 or 15. They wanted you to better yourself, have a better life, and have a better future.'"
For the past two years, Salazar has taken her experience and put it to good use at Washington Gorge Action Programs, the Community Action Agency serving Klickitat and Skamania Counties. She began at the front desk, answering questions, referring people to services, and providing much-needed Spanish translations.
Recently, she started supporting the finance department but still helps cover the front desk whenever needed. She is grateful that her path has led her to help others and plans to continue serving the community to help everyone find their better future.