A long-time Gorge coffee entrepreneur is making an investment in coffee and recreation in Mosier.
In October, Bryan McGeeny opened Randonnée Coffee on Highway 30, renovating the interior and expanding the patio just in time for the new realities of outdoor seating needs. McGeeny roasted in two locations on the Heights before moving his roasting operation to Mosier about 10 months ago.
In addition to fresh coffee drinks, and pastries from Lewis Fitzgerald, The Dalles artisan baker, the menu includes bagel sandwiches at Randonnée.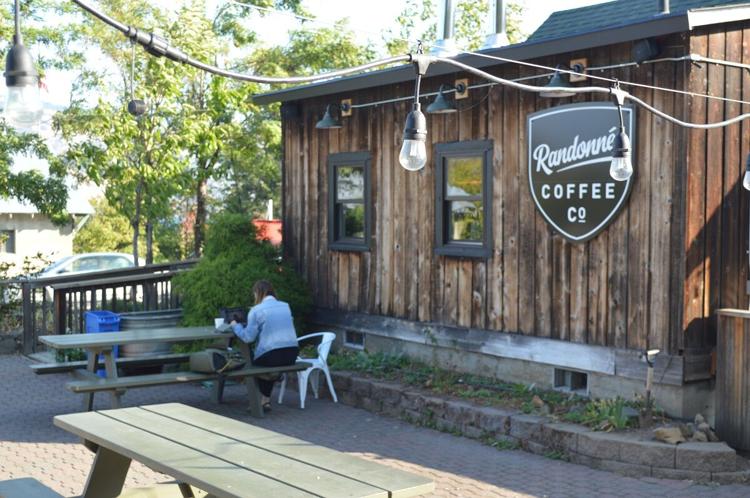 The word is a French term often used in cycling and backcountry skiing, "a sort of off-the-beaten path adventure," McGeeny said, "I thought it would be great to tie into the popular gravel riding scene, and it's also a tangent for me in the same spirit."
The tangent is the Randonnée brand — special roast coffees as well as swag — as an innovative sideline to McGeeny's established 10 Speed brand. He continues as roaster both for the Mosier operation and the 10 Speed Cafe he co-owns on the Heights in Hood River. He started 10 Speed in September 2005 at the current 10-Speed location, then moved to the current Kickstand location before starting to set up in Mosier a year ago in the former Rack and Cloth building.
"We want to cater toward the gravel biking scene and wine tourism, and give Mosier tourism an option they haven't had in a long time," McGeeny said. "We do get a lot of that traffic out here," he said. "We're hoping to be on line by tourism season next summer or late spring."
The project got going about the time the coronavirus pandemic started.
"It's been a challenge. We were charging before it all hit, and there was no turning back, we were past the point of no return." he said, adding that "wholesale (coffee) was off the cliff for a while."
McGeeny did a complete remodel of the former cidery, which he called "a funky old building, real small but with a lot of character. I wanted to retain its rustic feel. It came with a nice weathered patina that people pay a lot of money for, but it's just sun and sand and wind."
The Randonnée concept is about McGeeny doing what he loves, but in a new direction.
"10 Speed became a successful wholesale business and wholesale is about consistency and keeping accounts happy," McGeeny said. "(Randonnée) is, for me, a way to do more interesting one-off coffees and not be as consistency-focused, and bring in unique stuff I might only have for a month, but that's fun."
He said Randonnée will feature coffees from "particular farms in particular regions," beans he can't get in quantities needed for wholesale.
One recent example was a "small estate Chiapas coffee" from Mexico.
"I work with importers and just try to stay in the loop of what's available, and a couple of people I work with know what I'm looking for and when they know what's available they let me know," McGeeny said.
"We play with it a little," he said. "If you pull an espresso every coffee performs a little different, so you make adjustments with drying and temperature to best represent the coffee.
"These are different coffees than we're doing in the Heights," McGeeny said. "Everything we have on the menu here is going to be fairly unique.
"We'll start small, grow organically, at this point you can purchase at the cafe only. We're trying to draw in customers and create an experience," McGeeny said.
A camp with cabins
But Randonnée is more than a place for food and coffee.
Camp Randonnée comes next, with construction of four cabins on pace for completion this spring, just up the slope just south of the cafe. A commons green for games and gathering will tie together the cabins and cafe, and there will be room for two food trucks.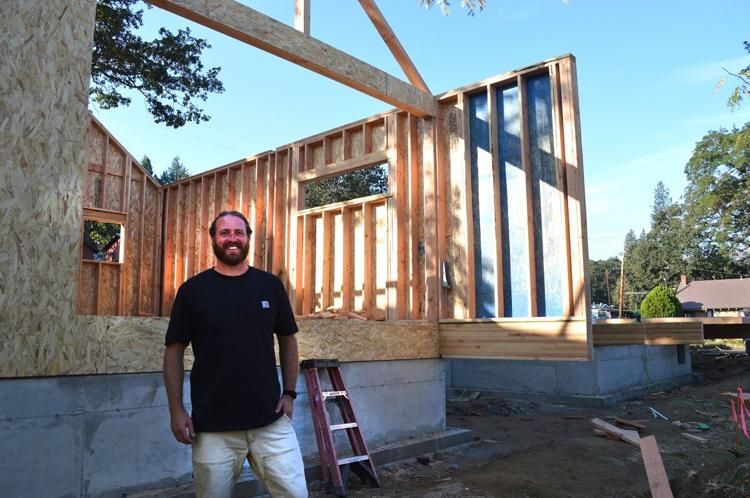 McGeeny's partner, builder Brian Nicholson, called it "a cool spot."
Each 500-square-foot cabin is an open studio with full bath and kitchen, eating bar with view out full-wall north-facing windows and a deck, and will be fitted with beds and a pullout couch, to sleep up to three couples or one family.
Nicholson, who is working with Hudson Knoll Construction, said the cabins' slope siting provides great views of with views of the Coyote Wall and Syncline across the Columbia in Washington.
"When you get that much higher, shoulder height, from the deck, you can see a lot more of the river," Nicholson said. Jeff Dellis, of Jeff Dellis Architecture in Hood River, said the decision to add a short crawl space and cantilever deck economized on space while adding privacy to each deck as well as the commons.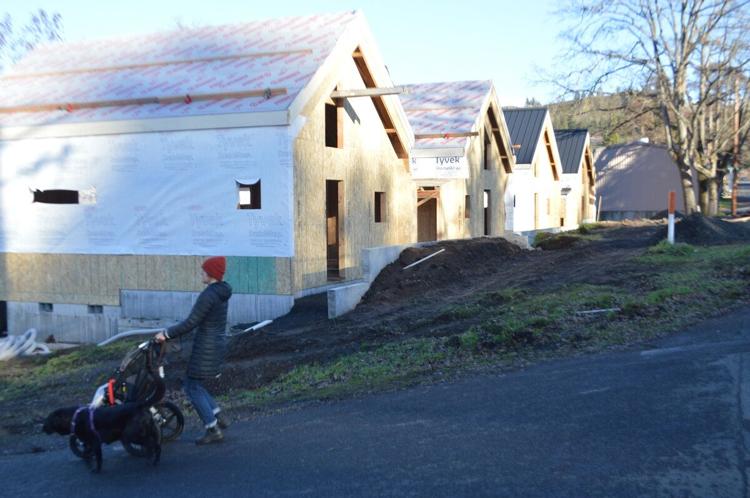 "I had these ideas and went through Jeff on it, and he nailed it," Nicholson said. "I wanted them to be open, and tall since it is such a small living space, so you don't have that sucked in feeling, and all north-facing walls are 90 percent glass, ceiling to floor. And the original plan had them on the ground, but we lifted them up a little bit. By building the foundations up from ground level, since we wanted a hang-out, parklike area, we thought it better to have them a little above."
The 18-foot cabins are also two feet shorter than allowed by the city.
"We also wanted to be careful of existing residences' views, so they are taller but peak out so you have sight views," Nicholson said.