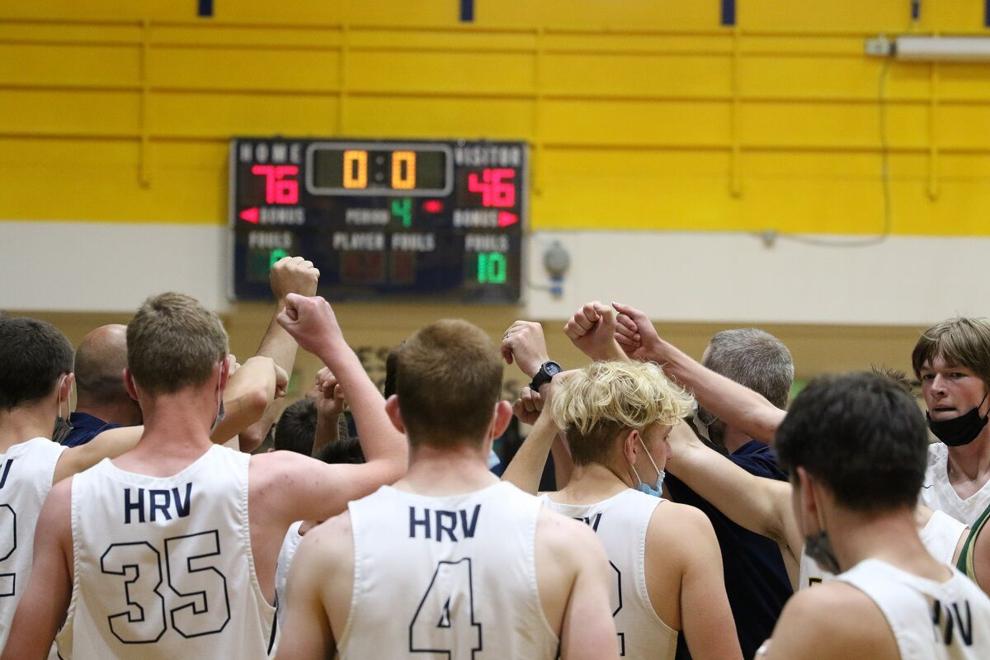 Hood River Valley's boys basketball season ended June 23 with a playoff loss at Redmond, but the imprint this year's senior players left on the program dates back three prior seasons.
Coach Christopher Dirks is hoping that imprint extends into the future, as well.
The Eagles fell for the third time this season by single digits to Redmond, the most recent loss coming in the Intermountain Conference semifinals. HRV entered the game coming off a 76-46 home win over Pendleton in the June 21 first round. A slow start against Redmond enabled the host Panthers to build an early lead which it essentially maintained the rest of the game, winning 58-49.
"They had our number this year, so hats off to them," Dirks said of the 12-3 Panthers, who lost to unbeaten Crook County in Friday's championship. "The guys did what we asked them to do but we took a little too long to settle in and get going. They got us in the first quarter, and we played basically even from then on."
Redmond defeated Hood River, 59-58, in an IMC game June 15 and 54-50 on June 1.
"I am very proud of what we were able to accomplish with the hand we were dealt this year," Dirks said. "There are always areas where we can improve, but we had a group of guys who were all in on what we wanted to do, and as a coach I can't ask for too much more."
"This group of seniors really helped send this program in the right direction," Dirks said. "Some of them have been on varsity since their freshmen year and others since their sophomore year. In that time, we put together three winning seasons in a row. I don't know the last time that has happened for HRV boys basketball, but I think it has been a while."
The Eagles went 0-23 two years before Dirks took over the program in the 2015-16 season. HRV was 14-7 in 2018-19, 12-10 in 2019-20, and 9-5 this shortened, delayed COVID season.
Seniors Ian Searcy, Sebastian Zeman, Zac Wells, Davis Yates, Jack Siekkinen, Michael Goodman, and Emilio Castaneda each played roles in changing the face of Eagle basketball.
"The seniors set the tone for the future of this program, and I know the younger guys have learned a lot from them," Dirks said. "It has been a long time since we have been the favorites to win games and expected it from ourselves."
The Eagles qualified for the state playoffs in 2019, marking the first time HRV played in the boys basketball postseason since 1994.
"Over the past three seasons we are getting close to who we want to be," Dirks said. "I appreciate all of the time and energy they all put in."