When Zulma Ramirez was in middle school, she was at a rough period in her life. Her parents worked in the orchard from sunrise to sunset to provide for their family, and though she was grateful for all they did, it was hard never having them around. She was struggling to adjust and needed someone to help her.
And someone did, and in doing so, they changed her life.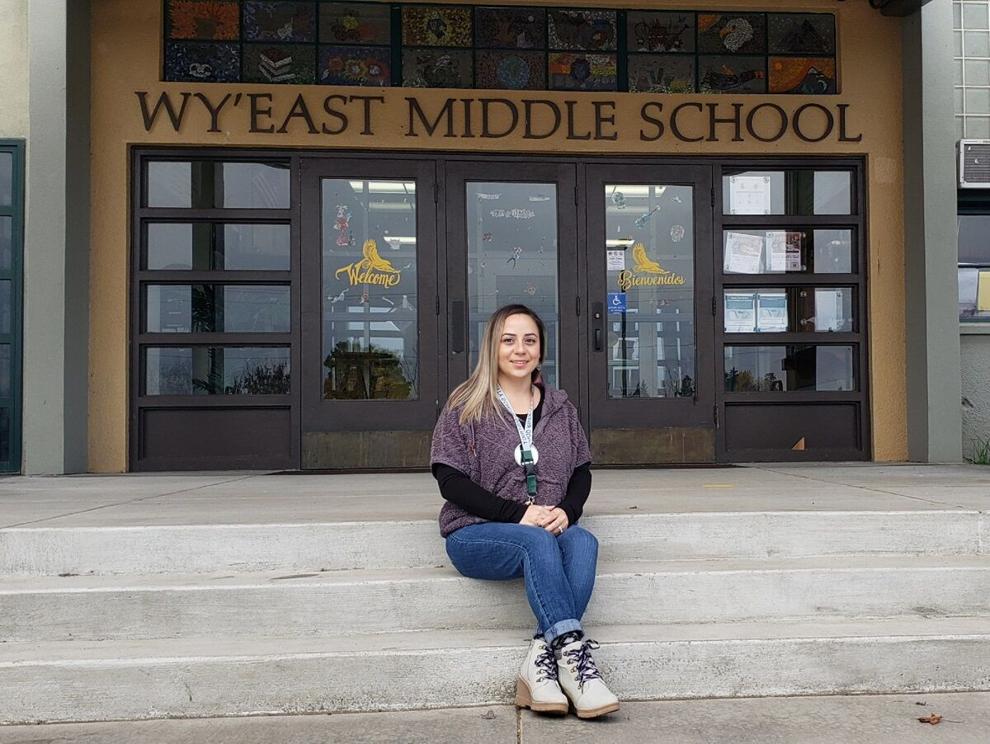 "I once was a student myself here at Wy'east Middle School and there was that one important person that really impacted my education, my life," she said. "So I pretty much said, 'I'm going to go back and I'm going to pay it forward.'"
That's exactly what she's doing now. As the student support coordinator at Wy'east Middle School — a position new to the district that's only existed the last few years — she has the opportunity to be there for kids who might be struggling like she was.
"It's just very rewarding to see that now I get to be that person that they can turn around and say, 'I remember that person. She helped me. She still can help me,'" Ramirez said.
In her job as student support coordinator, Ramirez has many hats to wear and things to take care of, all of which center around helping students. Some of her duties include giving students one-on-one academic help, aiding with translation, and providing resources to students.
Of course, these roles shifted when COVID-19 hit and everything went online.
Ramirez said she went from seeing students in her office all day to meeting with them virtually. This provided many unique challenges, especially because some of the students Ramirez worked with weren't familiar with the technology.
"A couple of these students were really new to the United States," she said. "In the villages they were from in Mexico, they didn't have technology, didn't have electronic devices. So trying to maneuver and teach them virtually how to utilize it, I think, was the most difficult thing that I've experienced."
Things got easier as more people were allowed in school on limited bases, Ramirez said, but there was still a learning curve with making sure students were equipped to learn in this new way.
Additionally, many of the students didn't speak English, which was part of why Ramirez was working with them. She would help translate their assignments in the morning and then help them work on them. Oftentimes, due to their language barrier in other classes, Ramirez found herself reteaching them material in Spanish.
She would also have several students at a time, and they would often all be at different levels of understanding with the material and the technology.
"I've got to say they were very patient and ultimately very grateful," she said. "They just moved on to high school, because I worked with eighth graders last year, and I just received an email from one of those students that was very grateful and thanking me for all the support that I provided them. And he even went on to mention that he doesn't believe they would have ever been able to succeed in high school if it wasn't for the support that I provided to them."
Ramirez said getting such positive feedback from students after such a difficult year made it all worth it for her, and that she's glad to be able to keep contact with some of her students. She said some of them have expressed wishing that she could follow them to high school, and she has to remind them that she can't always be right there with them, but she will always support them.
"I always joke around, I'm like, 'Well, do you want me to follow you to college?'" she said.
Ramirez said that for her, whether things are in-person or online, it's always most important that the students know that not only is she there to support them, but she's not perfect and that they're not expected to be either.
"I let the students know my flaws, like, 'Hey, I'm not the best speller. But it's okay. You know, look, I'm going to college, I'm doing this, I'm doing that, you know, and I'm not the best reader,'" she said. "So, to me that helps the students also understand that it is okay that we're not all strong readers. We're not all strong writers, but we find our ways to get around things."
Growing up, Ramirez was self-conscious about her spelling, especially because English wasn't her first language, she said. She knows that some of her students, who also have English as a second language, deal with that too, which is why it's important for her to be transparent with them about her own struggles.
"Sometimes, I think we try to be like this perfect person in front of kids," she said. "We need to let them know that even though we're adults, we make mistakes. But guess what? We learn from them, too. And I'm very open with my students. I always tell them, 'Hey, I'm not the perfect person. I make mistakes. But I learn from them. I fall, I get up and I walk with my head up high no matter the circumstances,'" she said.