Art augments art at a waterfront stop on the Hood River "Big Art" outdoor gallery tour.
Most of the "Big Art" art pieces in Hood River are made of metal, a few are paintings, and some have hard surfaces such as glass and finished wood. Art of Community was founded five years ago and features 34 works spaced around downtown, the waterfront and the Heights.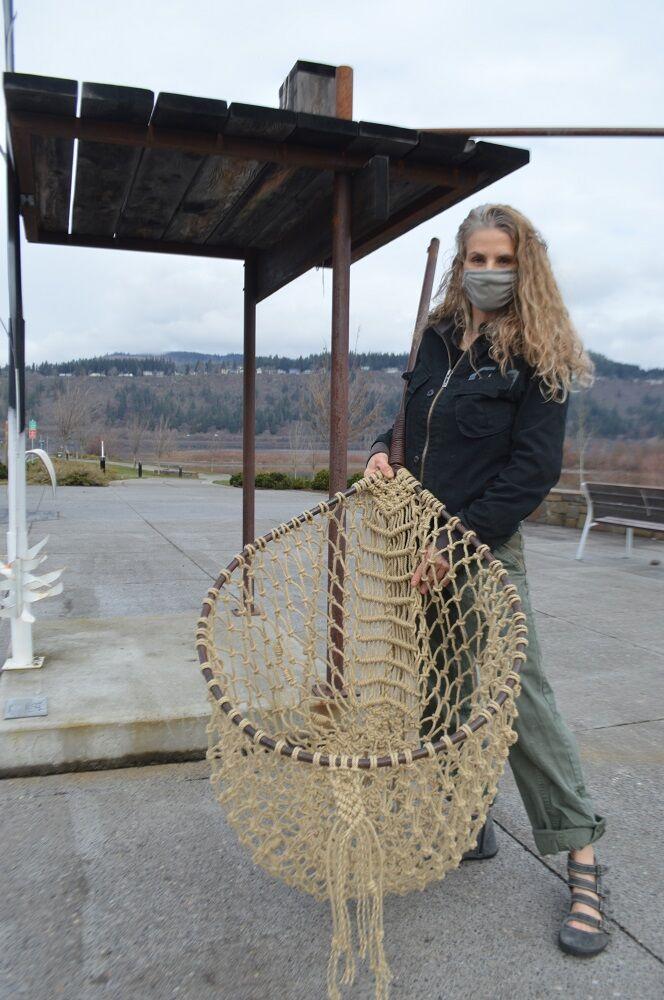 All are located outdoors for public viewing, so they are constantly exposed to Hood River wind, cold, sun, and rain (art-of-community.com, for details).
The very title of the AOC work "Wisdom of Decay" — made of metal and exposed wood that is visibly wearing down — suggests something about artist Jamie Burns' vision for the work.
Most of AOC stays in place two years and the works are sold or returned to the artist, and replaced by others.
For the first time, a Big Art work underwent repairs in recent months, courtesy of fiber artist Kristine Pollard, of the White Salmon's ArrowLeaf Work/Shop, with owner and founder Sarah Erasmus-Morton, located at 150 Jewett Blvd.
Pollard, veteran of numerous installations and exhibits in the Gorge, was tasked with replacing a textile element of NChi' Wanapum by Warm Springs artist Foster Kalama — a fishing net that had deteriorated in the elements. In NChi' Wanapum, Kalama used elements of painted metal, unfinished wood, and degradable rope. The work is Kalama's tribute to the Columbia River fishing culture of his people and was installed nearly four years ago and is owned by the Port of Hood River. It is a replica of a tribal fishing platform like those still seen at "in-lieu" sites along the river, and is one of five AOC works that are permanent.
Kalama called N'Chi Wanapum "a sculpture of my life, my father's life and ancestors. I have fished the scaffolds since I was 8 with my dad, Kalama Sr."
The salmon, a feather, and other natural and man-made elements and representations are joined by a fishing net on a long handle. It reaches downward from the platform as if dipping a salmon from the roiling river.
The carved salmon in Kalama's "NChi'wanapum" has darkened and slightly cracked, sitting 11 feet above the ground next to the open area known as Lot 1 across from the sculpture's home on Nichols Basin. Last fall the netting, which sits at ground level, had fallen apart. The port, which purchased the artwork from AOC two years ago, removed the net and pole and hired Pollard to create a new net. The net was restored last week when Pollard delivered it to the site, and port employees reinstalled the pole and the net.
"I wanted to honor the culture by actually having it look like a net," said Pollard, who described trying several rope types and knot patterns before deciding on the synthetic hemp-like cord laced into one unbroken weave. "It's really very simple, nothing very special. It took a whole spool," Pollard explained. "It's one continuous rope all the way down instead of with a lot of my weavings, a lot of ropes. Except where I added a few, one continuous piece but I had to add on.
"I'm honored that they asked me," Pollard said. "I love the challenge of learning something new. I didn't know it was his work. I'd never met Forest so I didn't know him. I didn't do it like he did it. What I got was deteriorated and he did a whole different weave from what I did. I'm a weirdo about rope; he was a metal artist."
"That is beautiful. The color of it is so much better than I imagined," said John Mann, port facilities manager, who worked with Pollard on the restoration project.
At home, Pollard clamped the net frame to a ladder and worked below it. Trying out a variety of cords and knots, Pollard devised what she called "a fun knot," with no real name. "I have it in my head, and my hands know it, but the way you do it is a lot of work each knot, you hold it a certain way, turn it and tighten it, turn it and tighten it.
"I looked up a lot of old native nets. I probably ordered five different netting books trying to learn and research it and see what I felt, and the thing that kept striking me was I could do this really crazy wild thing or I could make it really simple," she said.
"It was a really big learning process. One day I spent the whole day doing it and I thought, 'I don't like it' and I spent the whole next day taking it apart," Pollard said.
"I wanted it to be honorable to what this represents and to Forest, who took his time to make this, and what we are supposed to be saying? That we honor their culture. It's through time and through wear you have to tie in rope to it and the fact that they mended them all the time, so instead of hiding these little spots you had to leave them there. And you had different people working on a net so you had different character here and there.
"I first tried to hide (the add-ons) but I wanted the authenticity of 'if you're going to make a net you're going to have tie-ins'," she said.
"I loved the challenge of being able to do something I'm not super-familiar with and keep doing it until I really love it." She made several visits to the sculpture to check on proportion.
"Sometimes on a project I keep at it and I'm confused or lost, and then I find a way, and that feeling hits all of a sudden of 'I love it. Okay, and now I'm here ... I love it.' It's a learning process, and a little hard."
Interconnections were made also the day the net was re-installed when two women out for a walk on the Shoreline Trail stopped and asked Pollard what was happening.
Ruth Dye, of Underwood, showed a keen interest in the newly-woven net. Dye, who was walking with her sister, Judith Sinclair, is a weaver and a member of the Grace Carter textiles group, which until the pandemic had met weekly for years at various locations in Hood River County.
The group hopes to resume in-person sessions and Dye invited Pollard to sit in.