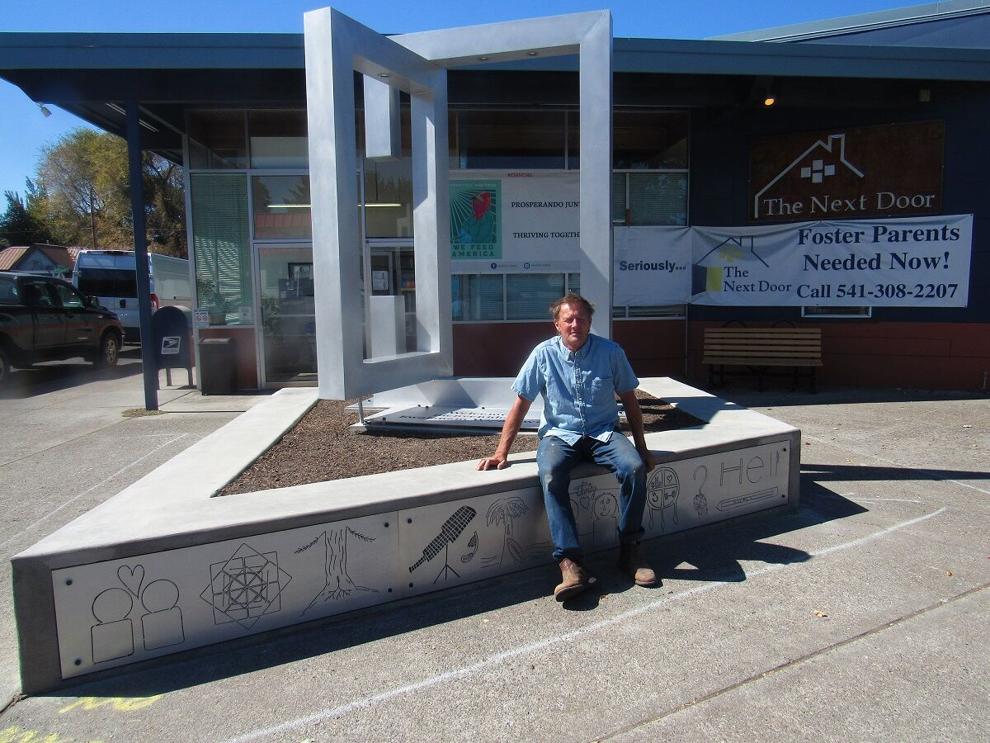 August marked a month of celebration for The Next Door Inc. Last month, the non-profit celebrated 50 years of service to local Gorge youth and families in need, commemorating the milestone with a 50th anniversary fundraising campaign that exceeded their $50,000 goal by more than $7,000. To top the month off, they also got to unveil the recently finished art work that now stands in welcome outside their Kelly Avenue office in The Dalles.
The piece, an 8-foot aluminum sculpture of an open door frame, sits right outside the office entrance as both a symbolic and literal welcome to community members in need. According to Justine Ziegler, development officer for The Next Door, the piece is a long time coming, having been considered since the organization purchased the building in 2018.
"We knew when we bought the building (it had a) very visible corner," she said. "It was in the back of our minds to do something there — something that was really visible — and something that really represented what The Next Door was all about."
The sculpture was created by Gorge artist MacRae Wylde. Wylde, a 14-year resident of Hood River, has been creating sculptures since he was 18. He came recommended to The Next Door via a fellow artist and was instantly drawn to the concept.
"I sort of jumped on it because I really liked the idea," Wylde said. "Basically, I had this idea within 10 minutes of talking with the guy."
It was Wylde himself who came up with the idea of the sculpture's design, the inspiration coming from The Next Door's work. "It's the open door. It says, 'Come in, you're welcome,'" said Wylde. "You're welcome to come in, we want you, we're here for you."
"He was inspired by a sign that we have outside our office," said Ziegler. "It says, 'We welcome all races, all religions, all countries of origin, all sexual orientations, all genders. We stand with you, you're safe here.' So, this concept of a very large, open door was perfect and very appropriate for the name of our organization. A very strong, physical representation of, 'Our door is open, you're safe here.'"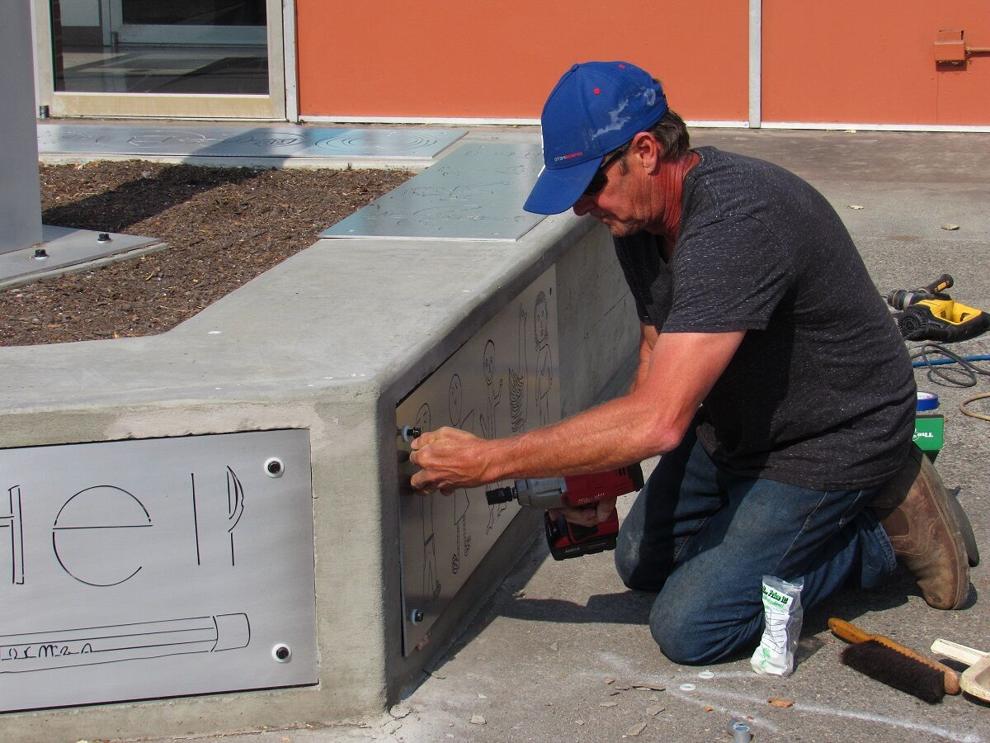 While by far the largest, the open door frame is not the only aspect of the art piece. Displayed on the retaining wall beneath the structure are sheets of aluminum with the cut outs of drawings made by youth participants of The Next Door programs. "The Next Door has two alternative schools" explained Ziegler, "the Klahre House School in Hood River and the Kelly Avenue School in The Dalles. MacRae was able to come into those schools and do drawing workshops there."
According to Wylde, the drawing process was one of the more time-consuming aspects of the piece, but also one of the more rewarding. "The best part of public work is including the public," he said. "I've been working on the drawings and workshops for the last 8 months. Translating the drawings into a format that we can then cut out of aluminum takes some time … what I really like about the process is that it wasn't reinterpreting the drawings, these are the actual lines that the kids made."
He described some of the drawing exercises he had the kids who participated in the workshops do, including folding a paper in thirds to start a drawing of a person or animal, before flipping it over and passing it to the next person to continue. A second exercise included imagining concepts that were important to the kids. Themes such as family and unity made common appearances in their drawings.
"These drawings are pretty powerful, different things happen because you're working with different people," he said. "I'm hoping the kids who did some of these drawings will come and look at them and say, 'Wow, that one was mine. I remember doing this.'"
Wylde is not unfamiliar to working with youth on art projects. Along with collaborating with school art programs, he used the help of local Gorge youth to put together sculptures that serve as habitats for mason bees that he calls pollinators. "I made a kit of steel parts, so the kids could put parts together anyway they wanted to," Wylde said. "(The kids) would design these sculptures and then in the tubing parts I would put bamboo, which is what the bees actually live in." Together, Wylde and the participating kids put together 20 sculptures, which were then placed throughout Hood River, Wasco and Sherman counties.
"It's important to me for there to be a place where you can go and see the thing that you've created," said Wylde. "I like to sort of create a little bit more permanence, if possible."
When it comes to The Next Door art piece, Wylde is grateful for the experience. "I definitely appreciate The Next Door, both in the fact that they have asked me to do this, but the more that I have worked with them, the more I appreciate what they do for the community. This sort of lets me do my part. I hope people come by and look at it," he said.
"MacRae has been incredible to work with," noted Zieglar, "I can't thank him enough for his creativity … it's been a really great partnership."
With more than 40 assistive programs, The Next Door is a human services non-profit serving youth and families. If you need assistance, or would like to donate to assist their efforts, visit their website nextdoorinc.org for more information. To view images of other pieces done by Wylde, visit his website macraewylde.com.
Wylde's Hood River studio will be a part of the Gorge Artists Open Studio tour on Sept. 17-19.