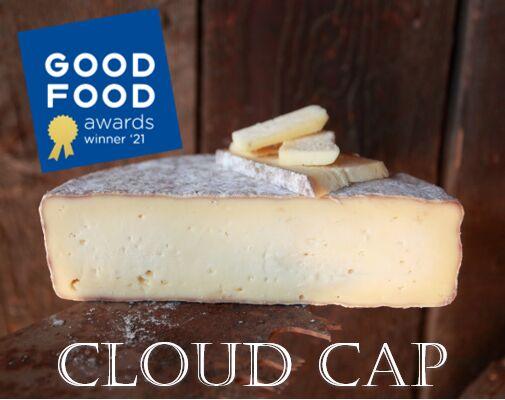 Cascadia Creamery, organic cheesemakers out of Trout Lake, Wash., received a 2021 Good Food Award from the Good Food Foundation in January.
Cascadia's winning entry — an aged bloomy rind cheese dubbed Cloud Cap — was one of 17 winners in the cheese category from across the country.
All four of Cascadia's staple cheeses have now won the award after Cloud Cap joined 2018 winners Sawtooth and Glacier Blue, and 2020 winner Sleeping Beauty. Owner Marci Shuman said judges choose and rank finalists in each category, and winners are the highest ranked finalists who meet the foundation's sustainability standards.
"I feel really strongly about the responsibility and sustainability component of our operation, so it's neat to be able to be recognized for that," Shuman said.
Marci said a desire to get more involved in the valley's community and economy led her husband John to trade labor for knowledge at local farms and dairies after the couple had their first child in 2008.
"John was really entranced by the heritage of dairying in Trout Lake that goes way back to the first settlers," Marci said.
As the Shumans formed a relationship with the Pearson family, who have been dairying in Trout Lake for four generations, the Pearsons insisted John take home some milk in exchange for his work.
John's milk stipend grew, and the Shumans decided to try making some cheese.
"He became more and more excited about cheesemaking — especially with the history — he thought 'Wow, I'd love to bring this tradition back to the valley,'" she said.
The Shumans got a license and started selling their cheese at the Trout Lake farmers' market. Shortly after, cheese writer Tami Parr came to town looking into some of the same history that had fascinated John.
Parr met the Shumans and, within six months after she left, cheese buyers from retailers as large as New Seasons Market started calling. Marci said she and John realized they had an opportunity to give cheesemaking a shot full-time.
"We've had a lot of support and we're so very, very excited to be making cheese," Marci said. "It's a passionate project that turned into a full-scale business and now it's how we support ourselves, which is fantastic."
Originally, Cascadia's aging space was a climate-controlled shipping container, but John was always looking for a chance to age the cheese in a natural cave, Marci said.
One day, John was checking on some calving cows at the Pearsons' dairy. As he walked the pasture, he noticed some grass moving as if stirred by wind — but there wasn't much of a breeze.
John found a hole, created by a partially collapsed cave, releasing air from the cave system to the surface. Marci said John grabbed his temperature and humidity probes and found that the cave's conditions were ideal for cheesemaking.
"When we first brought our cheese down after we made the chamber, it was remarkable," Marci said.
After a few days in the cave, "the cheeses just bloomed. They went nuts," she said.
"It was amazing how they took to the microbes in that environment," Marci said. "It was like magic — cave magic."
Even the best aging environment could be wasted on cheeses made with low quality or poorly handled milk, Marci said.
"The best thing to do if you're going to make cheese is to treat the milk like gold. You're going to get it straight from the cow while it's still warm and you're going to make that cheese right then and there."
Marci said raw milk, or unpasteurized milk, is easier to digest because heating during pasteurization damages digestive enzymes which help calves (and humans) process milk. The pasteurization process also damages microbial cultures that contribute to flavor in cheese, she said.
"It's great you're going to just drink the milk and all you care about is it being cold and fresh," she said. "But if you're going to try and make cheese with it, it's actually kind of broken milk."
The raw milk used in Cascadia cheeses comes straight from the milking line at the Pearsons' dairy farm. It goes into a separate transfer tank and travels one mile to the creamery. Marci credits the Pearson family's knowledge of raw milk handling with providing high quality, clean milk.
Marci said the creamery's four year-round cheeses provide a vast variety of flavor and offer something for everyone on one cheese board.
Visit cascadiacreamery.com for more information on the business, the cheeses and a list of retailers.