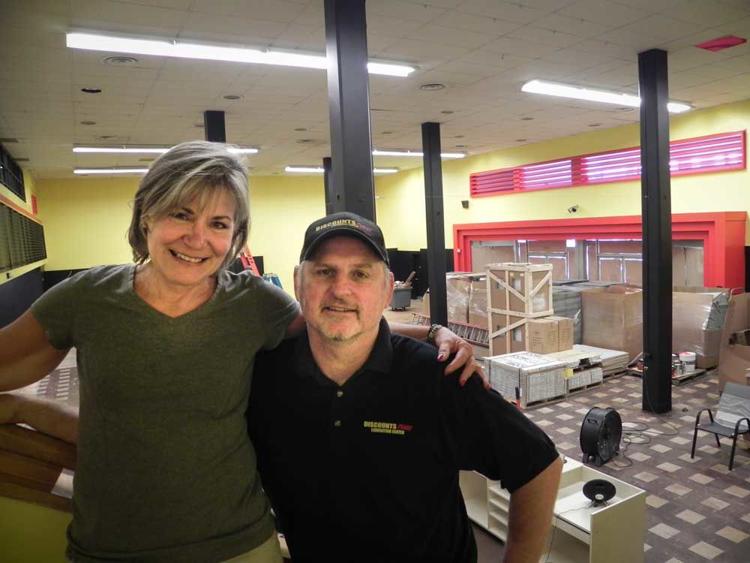 When JC Penney shuttered its doors in downtown The Dalles two years ago, the silence was palpable.
The 22,000-square-foot space drew thousands and was known to keep its parking lot full, even on Sundays. Its closure was even postponed for several weeks in the summer of 2017 due to its popularity, with the retailer sending additional goods from other closing stores to be marketed in The Dalles.
The silence is over.
There's a new merchant in town, and they are aiming to refill that parking lot.
Discounts Plus, owned by Mary and Mike Kelly, will open in mid-September. It's their latest store featuring liquidation items from the likes of Costco, Target, Walmart and Safeway.
Nearby retailers are excited to see the space come to life and start drawing more people downtown.
"This could be really good for us," said Nick Coles, manager of Sears Hometown Store. "It sounds like a great idea. It would definitely help. We need it, especially after 5 o'clock," when the flow of customers turns to a drizzle.
The Kellys, who currently operate three other stores in the Portland-Metro area, said they came east to buy property.
"We are trying to secure our future by owning our own building," Mike Kelly said after taking a break from installing flooring on the second floor of the building. The couple currently lease properties in Hillsboro and Portland. It is clear to them that they must defend against operating costs such as insurance, taxes, rent and labor, by purchasing property and creating equity.
They purchased the building for $625,000 from Warren and Shirley Sawyer, owners of The Ninth Street Corporation.
The Kellys also did their homework.
Mike was aware of Fred Meyer curtailing some departments in its recent remodel and the void that JC Penny left behind in the clothing market.
The Dalles is a small market compared to his other locations, but the competition for his goods is also far smaller.
"There's no Target, no Kohls, no Costco, no Bed, Bath and Beyond," he said of The Dalles.
They're going big. This will be their largest store, and it will be staffed by 10 full-time employees.
A recent Chronicle visit to the Discounts Plus store in Hillsboro revealed a vast inventory, including large rugs, suits, comforters, shop tools, garden tools, paper products, stereos, luggage, clothing, cleaning supplies, toys, tarps and a section of groceries. It's eclectic.
Kelly plans on utilizing all three levels of the former JC Penny retail space—17,500 square feet —for merchandise and groceries.  
 "It's a treasure hunt," Kelly said, noting liquidation items are constantly turning at the store.
Sitting kitty-corner to the store, Preferred Optical's Jeff Judah said he was tickled "that the building sold," and is now sporting green and black colors. "This will draw a lot of people downtown."
The Kellys operate the stores with their three sons, Adam, Grant and Garrett.
Mike Kelly knows the industry. His father managed a Safeway and later worked for United Grocers. His mom ran a small grocery/convenience store in Westmoreland. Kelly learned the trade while growing up and parlayed his knowledge into the Discounts Plus chain, which started in 2013.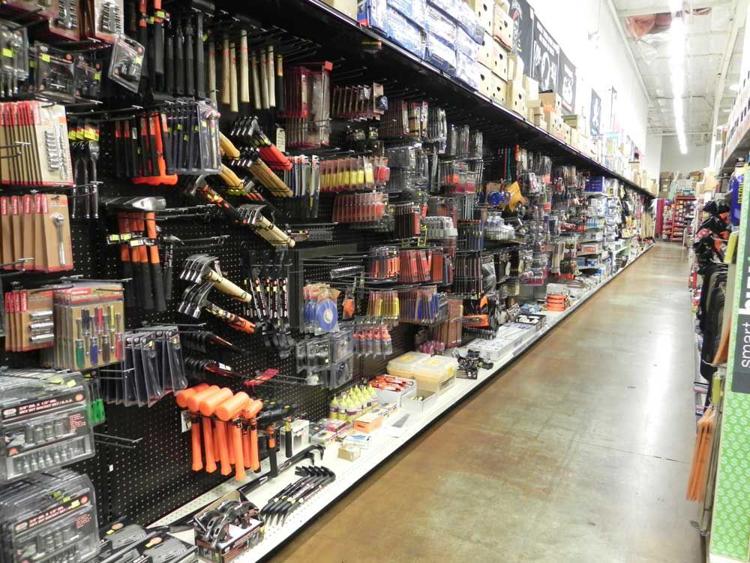 Kelly explained that grocers and retailers often contract with wholesalers to buy a certain number of items outright. But if the product does not sell completely, they are sent to a third-party company that either sells, donates or destroys them via agreed-upon rules. And it is from companies such as these that he buys liquidation items at a discount.
Kelly said they also own their building in downtown Gresham.
"They did not want us there," Kelly said. "But we brought a lot of foot-traffic downtown. We are going to play our part here and help get things going."
Mark Thomas, who owns Yesterday & Today Music on Second Street, welcomed the idea of growing retail in the downtown corridor. "It will be great to have a new retail downtown," he said, noting that the broader the downtown offerings, the more likely he is to have another customer come through his own door.