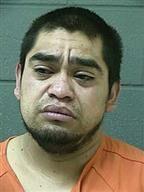 A local man released from NORCOR while waiting for his case to go through Hood River County Circuit Court now faces additional Harassment and Contempt of Court charges for allegedly violating a no-contact order on his release agreement. 
Oscar Jimenez, 32, was first arrested in November 2019 on three charges of Sexual Abuse in the First Degree, a felony, for allegedly groping a child under the age of 10 between June and November 2019. 
Hood River County Circuit Court approved Jimenez' conditional release agreement on Nov. 21, 2019, with special conditions that he have no contact with any child under the age of 18, have no contact with the child associated with the case (name withheld by press), have no contact with specified members of the child's family, and stay away from the family's residences in Parkdale and The Dalles. 
The case was repeatedly held up in Circuit Court while the parties negotiated, and as of press time, Jimenez' plea hearing and sentencing was scheduled for Nov. 9, 2020. 
Nearly a year later — on Sept. 27, 2020, at around 9:30 p.m. — the Hood River County Sheriff's Office responded to a 911 call from the family's residence in Parkdale, where a family member specified in the no-contact order on Jimenez' release agreement (name withheld by press) reported that Jimenez had been texting her all day and had tried to get into their home earlier that day. 
She said Jimenez first tried banging on the door at approximately 7 p.m., and when she locked the doors and said she would call the police, he told her that he was leaving and asked her not to call the cops, but then returned about 10 minutes later and tried to "slam through" a side window. She then called 911, and Jimenez left. 
According to the responding deputy's incident report, the family member and Jimenez had been romantically involved before his arrest and she said that Jimenez had discovered via social media a couple weeks prior that she was seeing another man "and had 'lost it' since then." 
The responding deputy confirmed that she'd been receiving texts and missed calls from Jimenez for about a week, with Jimenez offering to pay for firewood and asking what she's doing. 
She told the deputy that "she's afraid he'll kill her if she doesn't (respond)" and described instances of Jimenez "trying to influence her by telling her he was going to take her kids, etc." 
A HRCSO deputy located Jimenez' car and arrested him at approximately 10 p.m. on Sept. 27. 
He was lodged at NORCOR on Sept. 27, according to HRCSO records. The District Attorney's office filed a motion for an arrest motion on Oct. 1 and Jimenez was officially booked into NORCOR on Oct. 2. 
A new conditional release agreement — with the same no contact order and an additional $27,000 bail — was signed by a Hood River judge on Oct. 5, but Jimenez was still in NORCOR custody as of press time.