Bruins complete XC season
Hood River and The Dalles continue on course for what appears will be an April 7 Intermountain Conference boys cross country showdown after both teams won dual meets last week.
Juan Diego Contreras led The Dalles over a fast 5,000-meter track at Birch Creek Golf Course, where the Riverhawks defeated host Pendleton, 18-43. Hood River ran on its home course with a pack mentality — that is, behind runner-up Elliot Hawley — to defeat visiting Ridgeview, 20-43.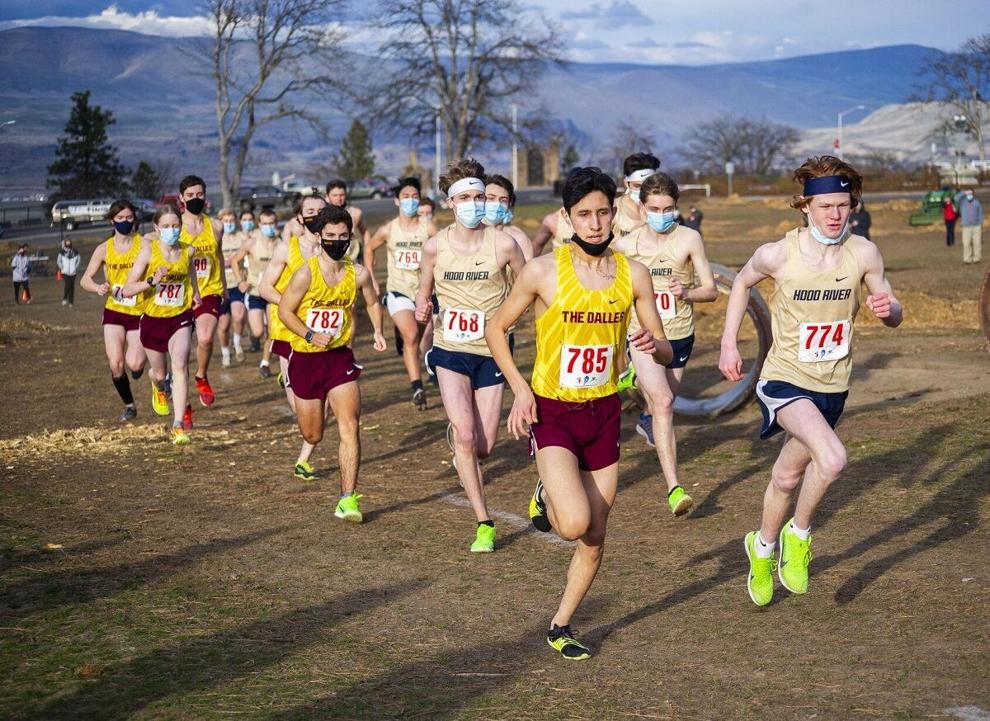 At Pendleton, Contreras ran alone most of the race, winning in a season best 16 minutes, 10 seconds — nearly a minute faster than teammate Nick Caracciolo. Leo Lemann completed the 1-2-3 sweep for the Riverhawks in a personal best, 17:45. Caracciolo's time was a season best (17:22), as The Dalles is working its way into race shape.
The Dalles Coach Bob Thouvenel said the course was fast, although bumpy. "I thought we looked pretty good. One person had a personal best and everyone else had season bests. By district we should be, like, mid-season form," he said of the shortened season.
At Hood River, Hawley engaged in his second individual dual in as many weeks. He and Ridgeview's Finn Anspach went at it over HRV's 3,000-meter course, eventually finishing almost a minute clear of the chase pack. Anspach, who was fifth at the 2019 Intermountain Conference district meet running for Redmond High, edged Hawley, 9:34 to 9:36, with a blistering closing kick over the final 100 meters.
Hawley did the brunt of the work by leading most of the race, but he was unable to hold off Anspach down the stretch. HRV Coach Brandon Bertram said, "He just shadowed Elliot. It was fun to see them go at it. With about 300 to go, Elliot had about 10 meters on him, but (Anspach) unleashed his kick."
A large group of Eagle runners trailed Hawley. The rest of HRV's scoring finishers (top five for each team) included Thomas Ziegler, Jackson Bullock, William Bunch and Joshua Humann, who finished third through sixth within 23 seconds of one another. That close grouping will be more impressive if the Eagles can maintain it over 5,000 meters.
"Pack running, how cool is that to see," Bertram said. "Cross country coaches, in general, don't really care about times ... it's grouping, it's the competition, responding to the challenges."
No one could respond to the runaway winners of the girls' races. The Dalles senior Hannah Ziegenhagen won at Pendleton by 48 seconds, but the host team won the dual, 27-30. Senior Emily Johnson, the Riverhawks' No. 2 runner, was fourth, but No. 3 runner Caitie Wring missed the race because of a foot injury. Thouvenel said Wring should be back running this week for the Riverhawks.
"Our first four girls, they did a good job," he said. "There were just too many Pendleton girls between our fourth and fifth runners."
In Hood River, senior Chloe Bullock won her second IMC dual, this time by almost a minute — impressive for a 3,000-meter race. "Chloe, she understands that's what it looks like," this season, Bertram said of the sizeable gaps between her and her closest competitors. HRV had another chase pack of four runners (similar to its race against The Dalles on March 10) who finished within 23 seconds of each other. It included first-time cross country runner, senior Charis Bronson, who is taking some time away from her usual mountain biking forays, Bertram said.
The Dalles and Hood River will race against each other once more before district. Thouvenel said this week's (March 24) duals — HRV at Redmond and The Dalles at Ridgeview — will be combined into one meet at Redmond's Sam Johnson Park. "They're calling it the Redmond Rumble, or something," he said. The IMC district meet has been moved to Sorosis Park in The Dalles. The April 7 meet will have three races starting at 3 p.m.
Across the Columbia River, Columbia High finished its cross country season at the District 4 championship Friday at Vancouver's Harmony Sports Complex. The Bruin boys finished fifth out of seven complete teams and were led by sophomore Camden Uffelman's 12th-place finish in 17:56 for 5,000 meters. Columbia's other scorers were freshman August Lorincz (16th, 18:39); senior Calvin Andrews (28th, 19:26); freshman Henry Wilson (29th, 19:26); and freshman Nathaniel Chambers (30th, 19:27). All five Bruin runners recorded lifetime bests at the district meet.
The Columbia girls had just three runners compete, but they all finished in the top 15 spots, and they matched their male teammates with personal bests. Sophomore Ella Zimmerman was ninth in 21:11; frosh Rian Pedersen was 13th in 22:36; and frosh Esther Kline was 15th in 22:58.