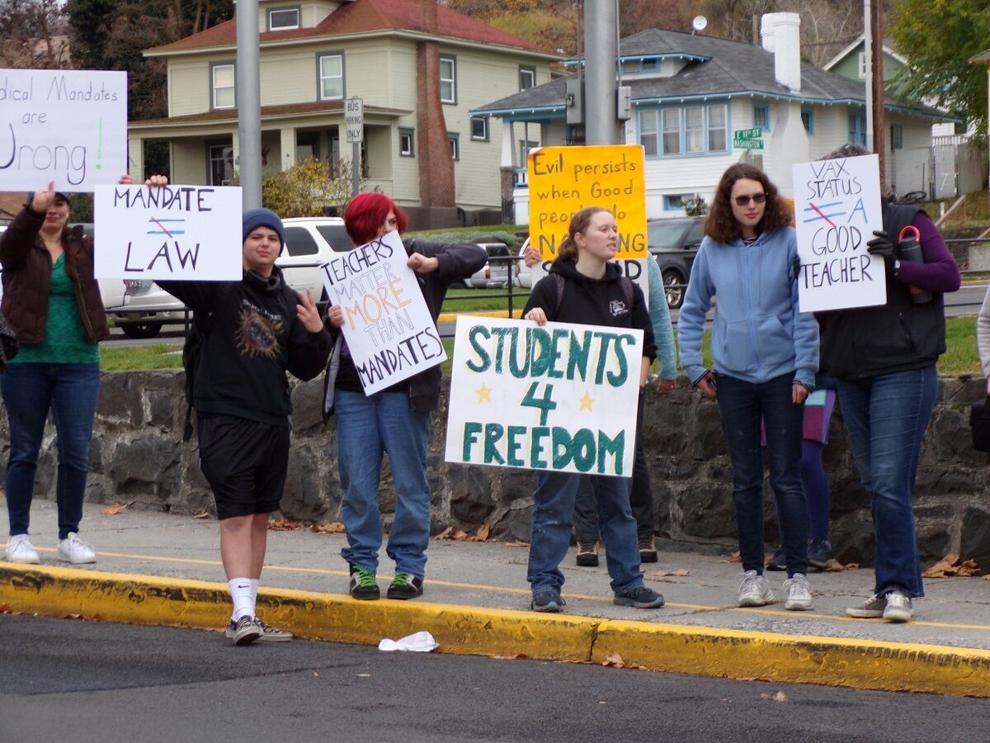 Several members of the public walked out of Thursday's North Wasco County School Board meeting in reaction to the board's approval to dismiss The Dalles High School faculty member Wayne Gibson.
During the superintendent's report in the Nov. 18 meeting, presented by Human Resource Director Brian Schimel, it was recommended by Superintendent Carolyn Bernal to dismiss Gibson for "neglect of duty as defined by Teacher's Standards of Practice Commission, TSPC, for not complying with OAR 333-019-1030, which required all teachers, school staff, and volunteers to be fully vaccinated or have a documented medical or religious exemption by Oct. 18, 2021," said Schimel.
During the presentation, community members in attendance reacted negatively to the motion for dismissal, calling out remarks to the board such as, "It's not a law," and, "You should be ashamed of yourselves," as well as the phrase "sheep." Multiple times, Board Chair Jose Aparicio had to ask the audience to withhold their comments so the board could continue with the meeting.
A motion for approval of the recommendation of the dismissal of Wayne Gibson was made by Director Rebecca Thistlethwaite, with Director Judy Richardson seconding. With no votes against, and only one abstention by Director Dawn Rasmussen, the motion for the dismissal of Gibson was approved.
After the motion passed, several members of the audience left their seats and walked out of the meeting in protest to the board's decision, continuing to call out remarks such as, "Go ahead and ruin California," as they left, while others stated, "We stand with our teachers."
Gibson, who shared that he was in his fifth year of employment for the District 21, told Columbia Gorge News that he did not feel the mandate was legal.
"I don't think that is the place of the governor to decide how I should make important health decisions," said Gibson. "There was a lot of questions that I had for the district that they weren't able to answer … if like, hey, I'm okay taking this, what does that mean for the future? How many more of these will I have to sign up for?"
Gibson shared that he did apply for an exemption to the vaccine, though not a medical or religious one, as he considered himself a "healthy individual," nor left comfortable claiming a religious exemption when he personally did not have one. "It's not that I don't have beliefs," Gibson said, "it's just that I don't have a religious exemption."
When asked if he had any plans going forward, Gibson stated that he had nothing to comment on at this time.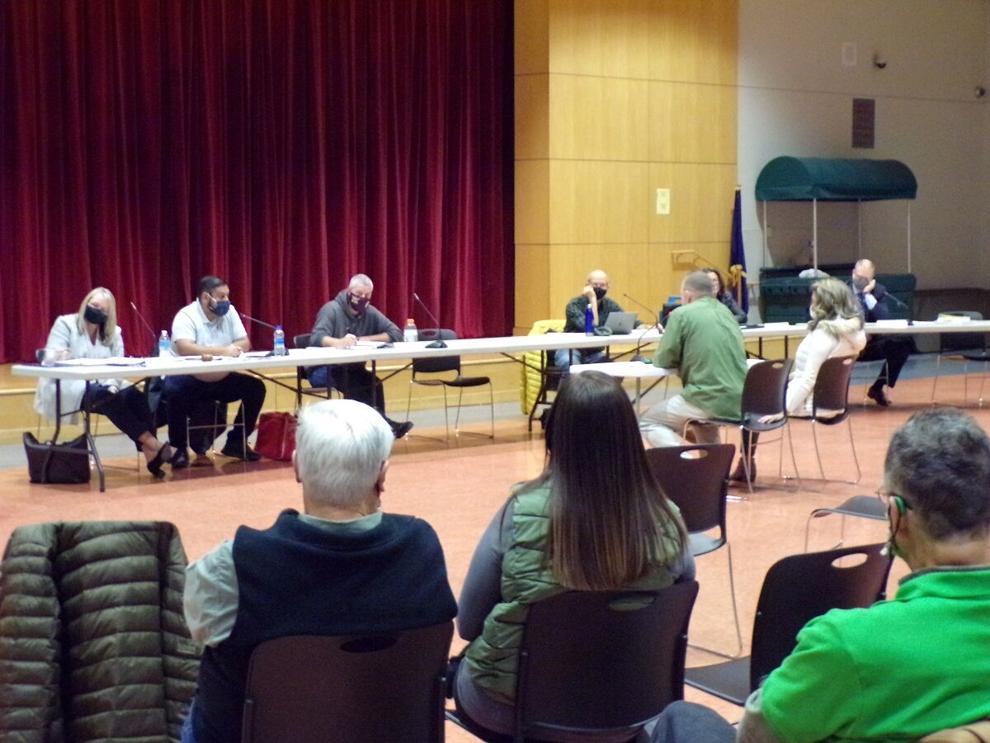 A total of nine in-person speakers commented during the public comment section. Two written comments were also submitted to the school board, though they were not read in the meeting due to time constraints. According to Board Chair Aparicio, the full written comments will be made available in the meeting minutes once they are approved during the next school board meeting held in December.
A central concern expressed by community members focused on the state mandate for all Oregon teachers and school staff to be vaccinated, as well as the potential of COVID-19 vaccine mandates for students, and the administration of vaccines on school grounds. "I am completely concerned about injecting this into my children, I'm concerned to take it to myself, and I'm concerned about staff that would be forced to take this" said Karlie Foster during her public comment. "When there is a risk, there has to be a choice … and that choice has to be honored without discrimination … if you make this choice to force it on your staff, if you make this choice to force it on the children, are you prepared to have the weight, the moral weight of those consequences on your shoulders?"
Communications Director Stephanie Bowen later shared, "The (school) board has not had any such discussion on having school vaccine clinics or setting any policies regarding student vaccination. We are aware that some school districts in the metropolitan area are looking into requiring Covid vaccination for students to attend school. We have no plans on implementing such policies outside of state requirements. Public health has utilized school facilities to conduct their own independent community clinics, outside of school hours. This would be the same sort of usage granted to local sporting groups, youth and advisory groups, etc., for a meeting and practice space. This does not mean they are a part of the school or a school sponsored event."
In a major turn of events, speaker Jennifer Gunter appeared to serve the school board and superintendent with a lawsuit during her public comment, citing the 14th amendment of the U.S. constitution.
"We do not consent, and we fully reserve our natural rights given to us by God, that has been given to everyone in this room upon birth," said Gunter. "We have asked, we have shown up, we have written letters, and you have been warned to do the right thing according to your sworn oath and you disregarded each plea by remaining silent and hidden behind arbitrary power ... Wasco county school board, you have been served."
During Gunter's comment, four men approached the board where they were sitting and presented each member who was attending the meeting in person with a stack of papers. Columbia Gorge News will report on this lawsuit in further detail in a later edition.
During his own public comment, Dr. Robert Schwartz questioned the school board on when the public would receive answers to questions that have been asked over the last several school board meetings.
"We want answers," said Schwartz. "There hasn't been one thing on your website, you haven't said one thing to us, and you promised that you would get back to us on this … if you could please give us some feedback so that we can have a discourse, because right now it just sounds like we come here, we vent, or we thank you, and then, meetings over, and a month later, the same thing happens."
"The district has a COVID dashboard and information page accessible to the public on our website," stated Bowen when asked about the answering of frequently asked questions. "This is where members of the public can find our weekly school COVID numbers, mitigation practices and a list of FAQs in response to topics brought up at board meetings. On the home page there is a clickable link under 'COVID-19 Information & Safe Return to Schools Plan."
To view the entire Nov. 18 School Board meeting, visit District 21 media channel on YouTube.