"I know this is a stretch, but I'm wondering if you may have any ideas on how to find the owner of an antique wedding ring that my parents found back one evening September while passing through your city?"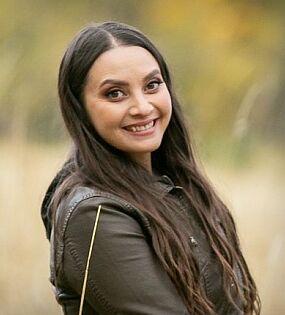 When Amy Kim of Alabama emailed Columbia Gorge News' billing and office manager LisaAnn Kawachi in December, she thought the chance of reuniting the ring her parents had found during a stop in Hood River with its owner was slim.
Kim's parents had found the ring under their tire while parked downtown; they had intended to bring it back to a business the next morning, but ended up hitting the road to their next destination so early they forgot. Eventually, they found a jeweler who could decipher the inscription inside the ring — a helpful clue in identifying the rightful owner, if that owner could first be found.
Kim's parents posted a photo of the ring to a local Facebook page, assuming the owner was from the area, and checked with the police department to see if anyone had inquired about a lost ring. But neither yielded any leads.
Reading the email, Kawachi remembered an ad she'd taken for a lost heirloom wedding ring in November. Elli Samuels of Hood River had explained to Kawachi that her daughter Danielle and her fiancé, Eric, visiting this summer from Massachusetts, had been in Hood River when the ring was lost — a family treasure first gifted to her great-grandmother from her great-grandfather in 1931.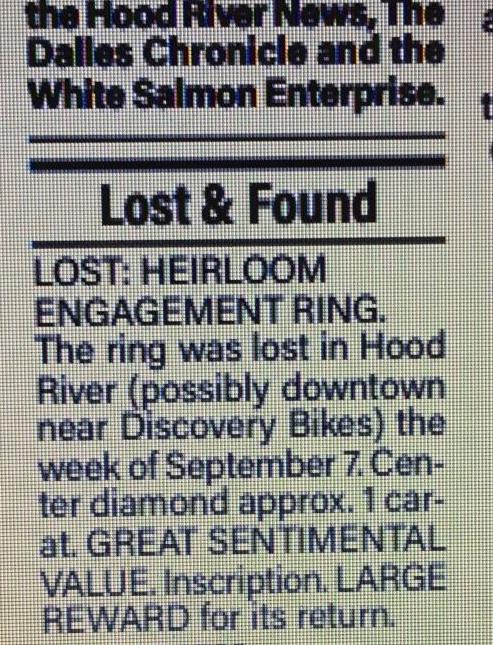 Kawachi called Samuels with the finding party's contact information, with permission. "I don't want to raise your hopes too high," Kawachi told her, "but this could be the ring."
Yes, it was the same ring — as the inscription, "From Sol to Lil in 1931," proved.
"My daughter and her fiancé met with the husband of the couple in person, in January, when all three of them happened to be in Texas, so he could give them the ring," said Samuels.
"Thank you, thank you, Lisa, for being the glue," she said, "for your dedication, for caring, and for helping us keep a priceless piece of family meaning physically a part of our story."
"This is a heartwarming story and I love that LisaAnn Kawachi of Columbia Gorge News helped with this families' happy ending," said Chelsea Marr, CGN owner and publisher. "LisaAnn is engaged, so she knows first-hand the sentimental value of an engagement ring. Our classified ads including lost and found are one reason a local newspaper is the first to reach to for the local marketplace. Each ad is checked over by a real person — LisaAnn — not a robot where anything could run, including illegitimate advertising.
"If this ad had been placed on any other site, including Craig's List, I seriously doubt this connection would have ever been made and this ring returned," Marr said.