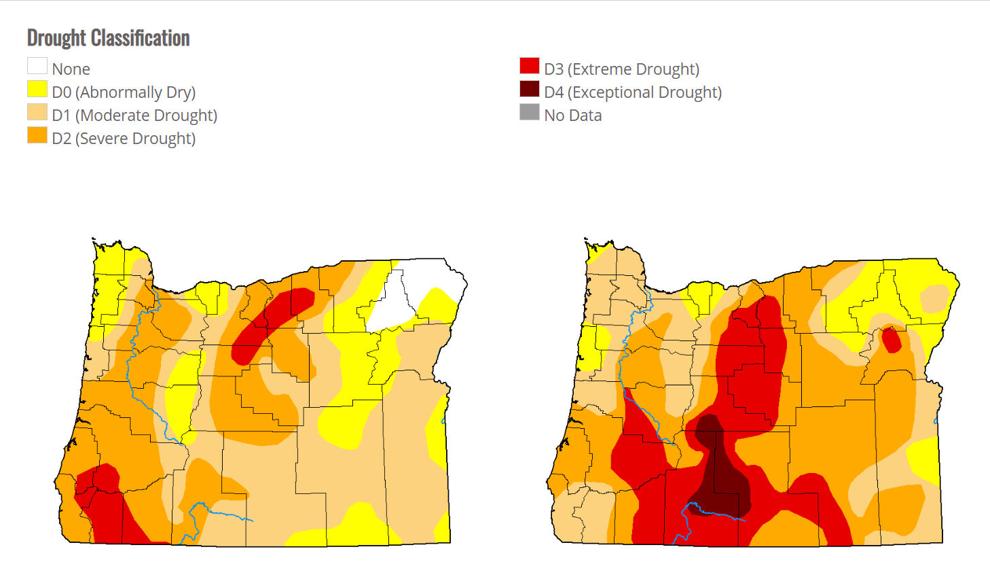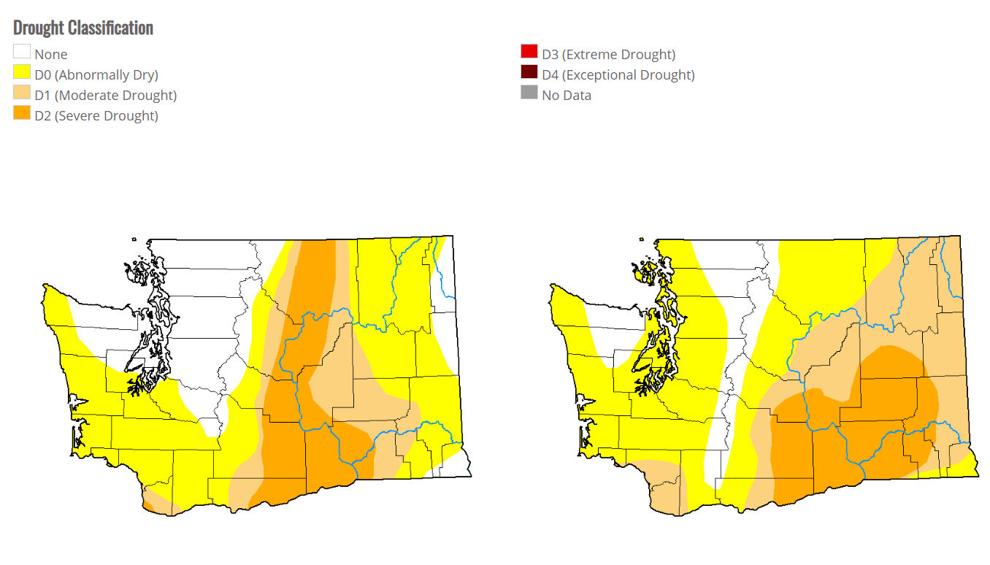 Most of Oregon will see drought conditions and high fire danger this summer, and portions of Wasco County are already in "extreme drought," according to a May 5 report to the Wasco County board of commissioners by Ed Townsend, science and weather officer with National Oceanic and Atmospheric Administration/National Weather Service in Pendleton.
Hood River County is also experiencing drought conditions, although with less severity than drier portions of Wasco County. Most of Klickitat County is also in drought.
Drought conditions expanded in April, with abnormally dry to extreme drought conditions in the county, Townsend said. April 2021 was the 11th driest on record, March 2021 the ninth driest, Townsend reported. Only three out of the last 16 months saw above normal precipitation, he added. "Areas of north central Oregon, including Wasco County, have seen below normal snowpack and below normal precipitation dating back through the winter of 2020, causing both meteorological and hydrological drought."
"Drought is expected to persist through at least July 31," he said, and little relief can be anticipated in August. "The predicted conditions will result in above normal potential for large wildland fires across the area in June, July and August," he warned. "It looks like its going to be a pretty hot and dry summer."
As a result, Wasco County prepared a drought declaration for the second consecutive year.
The declaration will allow a variety of emergency land and water use changes, and open the door for farmers, ranchers and orchardists to receive emergency grants and loans from federal programs.
"This has been rolling toward us from the east, and now it's here," said Commission Chair Scott Hege.
Dry conditions will also spark an increased risk of wildfire throughout the county, noted Angie Brewer, Wasco County planning director. She noted the county has produced a video presentation, available on the county website, detailing the county's fire risk and encouraging home owners in the county to create a "defensible space" around their homes.
Brewer noted that in addition to the video presentation that summarizes wildfire rehabilitation and preparation work done over the last year and ways to prepare for wildfire, the county was in the process of reviewing related policies, codes and federal funding, and would be returning to the board in the near future to consider additional wildfire measures that could be taken.
"We've seen some scary trends in wildfire risks and behavior in our county." Hege noted. "Now is the perfect time to prepare for the wildfire season. Take the time now, look into these resources and build this defensible space. That is what you want, you want to know there is a good chance your home can be defended. A month from now, its going to get dryer and scarier."
Commissioner Kathy Schwartz noted "there are a lot of ways to reduce risk overall," and also encouraged community members to prepare now for the wildfire season beginning in July.