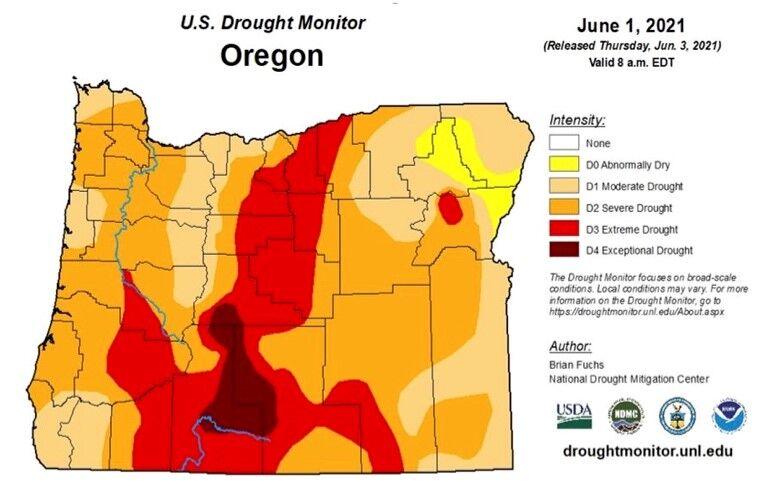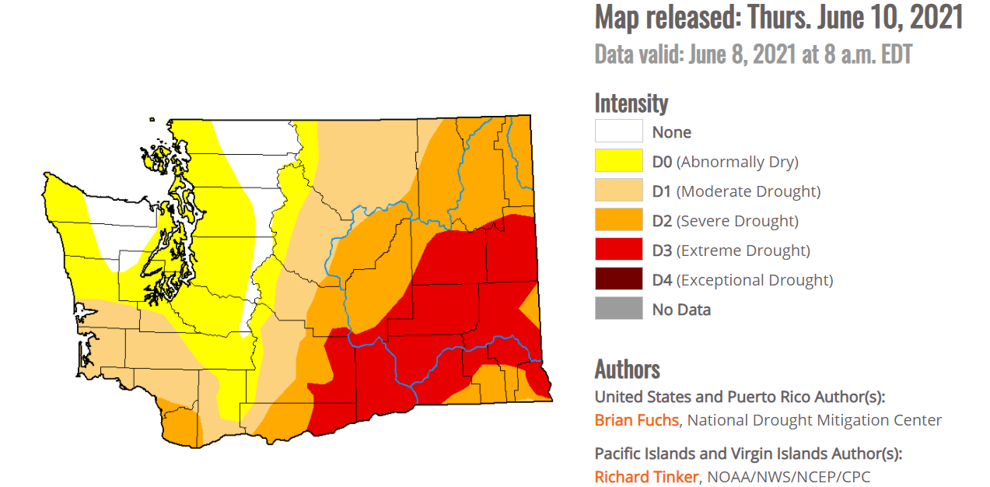 Hood River County, now in "moderate drought," is faring a little better than its neighbors but the situation is predicted to worsen this summer, according to National Weather Service experts. With the exception of a small portion of the northeast corner, the rest of Oregon is now in moderate, severe, extreme or exceptional drought, prompting Gov. Kate Brown to place eight counties, including Gilliam and Morrow, in emergency status.
"The water supply forecast for the spring and summer of 2021 is below average for almost all rivers in Oregon," reported Brad Fuchs, of the National Drought Mitigation Center. The sum of March through May precipitation resulted in the driest spring on record for much of western and north-central Oregon, Fuchs said. As of June, the mountain snowpack had melted at historically-high rates, a situation confirmed as Mount Hood's white flanks turn dark.
Drought dangers can include stressed vegetation, increased fire danger, reduced water availability for agricultural and municipal supply, limited access for reservoir recreation, reduced agricultural yield, low streamflow and warm water temperatures which negatively impact fish habitat, and poor rangeland conditions for livestock and wildlife grazing.
In Wasco County, with the southern portion in "extreme drought," commissioners declared a drought in mid-May for a second consecutive year. (Story May 15 edition Columbia Gorge News.)
Local solutions discussed
The situation is dire but not unexpected by Gorge-area water suppliers and users, including municipal and irrigation district representatives, as well as conservation groups. Cindy Thieman of the Hood River Watershed Group (HRWG), and Heather Hendrixson, Hood River Soil and Water Conservation district manager, reported to the Hood River County Commissioners this month on projects that could reduce the impact of the drought. Les Perkins, Hood River County commissioner who also manages the Farmers Irrigation District, and Commissioner Mike Oates, an orchardist in Odell, added to the conversation about work to conserve water. Among the reports:
A project with the East Fork Irrigation District, the county's largest with 936 users, to replace the leaking pipes and aging canals and equipment, some of which are 100 years old. In the summer, the district diverts most of the East Fork Hood River's water for irrigation. The $9 million project underway will convert six miles of open canals to pipes, reducing water loss and increasing stream flow for fish, wildlife habitat and other uses including drinking water. The conversion is set to be completed in 2022. The project is one of several completed and more planned in the group's proposed 20-year action plan. More information is at hoodriverwatershed.org/our-work/water-conservation.
Hendrixson is working with local landowners to reduce waste and increase cooling shade in streams. Grants are available — up to $15,000 — to help with irrigation, manure storage and mud management. Providing simple stream crossings for cattle, for example, is among ways to improve water quality and reduce erosion.
If well-users draw down groundwater during the drought, will it also impact river and stream levels, Perkins asked. Studies so far are inconclusive, he said, and need follow-up. Past studies have monitored 60 of the nearly 500 well-users in the county, but more studies need to be made to create accurate models.
Drought conditions are already clogging his irrigation pipes, according to Oates. "Our water is just too darn dirty," he said. When algae and organic matter from warm and low flows clog the intake, it is difficult to irrigate with conservation-friendly drip or spray methods.