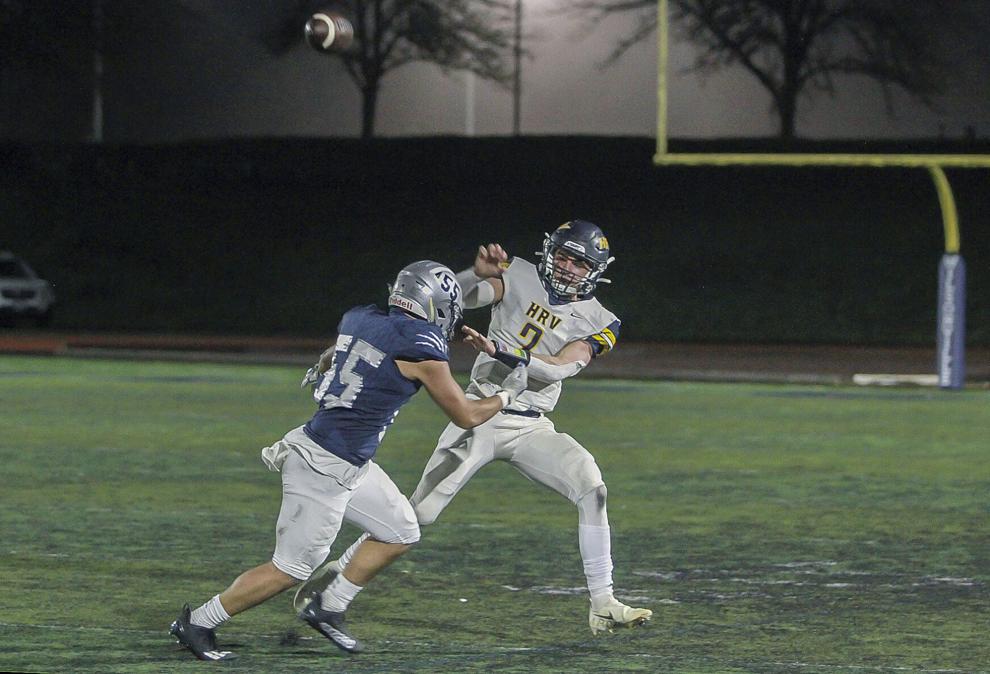 Big plays propelled top-ranked Wilsonville to a 42-14 Class 5A state playoff football win Friday over visiting Hood River Valley.
The Wildcats (11-0) bolted to a 28-0 lead three minutes into the second quarter behind four touchdowns that covered an average of almost 60 yards. Wilsonville quarterback Chase Hix engineered the Wildcat offense with four TD passes to propel the District 2 champions into the semifinals.
The lost ended Hood River's season — one of the best in two decades. The eighth-ranked Eagles (9-2) won a state playoff game (Nov. 5 over South Albany) for the first time since 2002. But Friday, Hood River Valley had no answer for Wilsonville's aggressive defense and the Wildcats' multiple offensive weapons. The Eagles averaged 40 points a game during the regular season, but their big-play offense was stymied by Wilsonville's quickness. Hood River had 48 yards of total offense in the first quarter.
Wilsonville, one of the premier 5A football teams in Oregon, has made the state playoffs 12 successive seasons (the OSAA did not sponsor a football postseason in 2020). Coach Adam Guenther, whose dad is a former Hood River city manager, has now led Wilsonville into the 5A semifinals five of the past six full seasons.
"They've been known as a really tough football program — and baseball, as well," senior Mason Spellecy said of Wilsonville, following HRV's first-round win over South Albany. "They're big and strong and fast. It will be a really good test of athleticism."
It looked early like it would be no contest. The Wildcats scored their first three touchdowns on one-play possessions to take a 21-0 lead 23 seconds into the second quarter. Hix connected on TD throws of 80 and 50 yards for the first two scores, and Jacob Ogden scampered to the end zone on a 63-yard run for the third. The Wildcats' fourth score came on a 46-yard Hix to Rochne Beecham pass play, giving the home team a 28-0 lead at 9:04 of the second period.
Hood River Valley, the District 1 runner-up behind Pendleton, found paydirt late in the second quarter when Trenton Hughes hit Ryles Buckley from 11 yards out. The score capped an 11-play, 72-yard drive. Wilsonville muffed the ensuing kickoff, a high boot from Robert Rowan, and Aiden Cantrell recovered for the Eagles at the Wildcat 33. Hughes threw a hurried incompletion and then underthrew his next pass, which Jack Johnson intercepted at the Wilsonville 25 and returned it 75 yards for a touchdown.
Wilsonville had 302 yards of first-half, total offense, most of it coming through the air. Hood River clogged the Wildcat running game, limiting it to six carries for 75 yards before intermission. Sixty-three of those yards came on Ogden's second-quarter, TD run.
Hood River cut into Wilsonville's 35-7 halftime lead by opening the third period with another sustained TD drive (eight plays, 75 yards). Hughes ran in from the 5-yard line, giving the Eagle fans who survived the rainy evening — including a slow, wet, blustery drive, specifically on I-205 — renewed hope. But Wilsonville immediately answered once again, as Hix completed four straight passes — the final one to Johnson for an eight-yard touchdown to complete the game's scoring midway through the third period.
Hix finished 17-for-22 passing for 323 yards before leaving the game with seven minutes remaining. He connected on eight straight throws in the second half, completing passes to five different receivers during that span.
Hughes capped his stellar HRV career with 134 rushing yards on 33 carries and was 14-of-27 passing for 168 yards and two interceptions. Hood River, trying to reach the state semifinals for the first time since 1991, was led in receiving by Buckley, who caught seven Hughes' passes for 79 yards and a touchdown.