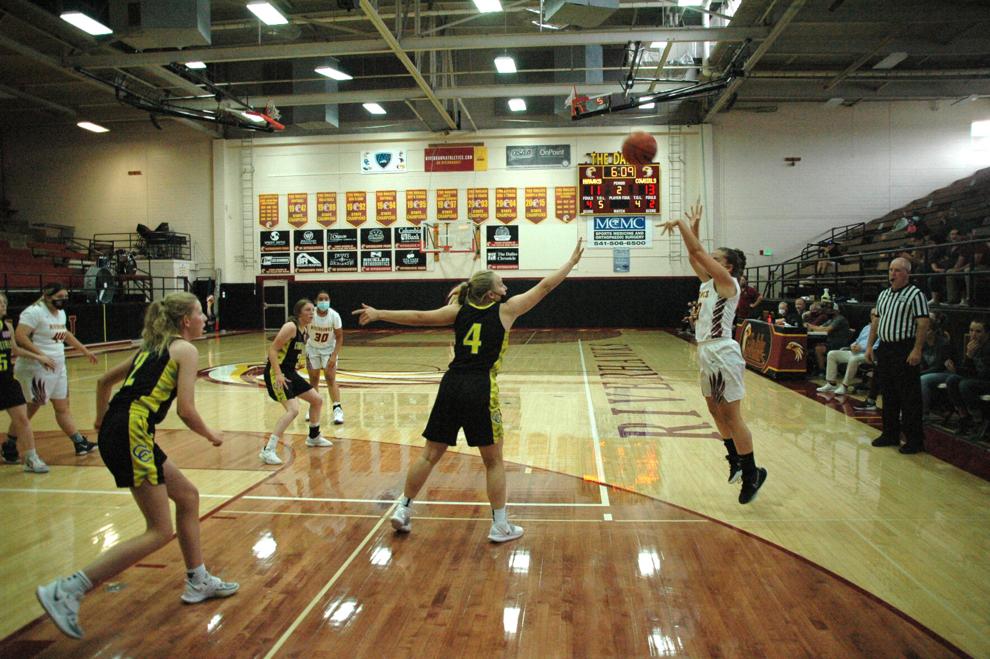 The Dalles High Riverhawks girls basketball team last week won one of three Class 5A Intermountain Conference games — a Senior Night victory over Gorge rival Hood River Valley.
The Riverhawks (2-6 IMC, 2-6 overall) won their second game of the season 57-33 over HRV (0-7 IMC, 0-9 overall) on Senior Night June 10 at The Dalles High School. In a pregame ceremony, the trio of Hawk seniors, Cadence Snyder, Hanna Ziegenhagen and Keisha Oregon, were honored while accompanied by their parents, for their successful careers on The Dalles High basketball team.
"It's definitely weird knowing that we won't play another game in this gym, which seems kind of crazy and it's sad," said Oregon. "It's going to be even more emotional for us when we actually play our last game of the season and it will also be sad for the other girls too, because we're so close to them. I feel like the larger crowd here on Thursday is what really kept us going and since it was senior night, we really felt motivated to play with a higher energy level against Hood River."
Snyder led the Hawks in scoring with 14 points and junior Monica Rojas scored a career-high 12. The 57 points scored by the Hawks was their highest scoring total of the season and the 33 points scored by Hood River was the fewest by a Hawk opponent this season.
"It was kind of bittersweet, but I didn't even cry, surprisingly," said Snyder. "Some of the younger girls cried because we're definitely so close with them. The Hood River game was a lot of fun, we all hustled well, and everyone played really good. It seems like Hood River is the only team we can beat this year."
On June 8 the Hawks traveled to Central Oregon and lost 43-28 to the defending (2019) IMC champion Redmond Panthers (3-5 IMC, 3-5) at Redmond High School. In this second matchup between the two squads, the Hawks had a much better effort than what they had in a May 25 season opening 50-22 loss to Redmond at home.
Oregon led the Hawks in scoring with seven points and freshman Jeilane Stewart and Ziegenhagen each scored six. The 15-point loss to Redmond was also the smallest margin of the Hawks' six defeats and nearly half of the 28-point deficit in the first game.
The Hawks, guided by Coach Keith Howe, faced the Crook County Cowgirls (5-3, IMC, 5-5) June 11 and lost 45-25. Playing for the second consecutive day, the Hawks had a strong first half, while trailing just 21-17 at halftime.
"This loss was definitely due to the game on Thursday (versus Hood River) because the girls went full out, playing so hard from start-to-finish and giving 100 percent effort," said Howe. "Everything went our way and we had the fewest turnovers of any game this season, so that was a good victory. We were right in the game tonight (versus Crook County) we were down two after one and down just four at halftime. Everyone put out so much effort the night before and they were all just too tired in the second half."
The physically exhausted Hawks started feeling the effects of fatigue in the second half and were outscored 13-1 in the third quarter and 11-7 in the fourth.
"In the first half, it definitely felt like we had a chance to beat them and it would've been great if we could've kept going our momentum going, but I think we were all pretty exhausted," said Ziegenhagen.
In a seesaw first half that included five ties and five lead changes, the Hawks took their first lead of the game when sophomore Natasha Muzechenko (12 points) fired in a three-point field goal, putting The Dalles in front 11-9 with 1:52 left in the first quarter. Crook County responded with a 4-0 run to take a 13-11 advantage at the end of the quarter.
Muzechenko sank consecutive three-pointers at the outset of the second quarter, propelling the Hawks in front with their largest lead of the game at 17-13 with 5:21 left until halftime. The Cowgirls came back to knot it 17-17, forcing a Hawk timeout with 3:28 on the clock. Crook County took a 19-17 advantage with 1:50 left and never trailed again.
"I couldn't be more proud of their effort, but they had nothing left and they were physically drained after playing so hard against Hood River," said Howe. "As a coach, nothing makes you prouder than seeing a full effort like that. We have two more tough games against the top two teams in our conference. We were in both games against those teams the last time we played them, but the turnovers hurt us. We've improved in that regard and we're making less turnovers now. Our goal was to get one win this year and we got two and we're hoping to sneak in and get maybe one more win."
Utilizing an effective defensive full-court press to create Hawk turnovers, the Cowgirls scored some fast-break baskets to help extend their lead to 34-18 after three quarters and they maintained their momentum for the remainder of the contest to get their second straight win.
"We're playing against teams that have way more experience than us, so I'm proud of what we've accomplished this season," said Howe.
The Hawks played without Jeilane Stewart in the second half, because she injured a finger in the first half and was unable to play after that.
"We just ran out of gas and we were exhausted from yesterday's game (versus Hood River)," said Snyder. "We started letting up on our defense and we were getting tired and then we all started hanging our heads a little bit. We started making bad passes and we just were not boxing out well enough, and they (Cowgirls) were getting a lot of offensive boards. Having a few days off to rest is going to help us and I think we're going to play better in our last two games and maybe have a chance to win one more game."
The Hawks played the Pendleton High Buckaroos (5-1 IMC, 5-1) Tuesday (results came after the printed edition deadline) and their final regular season contest is Thursday against the league leading Ridgeview Ravens (6-0 IMC, 8-1) at 6:30 p.m. at Ridgeview High in Redmond.
The Hawks will conclude this short 10-game spring season on the road with a matchup probably against Redmond during the IMC District Playoffs June 21-26. The Hawks are currently the No. 5 seeded team, and they'll face likely No. 4 seed Redmond in a quarterfinal contest Monday at 6 p.m. at Redmond High School. If the Hawks win that contest, they will advance to the June 23 semifinals and play top-seeded Ridgeview.