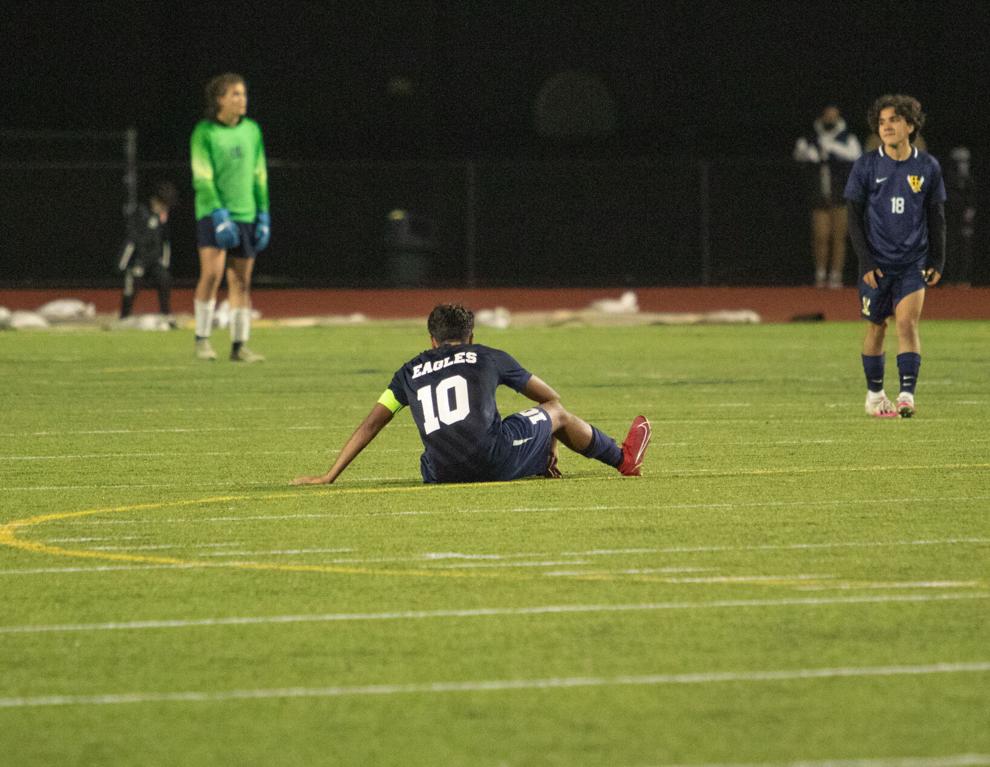 It wasn't a good day for Gorge boys soccer teams from Hood River Valley and The Dalles high schools as both lost in the first round of the Class 5A state playoffs Wednesday.
The No. 7 ranked Hood River Valley Eagles (10-2-3) were upset at home as the No. 10-ranked Woodburn Bulldogs (9-5) won 2-0 at Henderson Community Stadium at Hood River Valley High School.
The Eagles trailed 1-0 at halftime and had several chances to tie the game in the second half with solid shots on goal by seniors Hunter Hough, Cody Cornejo, and sophomore Edgar Lachino. However, the Eagles were unable to capitalize on their scoring opportunities.
Woodburn scored a goal with four minutes left to extend its advantage to 2-0. It marked the 11th year in a row that the Eagles advanced to the state playoffs. The loss snapped HRV's 10-game unbeaten streak.
The contest marked the final game of the Hood River Valley High School soccer career of Eagle seniors Hugh Dalbey, Riley Dierker, Hunter Hough, Milo Clarkson, Geoffrey Shoaf, Genaro Martinez, Javier Castillo, and Cornejo.
Woodburn advanced to the Nov. 6 quarterfinals and will play the No. 2 ranked Willamette Wolverines (14-1).
The No. 18 ranked Riverhawks lost 5-0 to the defending champion (2019) and No. 1-ranked La Salle Prep High Falcons (12-1-1) in a first round playoff game at La Salle High School in Milwaukie.
The loss snapped the Hawks' six-game unbeaten streak. The score was identical to a 2019 first-round playoff game between the two teams. Wednesday's game was the final high school match for Hawks seniors Tristan Bass, Alex Wood and Harry Proctor.
La Salle advanced to the Nov. 6 quarterfinals and will meet the No. 8 ranked Silverton Foxes (8-2-5).