Making tracks to graduation in 2026, students reflect on year
We met them in 2014 as kindergartners, six youths from Hood River County who are now in the seventh grade. They agreed as kindergartners to respond to the same set of questions until they graduate from high school in 2026.
Each fall, we get to hear from them again: Jess Aubert of Parkdale, Diego Bustos of Hood River, Trinity Evans of Cascade Locks, Jack Miller of Hood River, Sofia Rodriguez of Odell and Nicholas Tuttle of Hood River.
The Tracks to '26 kids' full 2019 answers are printed in full below.
In 2020, we added just one new question — the obvious one:
"How has the pandemic most affected you?"
For most of the group, the change to distance learning was "no fun," but most had found silver linings such as more time with family and the chance to do other activities during the week. Just hanging out with friends has been the major change, and loss.
Looking back at last year's answers also points to the impact of losing out on the many activities they have been denied in 2020: band, Battle of the Books, drama, football, group PE, band, and more.
In this edition is our eighth conversation with the Tracks to '26 group; these are the annual questions:
1. What's a good thing that happened to you today or you look forward to?
2. What's something you learned today or recently?
3. What's a challenge for you?
5. What things do you enjoy doing?
6. What do you want to be when you grow up?
7. What do you think about the future?
Kids tell of anchors and changes in their lives
It is good to see the Tracks to '26 kids again.
Readers got to know them starting seven and a half years ago. It is my privilege to meet with them once a year and ask them a set of recurring questions, as we track their changes and new ideas.
It's a strange joy to realize that Tracks to '26 is now past the half-way mark; they are in their eighth year in public school, with five to come after this. It's kind of amazing to realize that in two years we'll adjust the questions for an entirely new phase of these kids' lives: entering high school.
The late Brian Doyle wrote, "We are made of many moments."
In 2020, the youngsters all have truly have changed, but each is as comfortable talking as they were when we started in 2014, and I am struck by the way each retains recognizable mannerisms from when they were in kindergarten. There is a true continuum, and a spontaneity to our conversations. When we sit down to talk (or stand, as we did this year) it never feels like we haven't spoken in a year.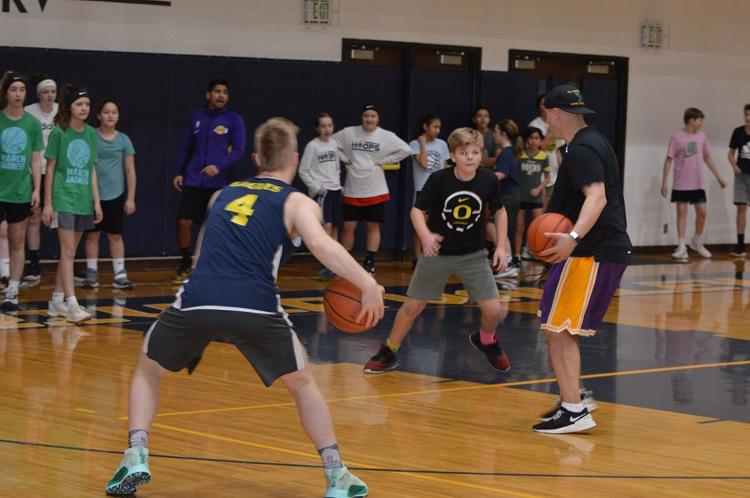 Jack Miller and I sit on his front porch, 10 feet apart. Right off I notice a well-used skateboard next to my chair, along with Christmas decorations. Jack has always been a quiet but easy talker; he would look me right in the eye from the first time we met.
It's an unseasonably warm December late morning. Jack wears shorts and, baseball guy he is, a Spring Training t-shirt reading "AZ" for Arizona. On his feet, one green "UO" sock and one bright purple one.
When it was pointed out they were different, he smiles and says, "No, they never match."
Diego Bustos comes out of his house and gives me the same modest half-wave as ever. I hand him a photo I meant to give him last year, a print from 'Tracks' day one, with fellow kindergartners Trinity, Nicholas and Sofia. Diego has always been on the shy side, but his warm smile is always at ready, and I think he is pleased to see the image of his younger self.
We are eye to eye now: he is 12 but now stands 5 feet, 11 inches.
Trinity Evans and I had played "phone tag" to set up a time to talk (this year, thanks to the pandemic, no just showing up at the kids' schools) and she left me a six-second message that simply said, "I'm ready for my interview."
We meet in her front driveway in Cascade Locks: It's cold but she says she is comfortable in her short-sleeved shirt, with its outer-space imagery. It probably reveals the whimsical side of this down-to-earth, precise-speaking girl who I think was born with a twinkle in her eye. Trinity has also grown taller, but I am struck by the continuity of her manner from age 6: A confident smile on her face with every answer.
Jess Aubert and I stand in the yard of his parents' Parkdale farm, dark ball cap and high boots of a guy ready to hit the orchards or cow pasture at a given moment — and he knows the property that has been in the family for multiple generations. Jess is, in the best sense of the term, "a talker." He tells me about the lay of the land, how large the herd is, describes the "rock jacks" (wire-enforced fence features) and the grittier points of hunting and dressing an elk. He is responsive and connected as we converse, but he readily describes everything that interests him, and plenty interests him. He's also cognizant of his answers from previous years.
"I remember what I said last year" and "I've changed my mind" are typical comments from the Tracks students as they hear questions they are now familiar with after seven years.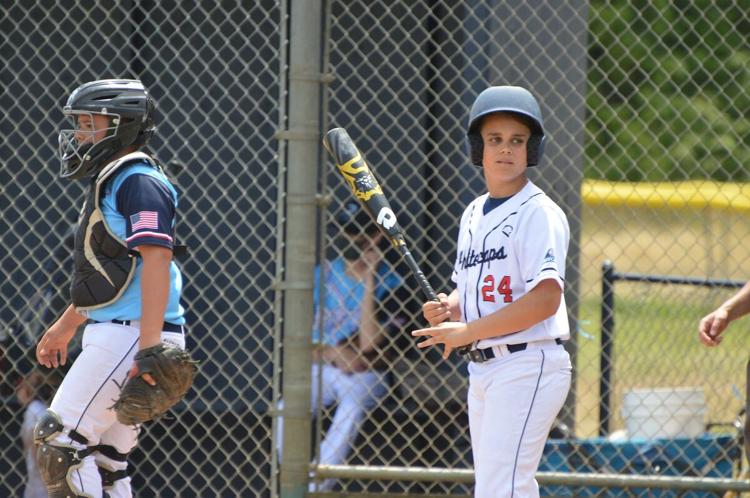 Nicholas Tuttle and I did not get to talk face-to-face this year, the first time this has happened. Life circumstances got in the way but we were able to connect via email on Monday. I watched Nicholas hit a run-scoring double in a game with his Hood River Whitecaps 12U team last summer, one of the few times I got to see any of the Tracks kids this year.
For Sofia Rodriquez, specific answers from the past stand out — even from the first interviews. Today we stand in her verdant front yard in Odell, ducks scurrying around us.
"A few weeks ago I went on a marathon of reading all the Tracks to '26 papers from every year, and I read one where I said, 'when I'm 13 math is going to be so hard'," Sofia remembers. "I'm 13. And it's harder, definitely than when I was like 8. Also that was the one year you didn't ask me how to spell 'metamorphosis' and I wrote it down like 100 times to make sure I knew."
When Sofia and I spoke in the fall of her kindergarten year at a Mid Valley Elementary, the thing she told me she had learned that day was the concept of "metamorphosis," and she gave me her six-year-old's version of how to spell it — "metemorfess."
In her front yard last week I asked, "So, how do you spell metamorphosis?"
She began: "M-e-t-a, m-o-r-p-h" — a moment's pause — "Um, o? S-I-S!" Sofia jumped up and down, laughing.
If we could have high-fived, we would have..
Here is what the Tracks students had to say this year:
Sofia Rodriguez
How has the pandemic most affected you?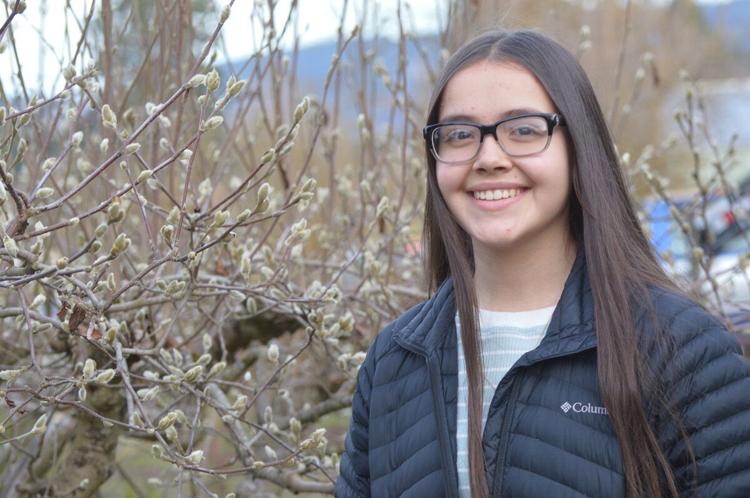 "I feel like not being able to go to school or see as many people because I feel like I'm very social and it's very different to only talk with my family during the day. I still talk with friends but it's not the same. I can Facetime them more often. Right now it's just emails or something like that.
"It's like the main screen the teacher is presenting and a few off the side and we see about six or seven people and sometimes people will have their cameras on but most of the time it's not their faces, unless you're in a breakout room. At first it was 'we need to talk' but now it's more chill, like 'Hi, this is what we need to do.' It's like when you need to pair up with people, the teacher will do it, sometimes with four or five or one other person."
What's a good thing to happen to you today?
"Probably you were going to come and interview me. Not many exciting things happen around here. We put up Christmas lights, I've been going online shopping for Christmas gifts and stuff like that, but other than that not really anything."
What's a challenge for you?
"Being able to stay connected with people through the way we're learning and not being able to talk to as many people, even at school. Figuring out how to upload something on an assignment. Some we had to use once or twice but now we have to learn learn how to use things. (The hardest part) is not being able to connect, in the hallways, like when we would come up and say 'Hi'. That was taken away from us, and sometimes not getting enough help, because sometimes I would like understand half but then the other half I would need some help and the time they were open I might not be able to go and they can help me."
What's something new you've learned about?
"About the Roman Empire, about the church and how it was a huge part of the Middle Ages, and all about that. I like it. I used to not love history a lot but now I definitely like it more."
What things do you enjoy doing?
"I like painting, I'm not the best at it but I really do like painting. Acrylic paint. I started probably like a month ago, so it's very, very recent. I liked painting but didn't do it as much but now I have a lot of free time it's something I like to do. I just paint kind of random things.
"I really like hanging out with my family, since I can't go anywhere else. My family is very fun to be around. I really like watching movies with them or just talking. All of our age gaps are like pretty wide so no one really fights." (Sofia is the youngest of five siblings.)
What do you want to do when you grow up?
"I'm not 100 percent sure. Maybe something like a teacher or something like that."
What do you think about the future?
"I don't know. Last year I was very incorrect in not thinking there would be a pandemic. I probably didn't say we would be in a pandemic in the future. What I think of the future is it will be more advanced. Right now there are glitches and lags, like in electronic things, like school. It will be more advanced, probably different.
"Some things they might not think is a big thing (in technology) might be like kicking someone out of class and they won't be able to get back in for like three hours."
Jess Aubert
How has the pandemic most affected you?
"Mmm. School and not seeing my friends that's mainly it, but everything is pretty much the same kinda, except I have to wear a mask in the store, and the online school isn't very fun. It's just ... terrible. There's always homework and always more to do and I get, like, 50 e-mails a day from, like, one teacher, and there's so much to do but one of the things that's good about it is we can go places. Two days ago I went pheasant hunting by The Dalles, I didn't get anything. The dogs weren't very helpful. Bogie is the new puppy and wasn't very much help but he did point a bird. It scared me. They usually lay in the bushes and we saw five roosters get up but they were like really skittish so they jumped when we were (100 feet or so away) and Bogie our puppy wasn't much help and Ralph is getting old. Roscoe the cat who adopted us on Christmas Day 2019, and lives in the barn but sometimes he comes in to lay down. We have two other cats. Ziggy is 13 and Callie is 20."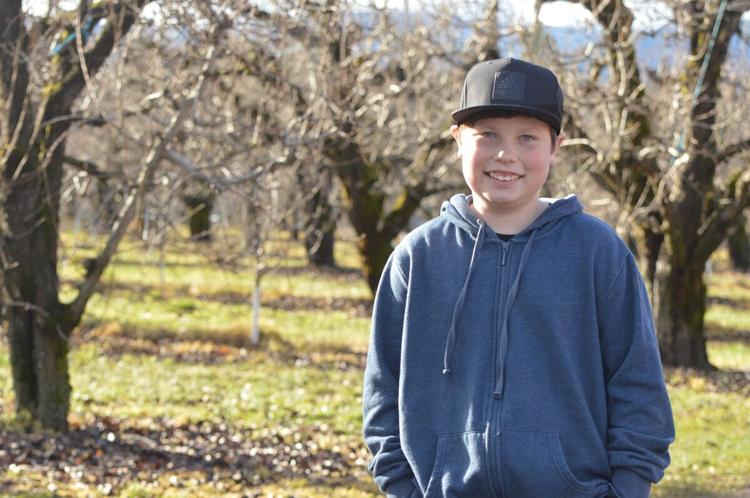 What's a good thing to happen to you today?
"We went skiing on Wednesday at Mount Hood. Our grandpa took us with my friend Shelby and we went up in the cave. We had to go down a steep slope on our skis and then there's a washout and you have to sideslip down and rocket across so you get up speed and go back up and then you take off your skis and go in the cave. We were playing with icicles. It was pretty fun."
What things do you enjoy doing?
"Hunt and fish. I got an elk, in the woods (on the family property). It was very exciting. They're skittish and they're used to our smell. I clipped the bottom of the heart and got both lungs and she took a few steps and then fell over, so she didn't suffer. It's in the freezer. I skinned it, with my dad and my grandpa. He lives in St. Helens and had a mobile slaughter business so he taught me a lot.
"We went over to Punch Bowl. We went down to the cliffs. There's a lot of water because it rained a lot."
What is something new you learned recently?
"Today I learned that for deer here we have a cross between a blacktail and a mule deer, the species of deer. We saw one, he was a nice buck, he was eating rhododendrons by the side of the road."
What's a challenge for you?
"School. Math is hard but I think I'm getting the hang of it. I'm getting good grades. And then, language arts and all of those are really easy. Health is pretty easy, it's mainly about making wise decisions is basically what it's teaching you. In social studies we're learning about the African empires, like the first people, and how north has gold and the south has salt and the west, they're like the trading post, and the west was really like big because they got a lot of money from the trading."
What do you want to do when you grow up?
"I've changed my mind and I'm going to fly firefighter helicopters. I saw it on a show and then I looked up the salary, it's like $160,000 per year. I'm going to go into the Army to learn how to fly."
What do you think about the future?
"They came out with the vaccine for the corona but they haven't come out with one for kids. The COVID is different, apparently, for kids, but they came out with one for high-risk people so I think it's going to be good and I think it's going to end if everyone stays safe."
Jack Miller
How has the pandemic most affected you?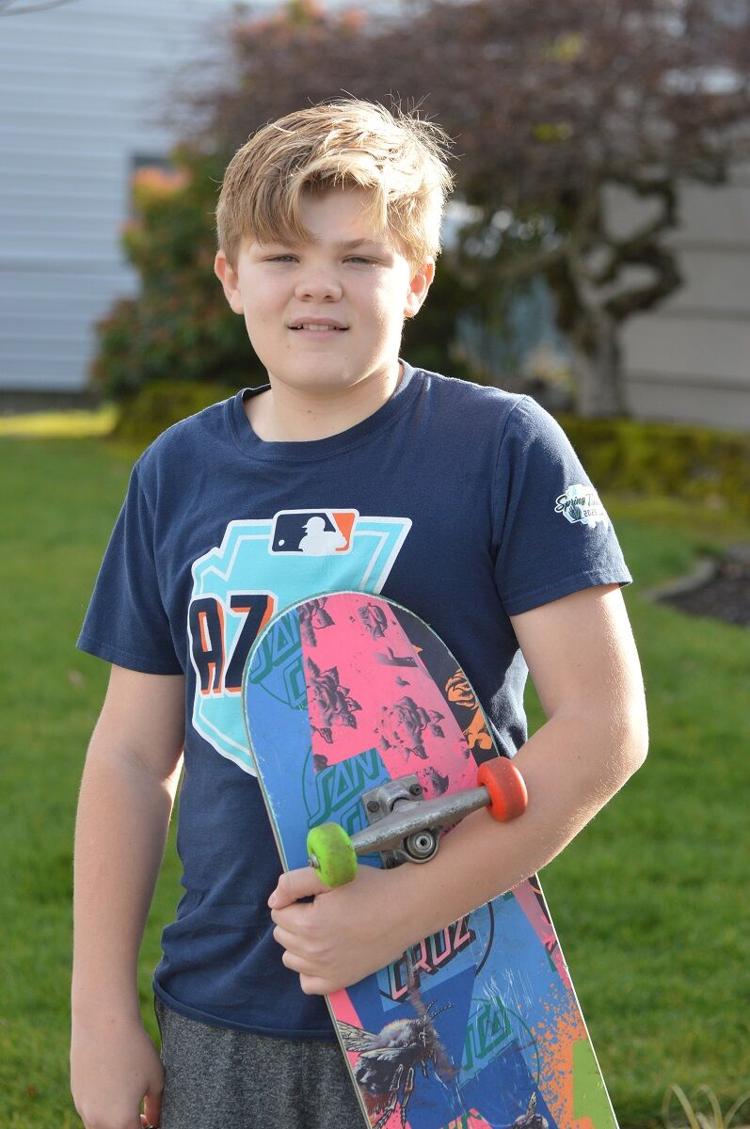 "Probably hanging out with friends, and sports, I got to play baseball a little bit. it was like a short season, we only played like three games, this spring. Then I did a little travel ball for four weeks or so, Portland is as far as we went. I go to the skateboard park a lot, when it's dry out. It's big. I've been riding the skateboard a year. My friends started skating, so."
What's a good thing that happened to you today or recently?
"I don't really know. No school!
"I learned how to do a 'kid-flip'. It does a full 360, but instead of going like that" (he points up and down) "it goes like that" (right to left). "I just practiced a lot. I watched other people do it. I feel like it's easier than watching a video because in the video you see where you have to put your feet but in the video it kind of goes straight into it ... you have to have your feet like this (level) and then flick, like that, to get it to rotate."
What is a challenge for you?
"I don't really know — probably skateboarding just because some things are harder than others in skateboarding."
What things do you enjoy doing?
"Playing video games, mountain biking. I like Minecraft and Call of Duty.
"We went to Moab for like two weeks and biked there a lot. It was fun. I liked the rocks, the red rocks."
What do you want to be when you grow up?
"Probably like an E-sports player, like video games. The playing part, like, getting paid for like playing games, I usually play from like 5 to 8 each night and practice. I play with friends."
What do you think about the future?
"I think it'll be the same, like cars will probably all be electrical, is my guess. Other than I feel like it'll just be the same." (How often do you think about that?) "Never."
Trinity Evans
How has the pandemic most affected you?
"I've been really bored, I don't do much. I'm on my phone more, electronics."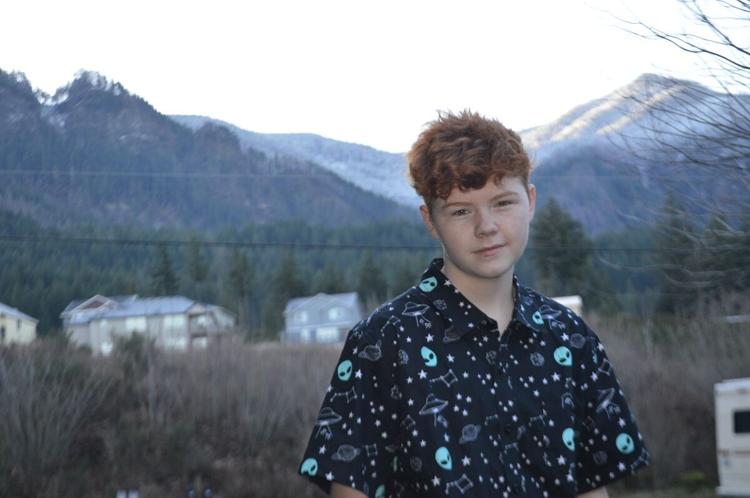 What's a good thing that happened recently?
"My birthday was last week." (Dec. 12, she turned 13.) "We went to Mount Hood. We went sledding."
What kind of things do you like to do?
"Not much. I bike sometimes but my bike is broken. We have to get a new part for it. I use social media to talk with my friends."
What's a challenge for you?
"School. Keeping up with homework and stuff. I try to set reminders to myself, on my phone."
What's something new you learned recently?
"More math stuff. Definitely that. I've made some progress. We have Googlemeets and they help."
What do you want to do when you grow up?
"I've been getting into photography. I just use my phone. I like to take views, of the town."
Nicholas Tuttle
(We caught up with Nicholas by email; he was under the weather, and his family moved to a new house in December.)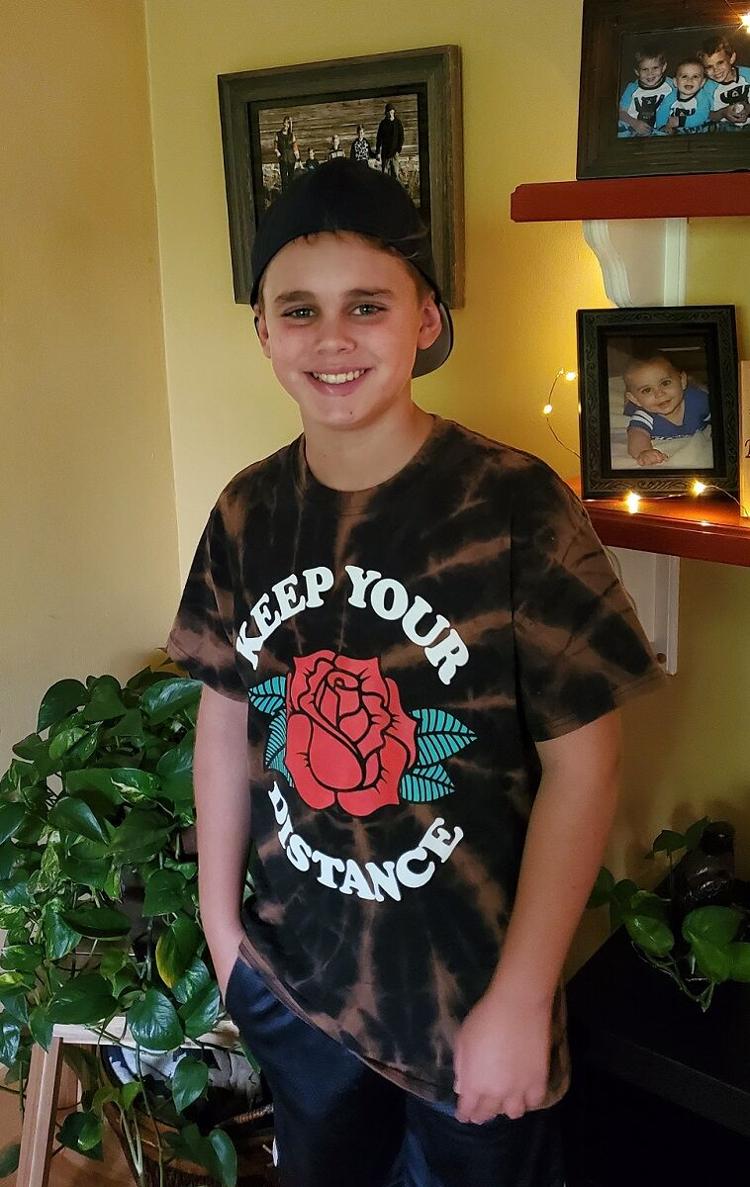 How has the pandemic affected you most?
"I don't like being home all the time right now because of COVID ... I really miss school and my friends.
"Online school is going good, but I'd rather be back at the middle school with all my 7th grade friends."
What's something you learned recently?
"Moving is hard. Lots of boxes to pack and unpack and furniture to move, but it is all worth it."
What is a challenge for you?
"How to jump my 4-wheeler over a big ramp we made out on our new property."
What do you want to be when you grow up?
"I still want to be a football player, I really missed playing football this fall because it is my favorite sport"
(In July he played in a short Little League season for Hood River Whitecaps 12U. He also played fall baseball for the first time — typically he would be playing football.)
Diego Bustos
How has the pandemic most affected you?
"How much fun we've had. Well, I can't really go to school anymore and it's not as fun as before. I miss my friends and doing the school day. Online school is more boring and it's harder to concentrate. I'm constantly distracted."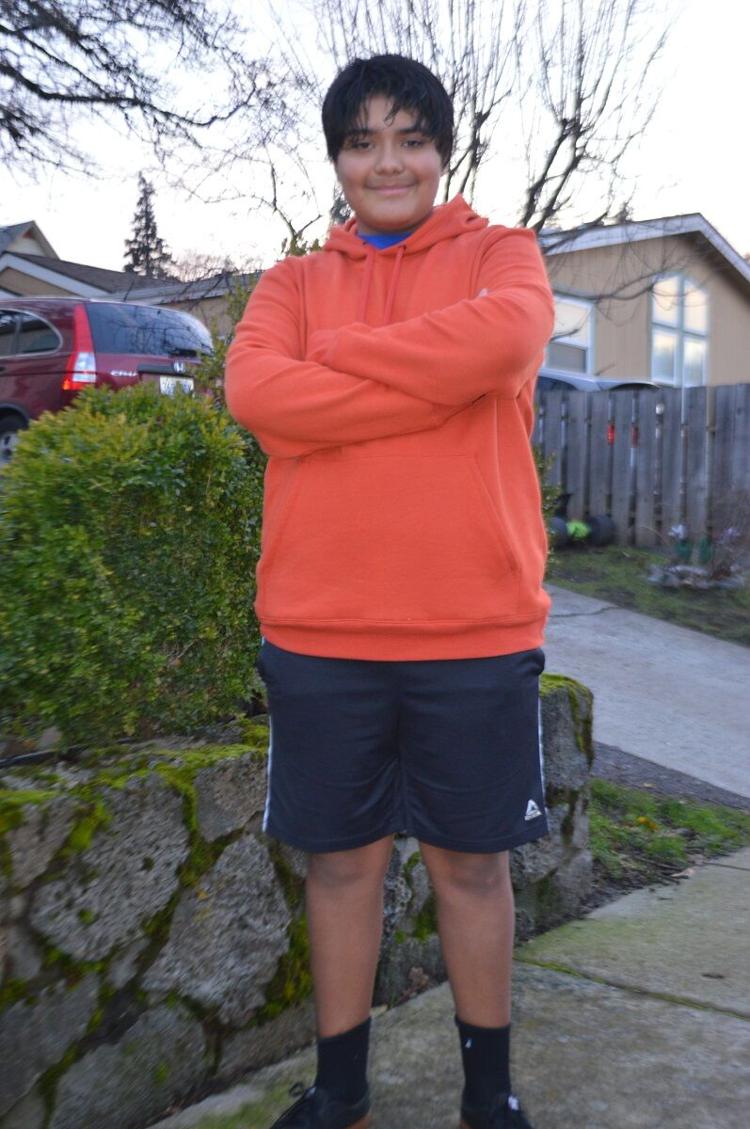 What's a good thing to happen to you today?
"I got all As on my tests." (Which test?) "All of them. Math, social studies and science."
What is something new you learned recently?
"How big the earth is. In science class. The deepest hole doesn't even go to the mantle, but it's still really deep. The mantle is the second layer that holds the magma in." (How deep is the hole? "... I don't know.")
What's a challenge for you?
"Focusing on school. Sometimes I just turn my phone off so I don't use it."
What things do you enjoy doing?
"Going outside and playing games, I play tag when somebody comes over."
What do you want to be when you grow up?
"Probably a marketer. I want to create something that affects peoples' lives."
What do you think of the future?
"I don't. I don't think about the future."