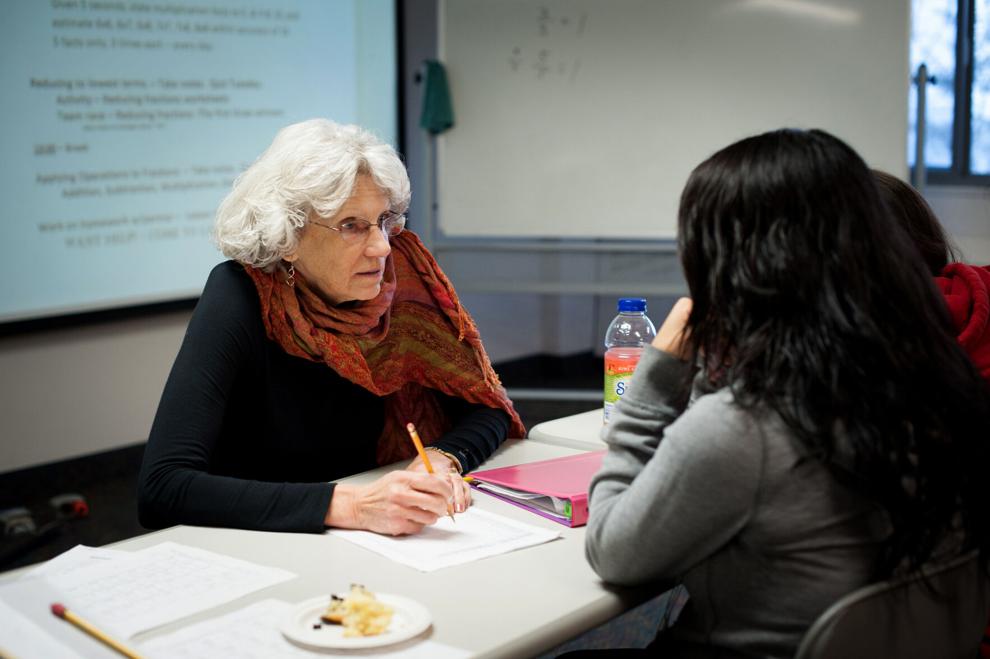 "We were a little apprehensive about teaching into student's homes…and now I don't think we'd ever go back."
Matt Fitzpatrick
GED program director
The Pre-College Program at Columbia Gorge Community College is a multifaceted program that provides education and resources to those interested in completing their pre-college education and/or gaining learning and work skills. The GED program, where students 16 and up are taught content for passing the General Educational Development [GED] test is a major component of the program.
According to Andrew Carmichael, Pre-college Program Department Chair and GED instructor, students engage in lessons through instruction and the discussion of topics and strategies needed to pass the GED test, and practice problem-solving skills through working together in small groups.
Traditionally, students attended GED orientation and classes at the CGCC campus, but due to COVID-19 restrictions, classes are currently taking place purely online.
Having to work completely online has created challenges for everyone in education, said Matt Fitzpatrick, the program's title Director and Transitions and Pathways advisor. One of those challenges is the significant amount of time needed to work with each student individually. But Fitzparick also noted there have been many positive changes as well. "We were a little apprehensive about teaching into student's homes…and now I don't think we'd ever [completely] go back," he said.
These positives stem from being able to work around obstacles that working, non-traditional students may face while attempting to get their certificates, such as a lack of transportation to class. The program has also been able to further bridge some of the gaps by providing technical resources, such as laptops and Wi-Fi hotspots, to students in need of them, as well as scholarships of $152 for those who require financial assistance to pay for the test.
Upon successful completion of the GED test, students are granted an 8-credit tuition waiver to go towards classes at Columbia Gorge Community College.
The GED Program wants potential students to know that the staff recognize the challenges students may be facing when trying to decide whether or not to participate in the program — understanding the negative associations students may have with classroom environments, and/or the lack of time and resources (such as childcare) working individuals can spare for homework and classroom time.
With classes costing $25 dollars, regardless of the number taken at one time, program staff are willing to work with them to find solutions that will help them through the course and gain their certificate.
Alongside GED, another prominent facet of the Pre-College Program includes the Youth Success Program — a supportive resource available to qualifying students. Students who are homeless or have a criminal history can also be provided with a multitude of resources such as job placement assistance, pre-college skills development (subjects such as reading, writing, and math), and soft work skills development.
With built in incentives, such as 100-dollar gifts cards for students who do well in the first two weeks of participation, the Youth Success Program seeks to help as many individuals as possible to gain the skills they need to jumpstart a successful career.
According to Fitzpatrick, Other 'wrap around' services include programs such as the Adult and Dislocated Worker Program — a resource for Oregon residents who are 18 and older. One program benefit can include scholarships for short term training certificates through CGCC or other training providers.
Another service assists employers with offsetting the cost of training new employees. This pre-hire, "on-the-job training" arrangement can provide employers with wage reimbursement while helping job seekers begin a new career path (For a full list of qualifying requirements for the Youth Success and Adult Dislocation Programs, visit ged.cgcc.edu/resources)."
Another important facet of the Pre-college Program is the Gorge Literacy Program. Volunteer based, Gorge Literacy is a confidential, one-on-one tutoring resource for pre-college students preparing for the GED, as well as members of the community who need assistance with reading and writing, basic math, and English language learning. The program's mission is to enable community members "to reach their goals and realize their potential within their family, work, and community lives."
For further information on the program, how to register, as well as a survey of individual needs, visit ged.cgcc.edu.