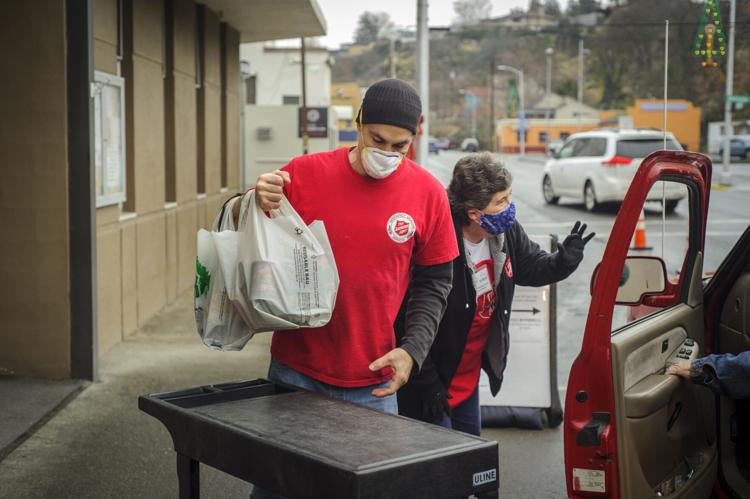 "Salvation Army Pantry is full."
So read the subject line of an email sent to supporters of the Community Meal program in The Dalles Dec. 7 by Chris Zukin, who helps organize the volunteers who work to provide a free hot meal to those in need and is a member of the Salvation Army The Dalles Corps board.
The triumphant message was in sharp contrast to another, sent only a week prior on Dec. 2. That message read, in part, "I just spoke to Captain Ray at the Salvation Army. They are out of food and in great need of financial help ... Captain Ray figures it will cost $10,000 to fill the pantry." Everybody Loves a Fire Fighter (ELFF) donations were down due to COVID-19 changes in the annual Christmas food drive, and the annual Thanksgiving community meal, which provided a hot Thanksgiving meal to go, had cost more than anticipated.
Zukin asked the community to help refill the pantry — and they did, twice over.
"Thank you for your amazing support of the Salvation Army," Zukin wrote Dec. 7. "As of noon today, $23,650 in donations have been dropped off or picked up from the mail."
And that amount did not include a $10,000 gift from Google donated to the ELFF drive and an additional $10,000 contribution from the City of The Dalles.
"This is a beautiful, generous loving community," Zukin said.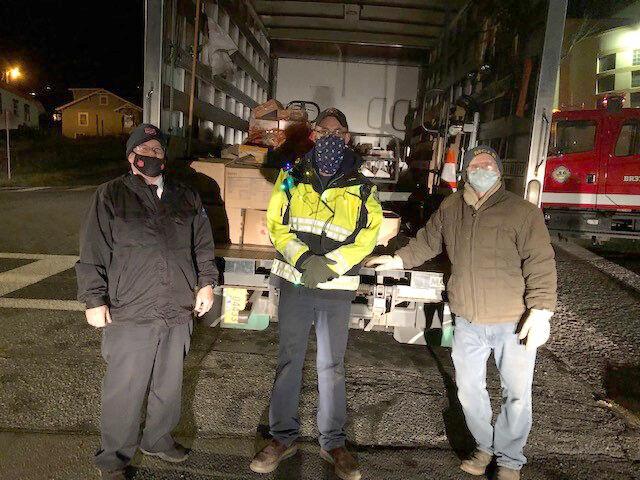 ELFF Drive
Despite a slow beginning, the 34th annual Everybody Loves A Firefighter (ELFF) Christmas food drive was a remarkable success, due in part to the $10,000 cash donation from the Google Foundation, according to event organizers. In addition the drive netted 6,810 food items and an additional $1,724 in donations.
"That was unique," Fire Chief Bob Palmer said of the promised Google donation. "We haven't had a donation like that before."
This year's drive was shorter, only two days, and except in Dallesport, donations were dropped off at community sites. "We weren't able to go door-to-door this year because of COVID-19," Palmer said.
Palmer said that if possible, next year's ELFF drive would return to the door-to-door format.
The impact on the Salvation Army food pantry in The Dalles was immediate.
"The ELFF drive is a big food drive for us, and this year we had about 1/3 the intake, compared to previous years," said Captain Ray Morris of The Dalles Corp of the Salvation Army. "There has been a shortage of food from the Oregon Food Bank this year as well, due to the pandemic and wildfires impacting the state.
"We got $23,500 in cash donations to help the pantry, and donations are coming in every day," Morris said. The money was a lifesaver during a challenging time, he said.
The Google foundation gift to ELFF will be a huge help as well, Morris noted. In addition, a $10,000 COVID-19 relief grant has been applied for by the city, he added. That grant is to help cover some of the expenses the Army incurred March through August of this year, when they were the primary pantry serving the area as others closed their doors due to the pandemic.
During those months, as Oregonians stayed home to slow the spread of the virus, the Army pantry filled over 1,600 food boxes, one for each individual family. Those boxes provided food for over 8,500 individuals.
He noted that the need will be ongoing.
The Army also has "bell ringers" with their Christmas Kettles out in both Hood River and The Dalles, a long-time fundraising tradition, but there are fewer places for them to set up this year and donations are fewer. "We are $40,000 short on the kettles, compared to last year," Morris said.
The Army pantry serves people from Wasco, Hood River and Klickitat counties who are in need. "We don't check residency, we don't draw any lines in the sand. Those served can obtain a food box every 30 days from the downtown pantry, which is open 1-3 p.m. Monday, Wednesday and Friday.
"Our food boxes are built on Oregon Food Bank box standards," Morris said, and provide a healthy and balanced selection of food.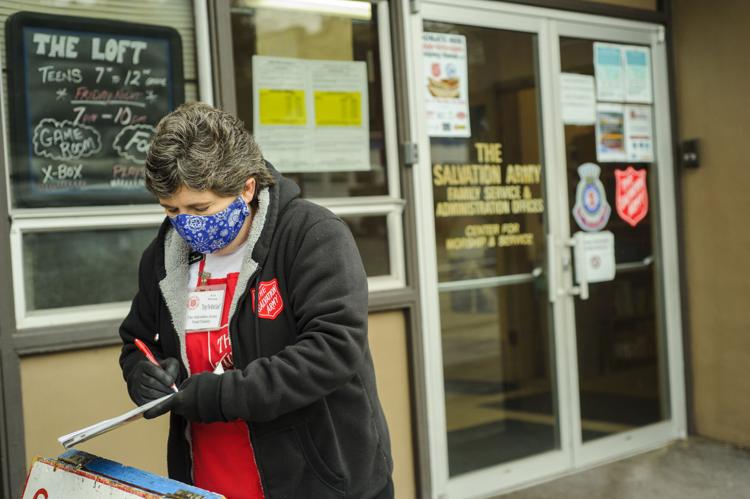 Clients are able to pick up a box once every 30 days.
The Salvation Army also operates a "mobile pantry" at the Wahtonka Community School building in west The Dalles, and recently gave out 50 boxes in 45 minutes. The Wahtonka pantry is a link-to-feed program, offering weekly boxes when food is available, and is open on Thursdays from 3-5.
"We are seeing a lot of new families. People are losing their jobs, people are struggling," Morris said.
Last month, the Army pantry served 210 families, compared to about 75 families served the same month in 2019.
Nevertheless, Morris is confident even in the face a difficult and dark winter that people will help each other. "We serve an almighty God, when we serve those in need," he said. "We have a great community that just steps up to fill the need."
Hood River County
The FISH Food Bank system in Hood River County has seen a 30 percent increase in demand overall, and a doubling of requests in Cascade Locks, compared to December 2019.
Food supplies are stable but FISH has had to innovate, and spend more money, in the wake of constricted supply lines, mainly from its traditional source of food, Oregon Food Network.
Marianne Brevard, FISH operations manager, said local food banks have seen less allocation from the Food Network, as demand is greater throughout the entire state.
"We've had to look for other sources, purchasing more than ever, and ordering in bulk," Brevard said. That's a strain on the non-profit's cash resources, as "even buying wholesale is more expensive than what we get from Oregon Food Network," she said.
However, food and monetary donations continue to come in, though because of COVID-19, fewer churches and other organizations are mounting food drives to help with the stocks at FISH.
"The community has been extremely generous in its cash donations and of shelf-stable items for our shelves," Brevard said. Those donations include pre-loaded bags of canned goods and other vital food needs that can be conveniently purchased for the food banks at local grocery stores, with delivery going to FISH.
In addition, FISH has been able to count on government-supplied "Farm to Family Boxes."
"It's been a huge help," Brevard said. The boxes contain "beautiful food: Apples, onions, potatoes, dairy, and more," she said. "It's been a really nice supplement and we believe it will be continuing through end of year and into 2021."
FISH Board Chair Marianne Durkan said the client list one day last week dramatizes the urgency of need: 50 people asked for assistance, and 25 had never been to a food bank before.
Klickitat & Skamania Counties
Staff from Washington Gorge Action Programs, which maintains food banks in Bingen, Lyle, Stevenson, Klickitat, and Goldendale, said their food banks are in a strong position for the oncoming winter.
Executive Director Leslie Naramore said WAGAP is fortunate have a strong supply chain for its food bank network through programs such as Northwest Harvest, 2nd Harvest and the USDA.
The number of people using the food bank is on the rise, which is typical for the season, but one interesting observation staff have noted is the increase in the size of families who use the food bank, implying that families are moving in together into one household.
That said, the programs are always looking for donations of non-perishable foods and monetary donations. Naramore said WAGAP is focusing fundraising efforts on the COVID-19 relief fund, which provides monetary relief for community members who have lost jobs are seen a reduction in labor hours to pay for basic necessities.
"We can always use support, as things can change at the blink of an eye," said Patti Nichols, program coordinator for the Skamania Food Bank.
"We are very grateful to all of our community members and businesses who continue to give to programs such as the Food Bank or the COVID-19 Relief Fund. Whatever your passion or motivation, the donations you provide truly make a difference in the lives of your neighbors who are struggling to make ends meet during this challenging time," said Naramore.
School food drive
The Hood River Valley High School food drive is on, and Brevard knows already that it will be a large boost to FISH.
"It's been fantastic. These young high school students have really gotten excited about trying to do something in the community, putting out bins and still doing class competitions and really done an amazing job with the online donation program," said Brevard.
Known as "Can on the Moon," the drive continues through Dec. 18.
Students are competing for class prizes — lunch gift cards, Bette's Place cinnamon rolls, Rosauers donuts and Dutch Bros. gift cards, and school prizes, for increasing point totals, including half admission for the first actual school activity, and spectacles such as teacher Doug Beardsley skiing down the mountain in a swimsuit in a snowstorm.
Dora Plascencia, HRVHS student envoy, reported to the School Board Wednesday that the food drive has continued with adjustments, including teachers stepping into the food pickup roles instead of students, in light of the county's recent status as "extreme risk" for coronavirus. Drop-off locations have included local grocery stores and Mid Valley Elementary, which in the past has conducted a large food drive of its own but is not this year because of school closures.
Donations can be made through the HRVHS website, via a fundraising platform known as Mighty Cause.
Plascencia said all student government members have put out flyers on social media and are working to encourage teachers, family, and friends to donate.
Brevard said that the project has raised $8,000 so far for FISH. But what remains clear is that "the need is definitely there in our community," and donations of food are always welcome.
Those needs include canned hominy and corn, oatmeal, boxed cereals, masa flour, chicken noodle soup, and ramen, and "especially culturally appropriate food for Hispanic residents," Brevard said.
Also in demand are hygiene items — toothpaste, deodorant, shampoo, and tampons.
Kirby Neumann-Rea and Jacob Bertram contributed to this report.