Only 3.4 percent of applicants got accepted to Harvard this year, the most competitive year in the university's history. And Yahir Santillan-Guzman of The Dalles High School is still in shock that he's one of them.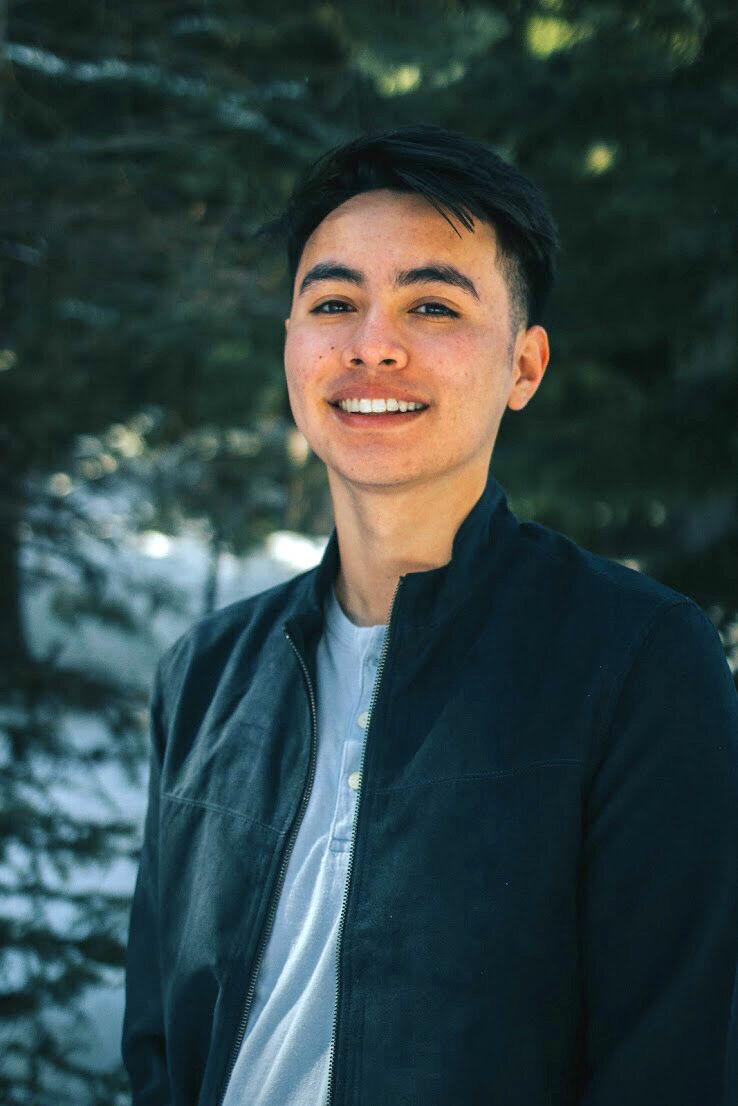 Santillan-Guzman is not only the first male Latino student to be named valedictorian of The Dalles High School, he's the first The Dalles student in nearly 40 years to receive what is one of the most coveted college acceptances in the world.
He wore Harvard's color, crimson, on April 6, Harvard's decision day — "Just a little manifestation technique," he said.
Decisions would be posted online at 4 p.m. He felt hopeful enough to set up a camera on the table to record the moment, but was also dubious enough that his mom had to convince him to just click on the link to learn his fate.
What happened next was Santillan-Guzman saw "Congratulations!" on the screen, jumped up and hit the table, knocked the phone to the floor, and only recorded video of the ceiling and the sound of him and his mom screaming.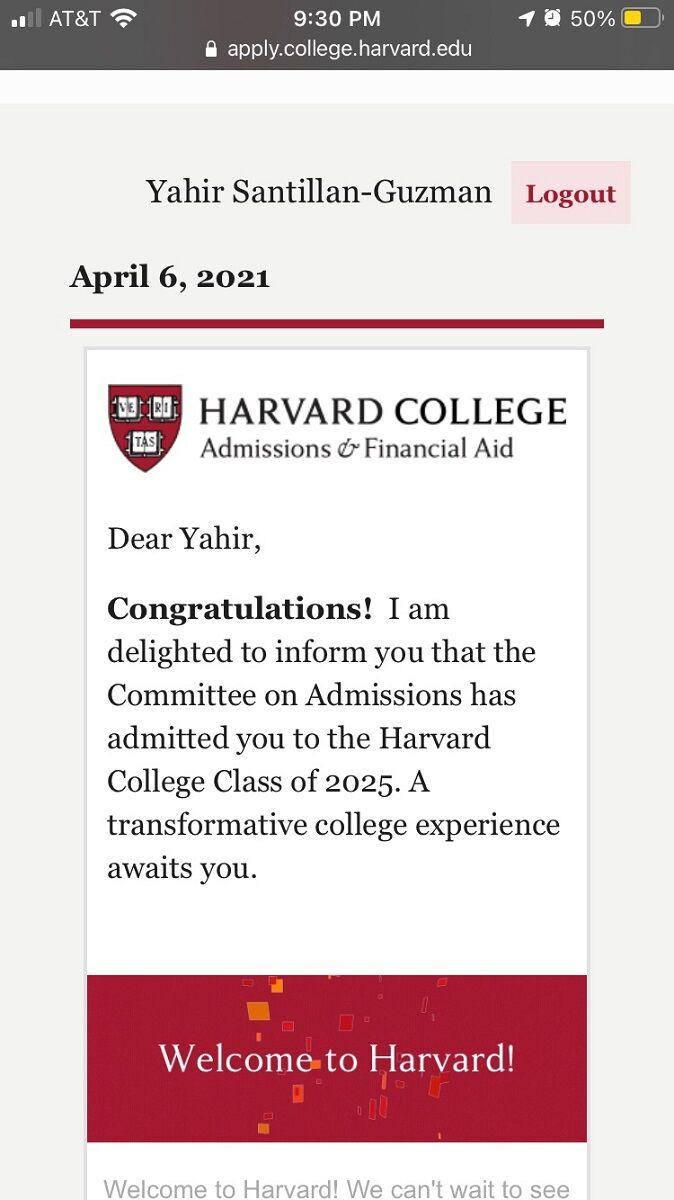 His dad Jose, meanwhile, was on a long drive home from work near Vancouver. He'd asked them to wait but they just couldn't. Yahir thought it would be a "No," and he just wanted to get it over with. "Hindsight is 20/20," Yahir said.
Jose described his endless return home by saying his car "felt like a turtle."
He'd pulled over for some water because "anxiousness had dried me out" when he got a text from his 14-year-old daughter, Yamari: "Dad, Yahir got into Harvard."
"I felt my body fade away, and my eyes filled with tears," said Jose, who had dropped out of high school to work in the fields. His long drive home was "two hours of spilt tears."
He finally got home and wordlessly hugged his son in a long embrace, then told him he loved him. "To say I'm proud of my son right now would be an error, because I've always been proud of him. Harvard? A dream come true."
For Yahir, the news felt unreal. He thought, "Is this the right Harvard? Did I apply to a Harvard in Iowa or something? It's just crazy. Very unexpected."
He couldn't sleep that night. "It was just kind of running in my head: Whoa, whoa, whoa, whoa, whoa."
He's still in shock that only 1,968 students worldwide got the acceptance notice. "For me to hold one of those acceptances was like, whoa."
That night he'd told three school staff he'd been accepted. The news spread like wildfire. The last time this had happened was 1984, when Bridget Bailey was accepted to Harvard.
Santillan-Guzman was also accepted to Fordham, Northeastern, USC, and Boston College, all top schools. He was weighing USC, but when Harvard's "very, very, very generous" financial package came in, it sealed the deal.
His friends are proud of him, and are wowed that they actually know someone heading to Harvard. He's looking forward to "dropping the H-bomb," the term for telling someone you attend Harvard.
"It is sort of a sense of pride," Santillan-Guzman said. He said he's going to Harvard representing his family locally, his family in the state of Durango in Mexico, his school, the local Latino community, and the wider community of The Dalles.
Born in Hood River, he moved to The Dalles when he was young. He went to OCDC (Oregon Child Development Coalition), the program for children of migrant and seasonal farmworkers, and then went to Chenowith Elementary.
A few days after his acceptance, Impostor Syndrome set in. He thinks of Harvard students as "these amazing, bright, intelligent kids that are doing research on cancer, and great things, right? And I was like, 'Am I going to fit in?'"
Then he got on a Zoom call with five other Harvard-bound Oregon students, "and that's when I realized, these are just 18-year-olds like me, they're anxious just as well. They might be smarter, they might have one other position I don't have, but I think we're all the same sort of caliber."
Even so, he's nervous about the rigor of his future classload. "I don't even consider myself one of the most intelligent ones at this high school, so being surrounded by a bunch of kids who are much more — for the lack of a better word, more intelligent than me, yeah, it's a bit nerve wracking."
But, "I'm OK with it. I'm up for the challenge, it will be good personal development."
He's also looking forward to experiencing the famous Nor'easter winter storms.
He was warned by his cousin, who is attending Duke, that he will be entering the world of old money. "He told me be mentally prepared to see the amount of wealth some of the kids have here."
Santillan-Guzman is unfazed. "I'm excited to see the wealth disparities."
Santillan-Guzman grew up frugally, and it taught him financial literacy early on. In fact, that's what he wrote about in his Harvard application essay.
Learning to pinch pennies gave him a deep interest in finances. When he became senior class treasurer, he was disappointed that it didn't involve the actual handling of money.
His favorite subject is math, and that, combined with his interest in finances, led him to pick economics for a major. He wants to minor in engineering, with a goal of helping a major global company combat climate change by going carbon neutral. He wants to either help make supply chains more efficient or help develop new technologies to reduce waste.
Santillan-Guzman, who is in the Talented and Gifted program, said, "I'm a very attentive student during class. My brain's kind of like a sponge, so usually just by paying attention in class, I'm able to remember, so I don't think I've had to do as much studying as other students have. But for an AP test I will study just to refresh the entire course."
Advanced Placement, or AP, classes are college level courses. Santillan-Guzman has taken six AP classes, and done seven AP tests. He just took the AP Spanish test, without taking the class, and got the highest possible score, a 5, on it. "It was really easy, I mean, I'd hope it was easy, being Hispanic."
He got 5's on two other AP tests last year also. He's shooting for another 5 in AP European History this year. If he gets that, he'll graduate as an AP Scholar with Distinction, the highest level.
Santillan-Guzman was encouraged to apply to Harvard by his ASPIRE mentor, Bill Noonan, who himself attended Harvard for graduate school. ASPIRE mentors help juniors and seniors access education and training beyond high school.
Noonan has been a mentor for six years, and has only recommended Harvard to three of his mentees. He said Harvard looks for diversity, not just racially, but geographically. He said Santillan-Guzman checked all the boxes: A first-generation college student; Hispanic; from a rural area; and top-notch grades.
He mentioned Harvard to Santillan-Guzman, who just said, "Oh." But two weeks later, he told Noonan he'd applied.
"He's a young man who has a tremendous amount of initiative," Noonan said. "Harvard sees itself as nurturing future leaders, future global leaders, and I see that in him," Noonan said. "It's in the way he holds himself, the way he presents himself."
Santillan-Guzman is president of the Juntos Club, an Oregon State University program for Latino students that holds cultural events throughout the year, and helps students find their path to higher education.
A straight-A student in high school, Santillan-Guzman can't identify a weak subject. His only bad grade was a C he got once in fourth grade because he didn't make an Oregon Trail wagon.
His mom, Elida, said after she whooped and cried and hugged her son, she "looked up and thanked God. We were about to have dinner and it ended up getting cold because we could not eat out of excitement."
She was shaking at the news, "and I could only think, 'He did it. My son did it.'"