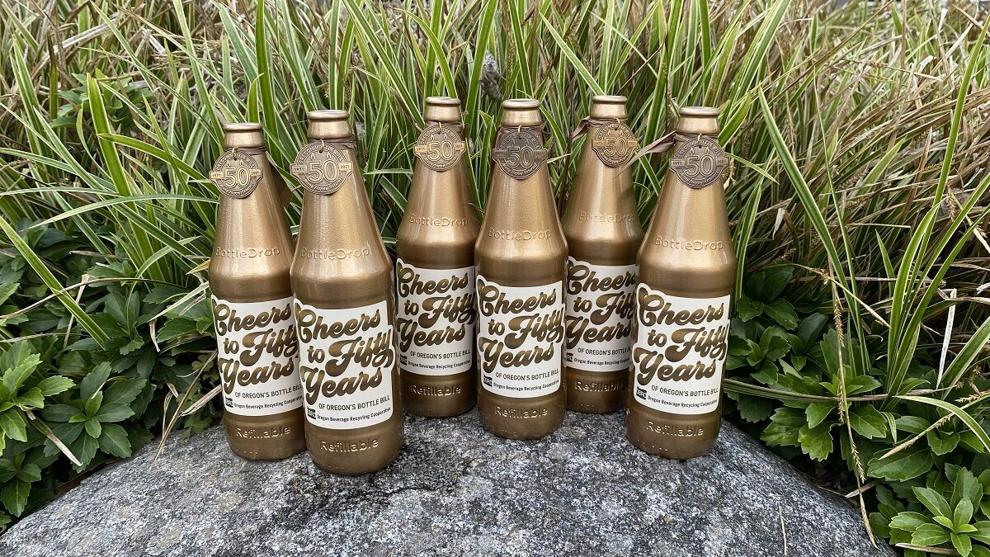 The statewide Hidden Bottle Hunt celebrating the 50th anniversary of Oregon's Bottle Bill was a success, with Oregonians decoding clues and visiting parks throughout the state from July 7-11 to fine six commemorative, gold-colored bottles. As of yesterday, all bottles had been found. The lucky finders included:
Zone 1A: Adair Fernee of Portland, who is directing her $500 donation to Street Roots.
Zone 1B: Liam, Trisha, and Ted Rutherford of Stayton, who are directing their $500 donation to Stayton Young Life.
Zone 2: Samantha Fieber of Toledo, who is directing $300 to the Toledo Food Share Pantry and $200 to Toledo Junior/Senior High School Music Program.
Zone 3: Caitlin Fernandez of Medford, who is directing her $500 donation to the Central Point Elementary School PTA Program.
Zone 4: Erin Pryor of Bend, who is directing the donation to Street Dog Hero of Bend.
Zone 5: Jared and Kristen Howell of Prairie City, who are directing their donation to Hope4Paws of Grant County.
"Congrats to the lucky finders!" said Eric Chambers, external relations director for OBRC, the not-for-profit cooperative that serves as the operational steward of the Bottle Bill. "And thank you to everyone who participated — our volunteer clue writers, everyone who came out to look for a bottle, and everyone who followed the hunt on social media. We were very excited to see so many people, across the entire state, enjoying the special places the Bottle Bill helps protect while they hunted for bottles."
What is the Bottle Bill? On July 2, 1971, Oregon became the first state in the nation to pass a Bottle Bill — a system that provides a redemption value to Oregonians, incentivizing recycling and keeping bottles and cans out of our natural areas. It remains a groundbreaking approach to addressing the issue of litter in our forests, rivers, beaches, scenic byways and other natural areas. Over time, Oregon's system has grown and innovated, and has become a national model of beverage container redemption and recycling, inspiring national and international delegations to visit Oregon to learn about its unique and effective system. Learn more about the Bottle Bill here.
The Oregon Beverage Recycling Cooperative (OBRC) is the industry steward of Oregon's nationally recognized beverage container redemption system and operator of the BottleDrop network. Headquartered in Clackamas, OBRC is a statewide, not-for-profit cooperative, formed by the beverage industry to serve as the operational steward of Oregon's Bottle Bill. OBRC provides services to partners, distributors, retailers and the public for the recovery, reuse and recycling of beverage containers.