WHITE SALMON — Washington Rep. Gina Mosbrucker (R-Goldendale) is calling for a special legislative session to focus on fixes to recent police reform legislation that went into effect earlier this year.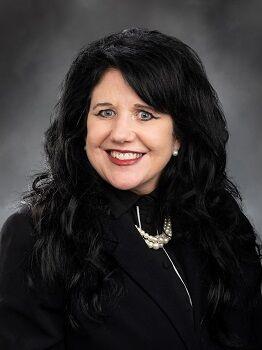 Mosbrucker, representative for the 14th legislative district, which encompasses Klickitat and Skamania counties and parts of Yakima County, is also the ranking Republican member of the House Public Safety Committee who witnessed several pieces of legislation that addressed policing in the state of Washington pass through committee, then both chambers, and receive sign-off by Gov. Jay Inslee at this year's legislative session.
In an op-ed submitted to The Columbian late last month, Mosbrucker said the suite of reforms "represent not only some of the most extensive experiments in police reform in the nation but jeopardize public safety."
In the op-ed she cited two specific bills as "especially concerning" — House Bill 1054, which establishes requirements for tactics and equipment used by peace officers, and House Bill 1310, which addresses permissible use of force by police officers.
Mosbrucker said in an interview with Columbia Gorge News that she spent a few days late last month on a listening tour of her district, where she met with law enforcement officers and other first responders of her district.
She said that during the tour, officers told her they are being put in a situation where they are having a tougher time responding to calls.
Mosbrucker tied the sentiment to House Bill 1310, which she said requires officers to verify "probable cause," as opposed to a less stringent standard of "reasonable suspicion" to use force — which can now mean anything ranging from guiding a suspect's hands into cuffs to deadly force. They must also exhaust any and all de-escalation tactics before using force.
"I believe we owe it to our officers and our communities to hold a special legislative session now to change these new laws and return to a 'reasonable suspicion' standard," Mosbrucker wrote in the Sept. 20 essay.
Mosbrucker said the more stringent standard creates uncertainty when an officer can respond to a situation. That uncertainty, she said, has led to situations where officers will wait "around the corner" during a call for a mental health crisis. While before the changes it was law enforcement's responsibility to respond to such calls, the new rules have made it more difficult for officers to intervene, and instead of an officer responding, she say it may be a social worker or fire and EMT services who is approach a person during a crisis. That an unarmed first responder is the responsible party, she said, is putting them in harm's way.
"Some (law enforcement officers) will respond but they're risking decertification," Mosbrucker said. "They're trying to be there even though there's not a crime."
Mosbrucker admitted the Republican Party in Washington does currently not have the political power to call a special session — which would require two-thirds of legislature's votes, or the governor's signature to proceed; however, her party is working on a suite of legislation to submit for consideration during next year's regular session. One priority for Mosbrucker is to see the reasonable suspicion standard back to practice; as well, she said she hopes to see more training options, more de-escalation tactics, and a return of community policing — "in which officers get out of their patrol cars every shift, engage with the public, and show how they are people who truly care about others."