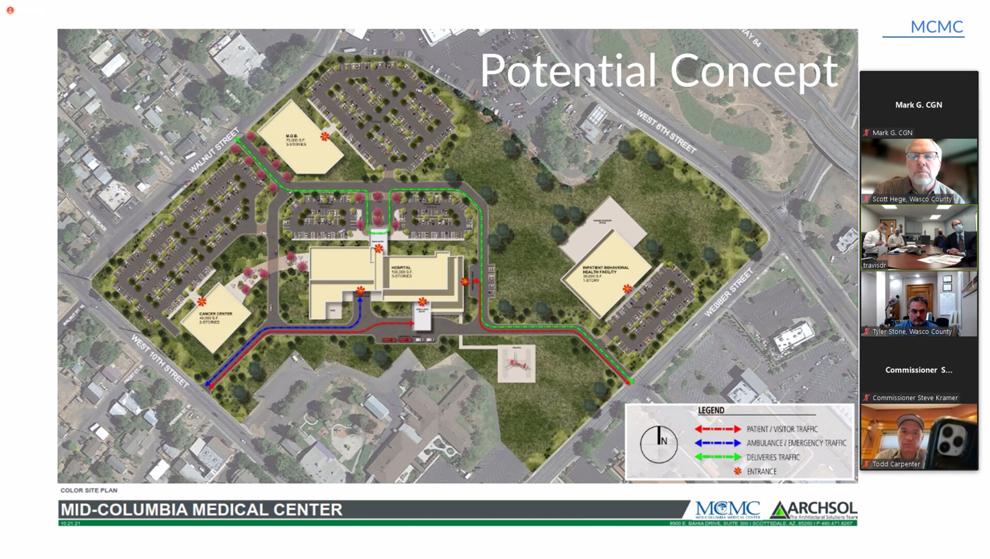 THE DALLES — Mid Columbia Medical Center has proposed building a new state-of-the-art hospital campus on property owned by Wasco County west of Weber Street in The Dalles, and relocating the Kramer Field currently located on the property across the railroad tracks to 35 acres slated to be transferred to county ownership as a result of the Strategic Investment Program agreement between Google, the City of The Dalles and Wasco County.
"This is a bold vision, four years in the making," Dennis Knox, president and chief executive officer at MCMC, told the Wasco County board of commissioners Nov. 3. The plan is all conceptual, he added, noting that he was hoping for commission support to move the idea forward. The new hospital portion would be funded by MCMC, Knox added.
Knox told the commissioners the average age of hospital infrastructure in the U.S. is 11 years. "Our current hospital is 62 years old," he said, and is outdated and costly to maintain. "It's a money pit," he added.
Unable to expand at its current location on 16th Street, the hospital has multiple provider locations in the city.
Dr. Jeff Mathisen, MD, told the board that the new hospital would be designed with private, individual patient rooms. During the pandemic, that has cut bed capacity in half. "Having 2 patients in a room, if we bring in a patient with COVID-19, that divides our capacity in half," he explained.
Mathisen also noted the emergency room would be expanded at the new facility. "We only have 8 emergency room beds available to us now," he told the commissioners. "It's not uncommon for me to see a patient on a stretcher in the hallway."
A new facility would have room to grow at the proposed location, would have state-of-the-art diagnostic equipment and an increased behavioral health treatment component.
It would also be in close proximity to One Community Health, Center for Living and Mid-Columbia Fire and Rescue facilities.
Knox acknowledged the importance of Kramer Field to the community, and told the commissioners MCMC was therefore "requesting to explore a new state-of-the-art athletic complex as well as a new hospital campus.
Dan Boldt, who has been active in the athletic events at Kramer Field since 1981, told the commission how the site went from "a nice flat field of weeds" to an irrigated, multi-use complex. "What has been proposed would be as good or better a facility as Kramer Field," he said. Noting that the proposed design was conceptual, a facility could be created on the 35 acre site competitive with similar facilities in Oregon and the northwest.
Proposed features include 4 Little League fields in a "hub and spokes" design, tennis and pickle ball courts, a BMX track, a walking/running track around the facility connected to the riverfront trail and more.
"We feel this is worth taking a look at," Boldt said.
According to the MCMC presentation, the combination of a new hospital and athletic complex would serve a "joint vision to serve our youth and care for current and future generations."
All MCMC medical disciplines would offer services in a single, 3-story medical office building, with a 5-story hospital, 2-story cancer center and single story inpatient behavioral health facility all located nearby.
The combined facilities would greatly facilitate the comprehensive care offered by MCMC, Knox said. "There are huge benefits to building a new hospital," he said. "It's going to be a better healing environment."
The current 12-acre hospital site would be re purposed as residential housing, another significant need in The Dalles, Knox said.
Kathy Schwartz, a Wasco County commissioner and former nurse at MCMC, said there was no question the community needs a new hospital. "That emergency room has not changed since the 1980s," she said, and having a new hospital on the west side of town was be "really great," she added.
She noted there was a lot to consider in the proposed plan. Would moving Kramer Field across the railroad track work? How would the funding be worked out? Will the housing be for those who need it, or high end?
"We will need a lot more information," she said, but "I am supportive of moving forward."
Tyler Stone, executive administrator for the county, said community outreach regarding the proposal would be critical. "We need really reach out and engage on this project," he said.
Knox agreed, noting that MCMC was also working on engaging the public as well, beginning with a website, www.mcmc.net\futurehealthcare, where the proposed plan is outlined.
That site will be updated as the concept moves forward, he added.