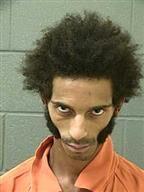 A man is in custody for allegedly breaking the windshield of a car parked in The Dalles Bi-Mart's parking lot and stabbing the vehicle's occupant around 4:15 a.m. Tuesday, Sept. 17.
The victim, a 39-year-old man (name withheld by press), called 911 after an assailant, suspected to be Jeremia James Kenick, 29, broke the windshield of his truck while he was sleeping inside and stabbed him in the arm before fleeing. The victim followed Kenick and two others from the scene in his truck and met up with police near the overpass at 6th St. and Hostetler Way, where he received medical attention for his wound.
Kenick was arrested by The Dalles City Police and he is currently lodged at the Northern Oregon Regional Corrections Facility (NORCOR). He faces charges of second and third degree assault and first degree criminal mischief, all felonies, and unlawful entry into a motor vehicle, a misdemeanor.