If you're in the Gorge and want a tattoo, more often than not, anyone you ask will give you one name: Jacob Hanks.
Hanks, the owner of Cascade Tattooing Company in The Dalles, has been tattooing in the Gorge for about 10 years. However, he's been tattooing a lot longer than that. In fact, he's been doing it since he was just a teenager. Because there didn't used to be an age limit for tattooers in Hawaii, he was able to get his license at 14.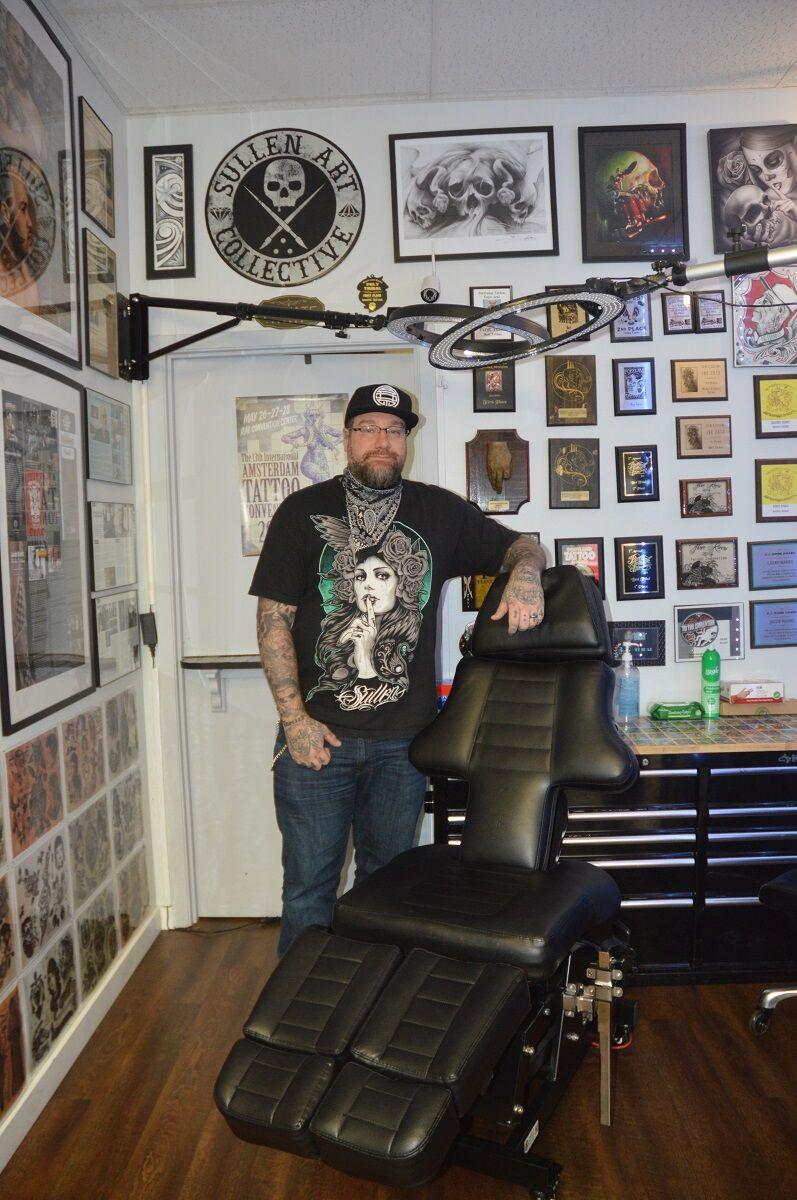 From the time he was young, Hanks was fascinated by tattoos. His interest came from his upbringing. Hanks was raised in a family of tattooers, he said. His father, Larry, has been tattooing for more than 50 years, and is a highly acclaimed artist whose tattoos are always in high demand, Hanks said.
It was his dad that did his first tattoo when he was 11 or 12, Hanks said.
"I was begging him and begging him," he said. "And I wanted something stupid. I wanted a skull or something. But he was like, 'Nah,' you know, and so we just did something safe, we did some Japanese tattoos."
Though his uncle, his dad's twin brother, has since passed away, he was also a talented tattooer who also tattooed Hanks multiple times, Hanks said.
"By the time I was old enough to get tattoos, I was already pretty tattooed," he said.
Growing up in a family of tattooers gave him a lot of respect and appreciation for the art, Hanks said. It's always been a big part of his life.
"This is my culture and how I grew up, and it's all that I want to do,'' Hanks said. "I've tried to do other things in life, you know. I went to college. But every time I tried to do something else I just came back to tattooing, because it's in my bloodline."
Hanks spent years working in Hawaii with his family. Because of all the tourists, they were constantly busy, sometimes doing 10 or 15 tattoos a day. Even so, it was hard to make enough to get by, since Hawaii's cost of living is so high.
"(In Hawaii) you just kind of scraped by, with multiple generations to a house just to pay the bills," he said. "You could tattoo and tattoo and tattoo, and at the end of the month, you still just scraped by."
Hawaii also didn't have tattoo conventions, so Hanks was traveling around the country to participate. While he was traveling, he was contacted by a tattoo shop in the Gorge. He sent a coworker to investigate and when they came back telling him about the area, he decided to take a leap of faith.
"I came down here and checked it out, and I was like, 'Wow, this, you know, this place is untapped, it's beautiful, it's inexpensive,'" Hanks said. "And so shortly after I moved my entire family down here."
Hanks's leap of faith paid off. He quickly fell in love with the area and the clientele. He said he's been lucky to see great success in the region, as well.
"This is like the American dream," he said.
Within the last year, Hanks has also been able to open two more shops with Jen Phipps, who owns Satori in The Dalles. These shops are called Society Tattoo & Skin, and are located in Goldendale and White Salmon.
With Phipps' expertise in things like lashes, brows, waxing and skincare and Hanks' expertise in tattooing, Hanks said they've already seen a lot of success.
"We both had very successful business plans in our own businesses," he said. "And so we just combined those together. And the network of artists that we have, and workers, it just was pretty natural."
Hanks mostly works out of The Dalles, though he's able to make it up to Goldendale and White Salmon sometimes, he said. However, most of his days are spent tattooing at Cascade Tattoo Company. He said he spends entire days tattooing, often working on big, elaborate pieces.
Though he could do more small tattoos faster, Hanks said the big tattoos are worth it because of how happy they make the customer. Meaningful tattoos, in particular, can be very rewarding to do. He often has to do memorial tattoos, which is sad, but he's glad they can bring people healing.
"My favorite part of tattooing, in general, is just making people happy," Hanks said. "Often people will say, 'What's your favorite kind of tattoo? You know, what do you like tattooing the most?' And I always say it's more the experience than anything else."
At the end of the day, Hanks said he's happy to help anyone who wants a tattoo, no matter the reason.
"Tattoos are very powerful, they're magical," Hanks said. "But sometimes people just want to ornate their body. And we can fit something very aesthetically to their arm, and that makes them happy, just because it looks so nice."