June 23 was the last Hood River County School Board meeting for Board Chair Rich Truax, member at large, and Dr. David Russo, position 2. Neither ran for re-election in the May 18 general election. The two were recognized during the meeting for their commitment to the district.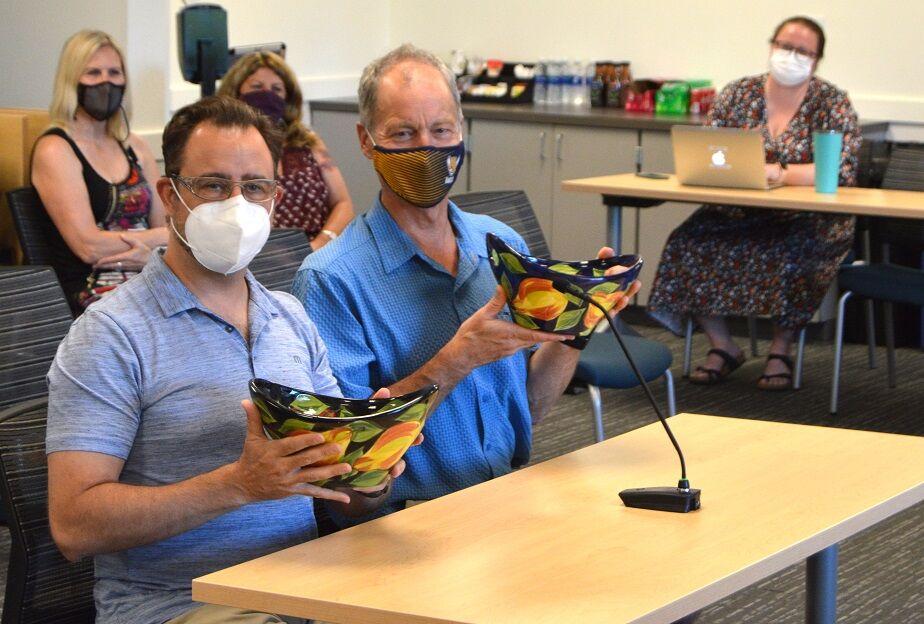 "You've volunteered countless hours at board meetings, committee meetings, bargaining sessions into the wee hours of the morning and you've done it all with grace and patience," said Superintendent Rich Polkinghorn. "I applaud your commitment to our school district and your steadfast dedication to the students and the staff of our district and to public education. I know it was not always easy, especially this past year and a half or so, but you're both consummate professionals and outstanding board members, and we wish you both well in your post school board life."
Russo said his favorite part of serving on the board was watching the district evolve and "get to a better place … It's been a real pleasure to be involved and be part of that … to see things we started years ago come to fruition." Truax said he is especially pleased to see the district in a strong financial position.
Polkinghorn presented the two with special boxes crafted by Hood River Valley High School CTE students with additional gifts inside on behalf of the district, and Chrissy Reitz presented the two with a gift on behalf of the board.
The two officially left their posts June 30; new members Jennifer Kelly will take the at large position, and Barbara Hosford position 2.