Jim Trammell is stepping down the ladder.
The West Side Fire Department fire marshal from 1995 to November 2020, the 50-year veteran is putting his career in fire service behind him — almost.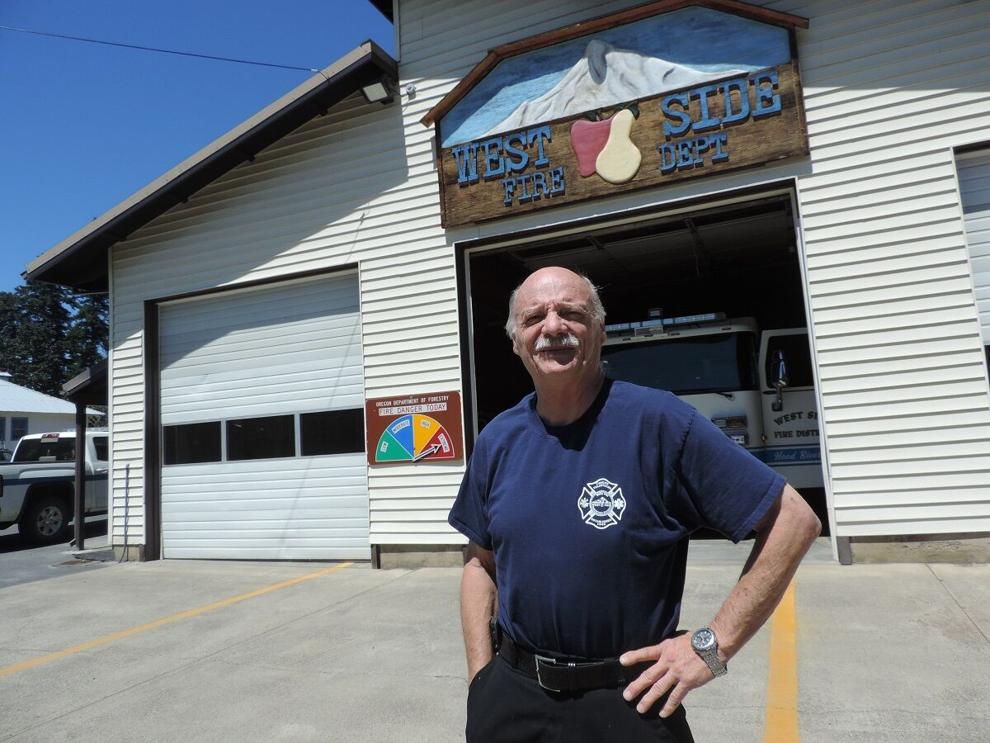 Trammell, 70, is looking forward to taking care of his acres of property and helping the department as a volunteer, after 30 years with the department, 25 of them paid.
For 12 years in Hood River he served as County Defense Chief, as state law requires each county to coordinate among departments for conflagration incident planning. (The group is often called the county fire board.) Chief Mike McCafferty of Parkdale Fire is the new County Defense Chief; Chief Greg Borton of Wy'East Fire and Capt. John Logan of Cascade Locks Fire were appointed assistants.
His career started in San Diego, where Trammell served as battalion chief, training officer, wildland firefighting instructor and, for two years, captain of a CalFire helicopter attack crew that went airborne into large fires.
He later taught fire science for 10 years at Portland Community College.
He raised two concerns as he leaves full-time fire work: The need for volunteers and the increasing danger of year-round fire season throughout Oregon.
"He put a lot of years in and he deserves that retirement," said West Side Chief Chris Nickelsen. "He gave 25 years to the community. I'm so proud of him for doing what he did, and we're so fortunate that Doug Kelly came into our realm," Nickelsen said of Trammell's successor, who started work Dec. 1.
Born and raised in the San Diego area, Trammell served for 20 years in California before taking early retirement and moving to Hood River in 1989 after an on-the-job injury.
In his interview, Trammell speaks of "going down the ladder," an allegorical reference to fire service itself and to the climb up the ranks has now come to an end.
"It's time," Trammell said. He talked with Columbia Gorge News at the Tucker Road station just before Christmas while tying up loose ends and working on the transition with Kelly, formerly of Redmond, the new chief administrator and fire marshal. Also on staff are Lieut. Josh Beckner and Paramedic-Engineer Patrick Foss.
CGN: "You've retired, again, but you're not done with West Side Fire, is that correct?"
JT: "I'll keep going as a volunteer and help as much as I can. I'll assist with individuals, try to do some teaching and instruction and try to share my knowledge over the past 50 years."
CGN: What do you see as your biggest strength as a fire administrator?
JT: "The ability to organize, As calls happen you have to make calls quickly to do that in a short period of time. They have to be right,"
CGN: You were the recipient of the West Side Order of the Door a couple of times, right? (Presented each December, Order of the Door is given for the most ribbing-worthy mishap committed that year by a firefighter.)
JT: "Just once. It was two years ago, had a fire out on Portland Drive and I was there first, it was a hot August afternoon and I had been working around the yard and was probably already starting to get dehydrated. I arrived and put my helmet and my turnout jacket on so I could have safety, and once it got more involved I started to put my turnout pants on and they have suspenders, and I stuck them over my shoulder and couldn't take my jacket off, and they kept slipping off, so I got the Order of the Door for that. It happened to be the same day they took me to the hospital for dehydration. It was a bad day all together, but I was working on that (Order of the Door) for years."
CGN: How did you get your start?
JT: "I was in the field in 1969, in San Diego for the California Department of Forestry now known as CalFire. I worked there 20 years, and got my initial fire training in Ione, Calif., a few weeks' basic training, and I worked as a seasonal firefighter for one year and then permanent fire fighter."
(Trammell was promoted engineer in 1971, and assigned to Orange County Fire.)
"My love was the wildland so when I could get transferred I got back to San Diego and to a station called Potrero near the border," Trammell said of his career beginnings. "Firefighters are adrenaline junkies anyway and with wildland you're out there ... in a structural fire you're confined to a building but in wildland there's no confinement. You're out there. Structure protection started in California in the 1970s and now it's done everywhere. After a couple of years I was promoted to captain at the same station, which is pretty rare, and then in 1980 I was promoted battalion chief."
CGN: What brought you to Hood River?
JT: "I got injured in a fire, and they retired me, It was one of those things that just happened. It was 1989, and I wanted a lifestyle change and immediately signed up as a volunteer. A friend had been here and bought some property and said it was a pretty nice place, and San Diego was getting crowded." That friend was John Wolf, Chinook Plumbing owner.
CGN: You also went into business as a taxi company?
JT: "Yes, and John started the plumbing company and I bought out his partnership. We also owned Paris Fair building (with John Wolf) for five years. We got tired of being landlords and sold it back. It was during the recession and half the buildings downtown were vacant."
CGN: When did you start as a volunteer?
JT: "Right away in 1989, really no break."
CGN: You were eager to stay with it?
JT: "Yeah. I had figured I wouldn't be doing it anymore, I didn't move up here expecting a new career. But I knew I had to do something, so I started as a volunteer just to stay in there. The chief at the time was Bob Tallman, and in 1995 Chris Nickelson became chief and that's what time I started (as chief administrator and Fire Marshal.)
"In 1989 I just started doing stuff, helping out. When you move to a place it's 'I know this better than you do.' I brought some information and they asked me in 1995 if I wanted to be fire marshal and the rest is history."
CGN: What will you miss about being fire marshal?
JT: "It's time, I'm 70. It's been a good run, naturally it will take a while to pull myself away from it. It's been pretty busy. I'll still be listening to the pager."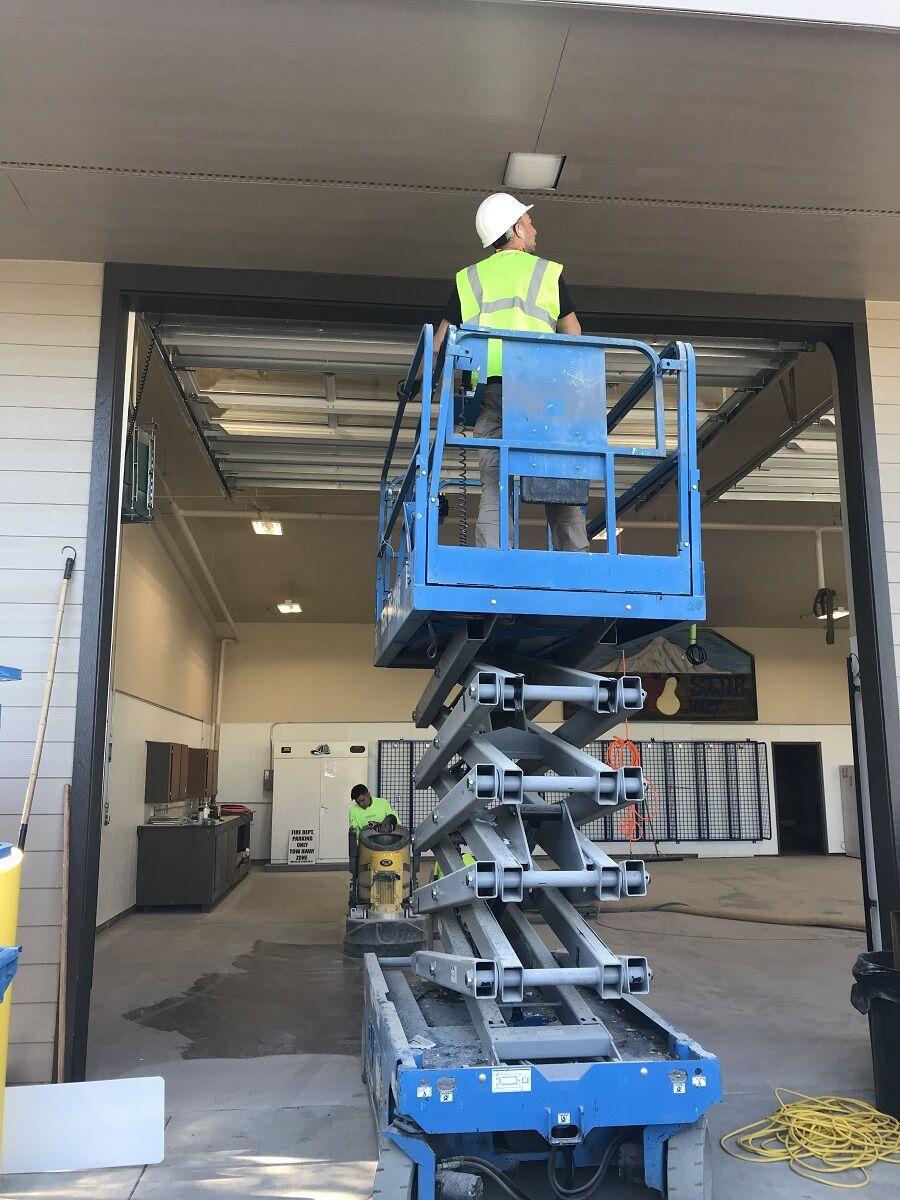 CGN: You're working in buildings you had a hand in some pretty significant upgrades.
JT: "That was a real thrill when we got that: $2.5 million, no matching funds, and we basically got two new fire stations from it."
CGN: You're 70 and I noted it was 70 years ago in 1950 that the agreement to build the Rockford Station was made, and it was completed in 1952, and the 75-year anniversary will be in a few years.
JT: "When (West Side) started the Grange was pretty much the fire department, and the building they started with was the grange building, and over time it became the fire station, they added on to it. The (Tucker Road) station was built in 1972, 100 percent grant from the federal government, and it was dedicated to Bob Nickelsen (former chief, who died in 2019.)
CGN: That point strikes me, that firefighting is very much about individual relationships and personal contributions.
JT "It's a lifestyle. It's similar to people in the military saying 'that guy in front of me was the best person I ever knew.' Firefighting is not the same as being in the war, not as dangerous, but it's similar because you try to control the chaos as best you can to subdue the fires but you gotta be careful, so you depend on those persons in front of you. Going through the front door of a house totally engulfed in fire, you want to make sure that guy behind you is there and you trust him to watch your back. That sort of relationship, you always consider it a large family. You look after your brothers and sisters, and that's pretty much what we'd do, in a very large sense of family here. It's even more pronounced when you live in a fire station 24-7 with the crew, you can become closer because you're there all the time.
"There have been a lot of articles on 'climbing down the ladder.' Instead of climbing up the ladder, you gotta pull yourself away from this. Climbing down the ladder ... a guy I knew talked about how he was a doctor and everyone called him 'Doctor,' and he retired and the next day at Walmart he was just another guy. I've been 'Chief Trammell' or whatever for going on 50 years and now I'll just be a guy at Walmart."
CGN: But you'll be a volunteer, and do some training?
JT: "If they ask me to. Try to turn it over to the young guys."
CGN: Having worked for CalFire for so long, what has been happening in California is far worse than anything we've seen, but do you look back and think of people who might be involved?
JT: "Most have moved on, but having taught college and been involved in the science of it for so many years, the first major fire I fought was the Laguna Fire in 1970, 175,000 acres, burned down 350 homes. That's where a lot of the thing started in terms of management stuff. I grew up in Spring Valley in San Diego County. It was called that because there were springs everywhere, I could go out and collect pollywogs all summer long in the canyons below my house, but by the time I left, they were gone. Whatever it is, global warming or climate change, whatever it is, it's getting hotter and drier down there and last summer was a huge eyeopener to Oregon. We haven't seen these kinds of fires in over 80 years. Southern California doesn't close fire season anymore, It's year-round, and it seems like it's moving that way to Oregon.
"When I first came here, I said, 'We don't have fires here like we do in southern California.' We didn't. But the first one that surprised me here was Herman Creek fire (in Cascade Locks in 2005). That was under an east wind fire. Generally our east winds come in November when it's wet and cold, and these showed up in September, and then the Eagle Creek fire (2017), which made a 15-mile run in eight hours, and that was under a one-day east wind event. Southern Oregon: east wind event, when it was really dry and warm. The trend is we will see more fires like that in the future."
CGN: You'll stay on as a volunteer, what else are you looking forward to?
JT: "Cheryll and I have two granddaughters who used to live in Maui, and now they're just down the street. We'll travel, but it's nice it's the dead of winter, no pressure to do something, I've got acres to take care of and I've got the time to keep it looking like a park now."
CGN: Your sendoff was actually in December 2019.
JT: "There was a really nice dinner at Hood River Inn for our annual awards night. Normally we do the cooking ourselves. My 50 years were up in April 2019, and friends did all this without me knowing about it. My daughter, Autumn, was there as a surprise. I appreciated it very much. It's a good thing we did because we couldn't do anything like that this year. "Working in a small community like this has been more rewarding to me than working CalFire. You get so close, and a lot of those people have become friends, just from the daily duties. I've really enjoyed a job that gives me the ability to get involved in the community, having a little bit of recognition as far as a professional in the field where you can help other people, is a really rewarding part of it."